Amazon's Kindle Fire gets development push from TinyCo, Chartboost
The two have teamed to increase revenue opportunities for developers on Kindle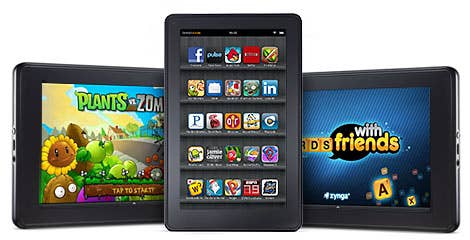 Amazon's Kindle Fire has been a popular device for many consumers and it appears to be gaining some ground with developers. TinyCo, a mobile developer behind games such as Tiny Monsters, Tiny Village, and Tiny Zoo Friends, has partnered with technology firm Chartboost to give the Kindle Fire platform an added boost.
Together, they've announced announced a program aimed at accelerating growth and delivering better revenue opportunities for game developers on Amazon's platform. Essentially, TinyCo is offering a guaranteed rate of $2.50 per install driven by Chartboost interstitials in the US and UK, and $2 per install in other countries.
Additionally, TinyCo will provide further incentives to publishers who generate 20,000 installs or more. The companies said that based on average conversion rates on the Chartboost platform, developers can potentially net $16-$21 eCPMs from this campaign. In order to take advantage of this, game developers have to integrate the Chartboost SDK to serve interstitials for TinyCo's Kindle Fire titles. The companies noted that participating game developers will receive 100 percent of the revenue by working with Chartboost's distribution platform, "as opposed to the 50 percent revenue share typical of mobile advertising networks."
"Developers were thrilled when we announced a similar deal with TinyCo on iOS last November, and the response was overwhelming," said Maria Alegre, CEO and co-founder of Chartboost. "Chartboost and TinyCo have seen the enormous potential of Kindle Fire games and hope to incent first-mover advantage with this uniquely attractive deal."
Further details for developers are available at tinyco.com/directdeals.