Amazon introduces the Fire Phone
Online retailer keeps the Fire name for its first ever smartphone - AT&T exclusive launches on July 25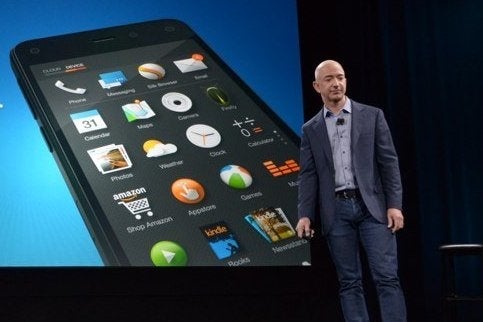 During a special event taking place today at Fremont Studios in Seattle, Amazon boss Jeff Bezos just unveiled his company's Fire Phone, a new smartphone that keeps the Fire branding Amazon's been using with Kindle Fire and the recent Fire TV product line. The phone uses a 4.7-inch display, with Gorilla Glass on both sides and it's powered by a quad-core 2.2GHz processor, Adreno 330 GPU and 2GB RAM.
Bezos said Amazon put a huge effort into the industrial design - it definitely seems like Amazon is aiming for the high-end smartphone market, as the Fire Phone has a rubberized frame, CNC aluminum buttons, polished button chamfers, and injection-molded steel connectors for a precise fit.
Moreover, Bezos pointed to how for most consumers, their phone is also their primary camera. Amazon isn't playing around when it comes to photography. Fire Phone has a 13MP rear-facing camera with f/2.0 lens and OIS (optical image stabilization). And Amazon is providing free, unlimited photo storage, which should make the phone quite appealing for avid photographers.
As for other features, Amazon of course is looking to leverage its complete ecosystem, and Bezos noted that Amazon will bring Fire TV features to the Fire Phone "ASAP" and that the phone will utilize Amazon Music. The hardware will play that music through dual stereo speakers with Dolby Digital Plus surround sound.
The Kindle Store will be included as well, and video will be pushed with features like Second Screen and X-Ray on the Fire Phone. So users can beam a video to any Miracast device (including the Fire TV).
Bezos went on to introduce a new feature called Firefly, which essentially uses the phone's camera to identify books, DVDs, phone numbers, QR codes, games, URLs, bar codes, etc. Fire Phone then finds the item in a database, where you can view details or purchase, making shopping potentially very easy - which is what Amazon wants, needless to say. Firefly can recognize over a hundred million items, boasted Bezos.
The next feature Amazon focused on is Fire Phone's 3D capabilities. Photos and maps can be viewed in 3D; a feature Amazon is calling Dynamic Perspective allows users to get the best view. The perspective changes as you move the phone around. This tech can also be used in a web browser or an e-book to scroll through a page.
Bezos also hyped up Amazon's Dynamic Perpsective for games. "You can imagine what the Dynamic Perspective tech does for gamers," he said, ignoring the Nintendo 3DS and how Nintendo has actually de-emphasized 3D on the system lately. He demonstrated a game called Tofu Fury, in which the players moves a tofu block around some spikes to get to the fortune kitty - the 3D effect enables players to determine the optimum route for the tofu.
Bezos explained that the Dynamic Perspective functionality is made possible by persistent head tracking of the user, and this occurs thanks to the Fire Phone's having four corner cameras, so that no matter how you hold the phone, it should be able to track you with at least two cameras. It even works in dark environments thanks to infrared technology included in the cameras.
For developers, Amazon said that SDKs for both the Dynamic Perspective and Firefly technologies will be available immediately. Interested devs can go to developer.amazon.com/firephone to check it out.
Nearing the end of the conference, Amazon did confirm what had been rumored: Fire Phone is exclusive to AT&T. AT&T Mobility CEO Ralph de la Vega walked onto the stage to proclaim how addicting Firefly is and "I"m going to buy a whole lot more things now!" Indeed, that seems to be a primary reason for this phone's existence.
The Fire Phone can be pre-ordered today and ships on July 25 (you can see the full overview on Amazon's page). It'll be $199 (32GB model) with a two-year contract, or $27 per month on AT&T's Next plan. A 64GB model will be offered as well for $299. And in a nice bonus for Amazon enthusiasts, the company is including 12 months of Amazon Prime for free - existing Prime members will get the 12 months added onto their membership too.