Activision got King "cheaply" - Pachter
Analysts weigh in with mostly positive comments on the massive $5.9 billion purchase of the Candy Crush Saga maker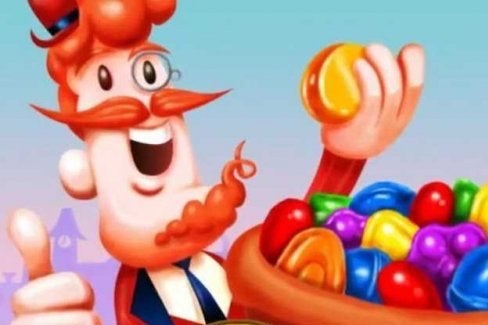 To say that Activision Blizzard has had a busy few weeks would be a huge understatement. Already a behemoth in the world of interactive entertainment, the publisher - much like an epic boss in an RPG - only had a couple weak points. For the longest time, Activision was not seen as a leader in mobile, and other than some gaming competitions with its IP, it certainly wasn't a leader in the burgeoning field of eSports. The latter was recently addressed with a dedicated division and the hiring of former ESPN and MLG execs, while the former suddenly today got a very, very expensive fix with the $5.9 billion acquisition of King. While our own Rob Fahey is highly skeptical of the deal, most of the analysts GamesIndustry.biz contacted were fairly positive about the move.
In fact, some don't even bat an eye at the price tag. Wedbush Securities analyst Michael Pachter commented, "I think King revenues/profits are stable, think ATVI got them cheaply, and think that King can help ATVI exploit new IP (Pitfall, Dig Dug, WoW Dungeon Defender) in a way that ATVI was not capable of doing itself."
SuperData's Joost van Dreunen largely agreed that cost really isn't an issue. And if Activision didn't jump on the opportunity, then it's likely that another major firm from Asia could have and that would have exerted even more pressure on Activision in the mobile space where it still didn't have a big foothold.
"The combination of the Activision/Blizzard IP, a cash infusion for King, and King's global network of gamers has the potential to significantly disrupt the current market"

Patrick Walker
"While I'm hearing a bunch of muttering about costs, I think that Activision has realized that its future exists on three platforms: console, PC and mobile. Over its lifetime, the Candy Crush franchise has so far earned $4 billion. If Activision had decided to build its own mobile division, which arguably is decent but not great, it opens them up to a vulnerability on the long term. Don't forget that companies like Nexon and NCSoft currently only generate around 7-12 percent outside of their own primary markets. Consequently, they are looking to increase their footprint in the west. So as the titan-sized publishers from Asia outgrow their own market and start shopping in Europe and North America, King is a key acquisition target and well within the budget for a company like Tencent," observed van Dreunen.
"People who think the $5.9 billion valuation is too high are wrong," stated Newzoo CEO Peter Warman flatly. "One key value element is a complementary pipeline in terms of games in development. In addition to its Saga series, King has been rumored to be working on several mid-core games that will soon see daylight. I am certain Activision Blizzard has taken this into account in the valuation. Having King's experience in running and monetizing mobile games as a service will be a priceless asset to a company that is still on the learning curve when it comes to mobile."
Patrick Walker, VP of Insights and Analytics at EEDAR, was quite positive about the deal as well for several reasons, not the least of which is that Activision suddenly has a massive female audience, which it didn't attract with games like Call of Duty.
"Activision gains access to King's huge global audience of 500 million casual gamers, including a large number of female gamers. Women have become a huge gaming audience over the past five years with the rise of mobile and social gaming," he noted. "Activision has remained relatively quiet in mobile gaming outside of leveraging their core IP on a few moderately successful titles. With this deal, Activision significantly increases the breadth of their gaming audience, placing them in a similar position to Electronic Arts.
"King benefits from a cash infusion at premium on their current share price. The cash will give the company more flexibility trying to create a long-term growth strategy that does not depend on a single breakout title. On a broader level, the deal has the potential to shake up the mobile gaming space, which has seen growth slow over the past year at the same time as there has been little movement at the top of the grossing charts. The combination of the Activision/Blizzard IP, a cash infusion for King, and King's global network of gamers has the potential to significantly disrupt the current market."
The big question at hand really is if Activision will benefit from King's mobile expertise. It's not merely about buying the insanely popular Candy Crush IP. Independent analyst Billy Pidgeon believes that the deal will pay off in that regard.
"Activision is doing well in mobile by exporting its hit franchises to other regions, but big success in mobile with original franchises has been difficult. This deal will gain Activision King's superior set of free-to-play transaction maximization tools (data analysis, algorithms, design tweaks, etc) to apply to existing franchises and to new games designed to leverage the huge potential of the US and worldwide casual market," he said.
"As part of Activision Blizzard, King will have the resources to gain more franchise wins in casual mobile free-to-play. The deal also emphasizes the maturation of the mobile market and the sharp increase in scale of deals leading to larger market players, factors which will increase consolidations in game developers, publishers and in infrastructure/services and will render the sector even more hazardous for small independents, who will need to spend more for fewer wins."
"While we are far from convinced that this is a great deal, we have consistently said over the years that there is only one management team to whom we give the benefit of the doubt, and that is ATVI... Bobby Kotick and his team have earned it"

Ben Schachter
Not all analysts are looking through rosy goggles at this deal, however. DFC Intelligence boss David Cole commented that Activision is taking a big risk with a strategy reminiscent of the old Electronic Arts. "With the King acquisition ATVI seems to be engaging in a strategy that Electronic Arts and others are moving away from, namely trying to enter a new market by paying top dollar for an established player. While King is no Zynga, the metrics have not been solid," he pointed out. "Revenue, income and monthly unique payers are all down. By the end of Q2 2015 monthly unique payers for King were down 27 percent from the previous year to 7.6 million. While monthly gross bookings per paying user were up over the previous year they were down over Q1. So ATVI becomes a major player on mobile at an extremely high price. For King shareholders this is probably the best possible outcome."
Likewise, Ben Schachter of Macquarie Securities noted how taken aback he was when he heard the news. That said, he believes in giving Bobby Kotick the benefit of the doubt.
"ATVI buying King is not something that we considered possible given ATVI's historical view of mobile and the types of deals that have been done in the space, as well as King's declining growth profile... While we are far from convinced that this is a great deal, we have consistently said over the years that there is only one management team to whom we give the benefit of the doubt, and that is ATVI. Why? Because over our 15 years of coverage of ATVI, Bobby Kotick and his team have earned it through their creation of shareholder value. So while we have many reservations about King, we have to be somewhat deferential to ATVI's track record," Schachter remarked.
He added, similar to Pidgeon's views on how this affects the indie market, that mobile just got that much tougher for small studios. "We think that the days of a small company or individual hitting it big with a clever mobile game are basically over. Higher quality mobile devices, marketing needs, and global distribution all play to the strengths of larger companies. The success of Blizzard's Hearthstone clearly had an impact on ATVI's view of mobile and proved that mobile could drive meaningful revenue and profits," he said.