Activision Blizzard is ready to deliver on Overwatch League hype
Mike Sepso on easing tensions between publishers and players, and the firm's long-term plans for esports
The esports market continues to grow, but as time passes it's clear that we are at the very start of the road to a stable and sustainable environment for business.
Riot Games has been criticised on several occasions for overlooking the commercial needs of League of Legends teams - first in the US and, more recently, in Europe - even as it continues to make huge amounts of revenue from the game they help to promote.
Available prize money escalates every single year, but the huge gulf between the pool for Dota 2's The International and every other game speaks to a lack of balance, and too great a reliance on the public's money.
Since the very beginning, Activision Blizzard's Overwatch League has been pitched as the antidote for many of the esports' lingering maladies: a structure that prioritises the financial security of players; local teams with no threat of relegation, with a view to building fan-bases that will endure; and funding and prizes provided by Activision Blizzard and the impressive list of investors signed up to take the first franchises.
"[Tension between players and publishers] has really been the history of esports. I think the future is a lot more collaboration, and an open channel"
Mike Sepso is leading the charge into esports for Activision Blizzard, and when we met him at the Gamelab conference this year, he suggested that the tension that occasionally surfaces between teams and the companies that own the games is a teething problem - an aspect of esports' present that will soon be part of its past.
"One of the things that's always been interesting to me about the esports space is that esports stars really are huge gaming influencers now," he said. "One of the reasons publishers started to take notice is because the top players in independent esports leagues were becoming really big voices through social media. They were directing a lot of consumer choice.
"That's where, inherently, there can always be some tension, because top stars want certain things to happen in the games that maybe the studios... and publishers aren't excited about. Although I think that's really been the history of esports. I think the future is a lot more collaboration, and an open channel."
This "formalisation process" is still in its early stages, and the evidence is everywhere you look; from player behaviour, to financial problems, to the fundamental structure of major competitions - even for games as large and lucrative as League of Legends and Dota 2. It is all changing, all the time, as the video game companies with the biggest stakes realise that they're no longer in the games business it all.
"It's not just that the way you make money is different; everything about it is different"
"The other aspect of it, [for] the big publishers at least - who I work for - have become very, very good at making incredible game franchises. The core business is still high risk, high reward, and that's a whole different business to the sports media business. It's not just that the way you make money is different; everything about it is different."
Despite being a sports media business, however, the formalisation of esports will take place on a shorter timeline relative to football, baseball, and the great majority of traditional sports - most of which edged towards commercial and competitive stability over a period of decades. One expects that companies like Activision Blizzard - which has stated an ambition for NFL-scale revenue - and Riot Games will not be prepared to wait for quite so long. This is the investment period for esports, but it can't last forever.
However, when asked, Sepso wouldn't be drawn on when Activision Blizzard expects to make a profit on the Overwatch League. It will be, he said, "a significant value contributor over time, and not just for its marketing capability."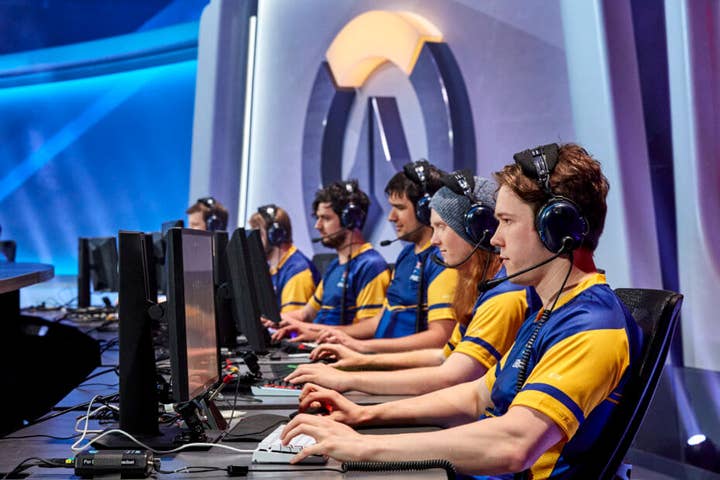 Exactly where that revenue will come from is an important question, one that Sepso explored in his talk at Gamelab. Indeed, sports and esports may be more similar commercially than in any other aspect; the key revenue streams are likely to be almost identical, Sepso said, such as ticket sales for live events, sponsorships, and advertising on live broadcasts.
The main difference may be the role of television. The English Premier League makes billions from selling TV rights - as does the NFL, the NBA, and so on - but Sepso seemed convinced that this practice is already in decline as new forms of online media grow in popularity and reach.
"The whole sports world... is trying to figure out the transition from television [as a source of revenue]," he said. "It's a challenge and an opportunity, because we don't have to build [esports] on that old model and go through that transition. We can skip ahead, and almost out of necessity that was how esports was developed, because you couldn't broadcast a three-day, 12-hour tournament on ESPN.
"This is not just a major change for Activision Blizzard and how it has handled esports for a long time. It's a major change for the whole industry"
"It's a generational wave that's happening. For the first time, just over a year ago, ESPN actually lost subscribers; that's never happened before. The Yankees, my hometown baseball team, are significantly below last year on ticket sales. Things are happening to traditional sports that nobody expected, and quicker than anybody in that business expected."
While traditional sports manage decline and move towards a new model, esports can start virtually from scratch with a new way of thinking and a young, enthusiastic audience. Indeed, Sepso highlighted the in-built "distribution opportunity" the 430 million people that play Activision Blizzard's games each month present. Even if a significant proportion of those people aren't playing anything supported by esports activity, Sepso can reach those that do by simply inserting an "over-the-top" video-stream into directly into the game.
Just how much of this ambition will be fulfilled remains to be seen. What is clear is that Overwatch League is Activision Blizzard's most confident step on the path that it hopes will end in billions of dollars of annual revenue, and Sepso highlighted that not every game will be backed by so much effort and so many resources. Five years ago, he said, esports organisations would have just "started running lots of Overwatch tournaments," and that way of thinking was evident in the frustration that many teams felt at the months of silence between the League's announcement and Activision Blizzard eventually showing its hand - for more on that period of unrest, you can read Eurogamer's report.
Now, though, the Overwatch League is no longer an enigma; all that's left is for Activision Blizzard to start delivering on the hype.
"There was a conscious decision to really take our time and create the perfect Overwatch league, because we're looking decades into the future - we're not necessarily looking at how to kill it this year," Sepso said.
"This is not just a major change for Activision Blizzard and how it has handled esports for a long time. It's a major change for the whole industry."