38 Studios files for bankruptcy
Federal and state officials begin an investigation into the company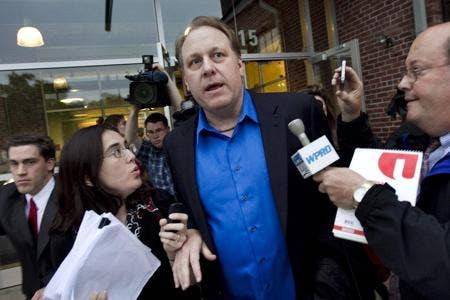 38 Studios has filed for Chapter 7 bankruptcy protection with its three subsidiaries; they have ceased operations and will be liquidated. Furthermore, federal and state officials began a formal investigation into Curt Schilling's game company.
"After ongoing negotiations with the state of Rhode Island and potential investors and other interested parties, the company has been unable to find a solution to the current stalemate," Schilling spokesman Larry Solters said in a statement.
38 Studios LLC, the parent company, said it owes $150.7 million to 1,079 creditors, the largest being a secured debt of $115.9 million owed to the EDC. A meeting of the company's creditors is scheduled for July 10 in a Delaware courthouse.
Rhode Island taxpayers could be forced to pay nearly $90 million through 2020 to pay off the EDC's 38 Studios bonds with the rest of 38 Studios LLC's debts unsecured, including unpaid wages owed to former employees. The parent company estimated its assets at $21.7 million, including $12.8 million on deposit with the EDC; it told the court it does not expect it will have any funds available to pay off unsecured creditors.
38 Studios Baltimore LLC (Big Huge Games studio) said it owes $5.5 million to 28 creditors on top of the EDC loan; court documents show and reported receiving $22 million between 2010 and 2011 from Electronic Arts, the company that distributed Kingdoms of Amalur: Reckoning for a "work-for-hire agreement." The third subsidiary Mercury Project LLC, disclosed no assets and a $1.9 million debt to Electronic Arts as part of a three-party agreement that also included City National Bank of Beverly Hills and International Film Guarantors; the fourth subsidiary, Precision Jobs LLC, reported no assets or liabilities.
In a separate but related matter, federal and state law enforcement officials confirmed the launch of a formal probe into 38 Studios and its efforts to secure Rhode Island tax credits to remain afloat.
"The state police, the attorney general's office, the U.S. Attorney's office and the FBI are opening an investigation into 38 Studios, both the money that came from the state as well as the money that came from Bank Rhode Island," Rhode Island State Police Col. Steven O'Donnell told WPRI.com.
O'Donnell said that the timing of the investigation is coincidental to the bankruptcy filing. Nobody outside law enforcement ordered the probe, he also said.
Gov. Lincoln Chafee's office has hired an outside team from Deloitte to conduct a forensic audit of 38 Studios' finances stretching back to the company's founding in 2006. Work began on this last week.