10 Years Ago This Month: December 2005
Xbox 360 gets a chilly reception in Japan, Sony decides when the HD era really starts, and the concept of free-to-play needs an explanation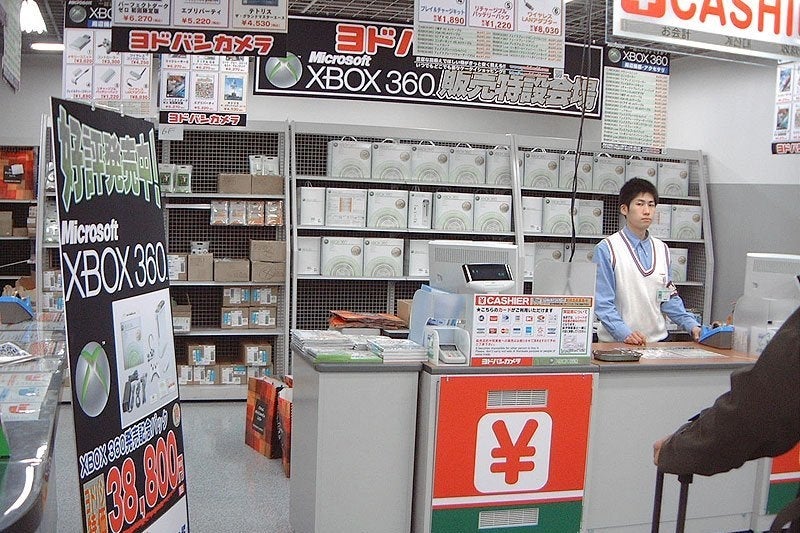 The games industry moves pretty fast, and there's a tendency for all involved to look constantly to what's next without so much worrying about what came before. That said, even an industry so entrenched in the now can learn from its past. So to refresh our collective memory and perhaps offer some perspective on our field's history, GamesIndustry.biz will run a monthly feature highlighting happenings in gaming from exactly a decade ago.
Xbox 360 says "Konichiwa," "Sayonara"
December of 2005 saw the Xbox 360 completing its worldwide rollout with launches in Europe and Japan. While the European launch read like a replay of its North American counterpart from a couple weeks before--big demand, little supply--the Japanese launch had a different feel to it.
After the failure of the original Xbox to establish a foothold in the Japanese market, Microsoft was determined to get it right the second time around. The company invested heavily in securing high-profile Japanese developers like Tetsuya Mizuguchi (Rez, Space Channel 5), Hironobu Sakaguchi (Final Fantasy) and Yoshiki Okamoto (Street Fighter, Resident Evil), but the resulting projects were all scheduled to arrive well after the Xbox 360's launch.
Even so, there was optimism that this time would be different. Speaking on the eve of the Xbox 360's Japanese debut, Microsoft executive Peter Moore said, "I sense the demand is strong." And in an editorial in Dengeki Xbox 360 magazine earlier in the month, Xbox Japan business manager Yoshihiro Maruyama said the company was targeting Japanese sales of 1 million systems by summer of 2006, and 2 million by the end of that year.
Unfortunately for Microsoft, Japan proved just as indifferent to the 360 as the original Xbox, if not more so. While the system sold out almost instantly in Europe and North America, the Xbox 360 only sold through about 28 percent of its Japanese stock at launch. As for that 1 million sales target, Microsoft would hit it about three years later. It apparently never did reach 2 million; the last time Microsoft updated lifetime installed user base for the Xbox 360 in Japan was in mid-2011, when the number came in around 1.5 million.
In case you were wondering, the Xbox One's Japanese launch was even worse. According to the most recent charts, things haven't gotten any better, with the Xbox One selling just 591 units in Japan for the last week of November.
PS3: The Second Coming of PS2?
With the Xbox 360 generating all that buzz, Sony felt the need to fire back. However, the PlayStation 3 was penciled in for a spring 2006 launch (though it would slip to the holidays), so it became key to minimize whatever first mover advantage Microsoft had gained with the Xbox 360.
Future Microsoft employee and then-Sony Computer Entertainment Worldwide Studios head Phil Harrison was among the first to attempt this in an interview with GI.biz, in which he stated, "The HD era really only starts when we are on the market."
Though the quote seems to drip with hubris, in context, he was actually just underlining the fact that launch Xbox 360s could neither play movies in high-definition nor output video in 1080p resolution (or True HD, as Sony was billing it at the time). Besides, his answer to the next question--about whether or not 2006 would be a make-or-break year for PlayStation--was the real hubris bomb.
"I think we've already made it - I don't think there's any risk of it being broken," Harrison said. "Clearly it is an important year for the continuing growth of PSP, which will be probably the fastest-growing format during the year. Clearly it will be an important year for the furthering spread of PlayStation 2. As far as the world is concerned the big news will be the launch of PlayStation 3, so it's going to be a PlayStation year whichever way we look at it."
Meanwhile, then-SCEA head Kaz Hirai downplayed the importance of Microsoft's head start, saying "First to market, from what we can tell, has never been an advantage... The technological advantage [of launching later] is almost a given, but by itself, it doesn't mean very much. What kind of software do you have to help drive that technological innovation? We've proven over the past 10 years with three products that we can deliver, whether it's first-party of third-party support."
In that same interview, Hirai also discussed the PlayStation 3's controller, which as of that point was still supposed to be a boomerang-shaped deviation from the DualShock design.
"We've gone through two consoles with essentially the same controller design, and it's time for a fresh approach," Hirai commented. "We're going to look at the form factor, but at the same time we want it to feel familiar. It's difficult to balance the two. It's a work in progress. We certainly want to make sure that when you hold it in your hands that you've come home to something familiar."
In the end, the PlayStation 3 launched with a controller that was virtually identical to the DualShock 2, but with tilt-sensitive functionality instead of rumble force feedback.
The Circle of Life
December is a tough time for many development studios who might have just shipped something and don't have the next project lined up to support their headcount. Add in the ongoing console transition and an industry-wide downturn and there were bound to be a few casualties, among them Ratbag (Powerslide), Stainless Steel (Empire Earth), and the Chris Roberts-co-founded Digital Anvil (Brute Force).
While some studios went under, others were snatched up by larger companies. Sony acquired developer Guerrilla Games and Square Enix set a date for its acquisition of one-time arcade titan Taito, but the big news on the mergers and acquisitions front was Electronic Arts' $680 million pick-up of mobile game developer Jamdat.
It was a huge amount of money, but given Jamdat's presence in the mobile market (together, Jamdat and Gameloft held a 30 percent market share in the US and Europe), it must have seemed like the best way to buy into a market poised for growth. Then the iPhone came and changed everything, but that's a subject for a future 10 Years Ago This Month entry.
Predicting the Future
A decade ago, Shanda was the largest online gaming company in China, specializing in MMORPGs like Magic Land and Legend of Mir II. However, after seeing user numbers dropping for its games, the company switched over to a free-to-play business model. The idea was novel enough at the time that the GI.biz articles regarding it still had to explain the basic concept.
As we wrote then, "The free-to-play revenue model, which has been tried throughout Asia and will be tested in the West by companies including Sony Online Entertainment, relies on generating revenue through the sale of extra services such as powerful in-game items or bonus levels, allowing gamers to legitimately pay real money for in-game items and characters."
Shanda saw where the market was headed and pivoted to get there first. Today, Shanda Group is worth about $8 billion. Not everyone had such good foresight at the time.