Zynga: Good numbers, but stock slips
Zynga posted strong results, but their stock has slipped to new lows. Why?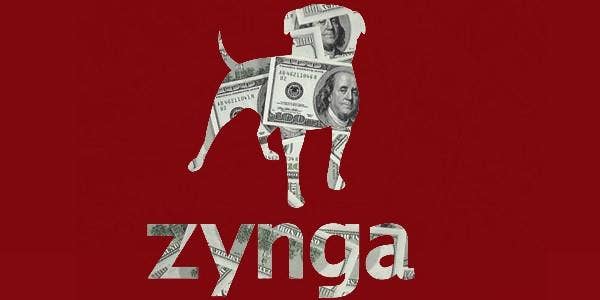 Zynga reported excellent numbers for its first full quarter as a public company. Some of the key figures that were noted by John Schappert, COO, were that Zynga has 8 out of the top 10 games on Facebook. Schappert highlighted that its core games remained healthy and continue to provide solid bookings.
"CastleVille and Zynga Poker delivered record results," Schappert said. Older titles like CityVille and FarmVille continued strong. Importantly, mobile games made great progress for Zynga, as they nearly doubled daily average users (DAU) to 22 million up from 12 million in Q4. This was without the effect of the Draw Something acquisition, which came too late in the quarter to materially affect the numbers.
Here's some important numbers to note: Zynga's monthly unique users (MUUs) increased from 146 million in the first quarter of 2011 to 182 million in the first quarter of 2012, up 25 per cent year-over-year. Average daily bookings per average DAU increased from $0.051 in the first quarter of 2011 to $0.055 in the first quarter of 2012, up 8 per cent year-over-year. The key figure of Monthly Unique Payers (MUPs) increased from 2.9 million in the fourth quarter of 2011 to 3.5 million in the first quarter of 2012, up 21 per cent sequentially.
"Zynga continues to grow its overall audience, hitting 292 million monthly active users"
Zynga continues to grow its overall audience, up about 24 per cent over last year at the same time, hitting 292 million monthly active users (MAU). The all-important revenue number, Average Bookings Per average daily User (ABPU) was up 8 per cent. That particular number is where Zynga has plenty of upside potential; the trick is to realize that without annoying players or disturbing game balance (which can lead to annoyed players). Some specialized games that target hardcore gamers can see ABPU numbers that are much higher than Zynga's. Zynga, though, is trying to produce games appealing to the widest possible audience. This is great for building a sizable audience, but less helpful when you're trying to get players to spend money on your games.
The advantage of a large audience is that it helps any new game you do substantially, making it relatively easy to get millions of people to try a new game. They may not stick around, but at least you can find that out quickly and make adjustments accordingly. Large audiences are also attractive to advertisers, which is another area where Zynga improved.
Zynga did not note in its report the percentage of its revenue that came from Facebook, which leaves open the question of whether has that dropped from the 93 per cent that it was when they filed the S1 for its IPO last year. In other words, what kind of progress is Zynga making in generating revenue from mobile and from the Zynga Platform, as well as advertising?
Zynga took in $28.2 million through advertising, which was up 117 per cent year-over-year, although it only rose 3 per cent over Q4. Still, considering that Q4 is a very heavy advertising period, that's a good sign. Zynga was able to substantially increase ad revenue while simultaneously growing the user base strongly, indicating that the ads didn't turn off players. Of course, that $28.2 million is less than 10 per cent of the $321 million in revenue that Zynga brought in during the quarter, but clearly it's an area with good potential growth.
More interesting in some ways were the things that Zynga executives couldn't say. For instance, why does Zynga expect the second half of the year to produce better results than the first half? Obviously, because the new product release schedule it has planned is heavy with titles in the latter half of the year. This is also implied by the fact that Zynga plans to have a second Zynga Unleashed press event sometime during the summer. During the last such event in October, Zynga talked about a number of its new releases coming up in detail, so we can expect the same thing to occur this summer.
Zynga stock, which opened at $11 per share back in December, has seen its ups and downs since then. The stock reached a high point in March of nearly $16 per share, and before the report of results today it's been down around $9 per share. The value popped a few percent after the earnings report, but sank nearly 10 per cent on Friday, closing at $8.52, and dropping again on Monday to $8.34. Why? Of course, that's something that Zynga won't speculate about. The general rumbling is that investors are worried that Zynga might be looking to be too aggressive in their acquisition strategy, and perhaps start making unwise investments. That may happen, but certainly Words With Friends has proven to be a shrewd buy, and Draw Something looks to be an excellent purchase so far.
On the face of it, there's no good reason for the stock price drop looking at Zynga's numbers for the first quarter, and its projections for the rest of the year. It could be the vagaries of the marketplace, or perhaps some investors are worried that Facebook's impending IPO might drive Facebook to seek more revenue from companies that use its platform, especially through Facebook Credits.
While Zynga is currently dependent on Facebook for over 90 per cent of its revenue, there's plenty of reason to believe that Facebook and Zynga have a long-term agreement that will keep their basic relationship stable for years. In other words, no hike in the 30 per cent fee for Facebook Credits, or other price increases. Regardless, Zynga is looking to diversify its revenue through advertising and mobile expansion, so we should see the percentage of revenue directly attributable to Facebook decline over time. Perhaps that isn't happening fast enough to suit nervous investors.
The bigger challenge for Zynga in the long term is that Facebook's growth rate is slowing, as it has succeeded in grabbing much of the internet-using audience that's interested in a social network. China offers a huge audience, but there's no sign the Chinese government is interested in opening up to Facebook (or Twitter, for that matter). Zynga must look for growth opportunities beyond just waiting for Facebook to add millions of new users. Which is why we heard Zynga execs talk a lot about mobile opportunities, because that's where a lot of growth is occurring.
"What should be keeping Zynga execs up at night is the fact that the market is changing constantly and the social games don't have a lengthy history to reference"
Zynga's also got an opportunity to expand its advertising revenue substantially. An audience of nearly 300 million is an attractive target for advertisers. The most effective ads are likely to be interactive ones, such as the State Farm/FarmVille campaign where you could click on a State Farm blimp to get some protection for your crops. It tied in with the brand, and it offered an in-game advantage to players who chose to interact with the brand. We're likely to see more of these kind of ads, though the ultimate danger is that games may look like NASCAR events with everything plastered with a logo, and thereby turning off players.
What should be keeping Zynga execs up at night is the fact that the market is changing constantly and the social games don't have a lengthy history to reference when trying to project how the market will perform in the future. Still, Zynga seems to have convincingly moved past the "social games are a fad" meme that was making the rounds for a while in the early days.
Too many companies continue to make money with social games for the category to be summarily dismissed, whether or not you personally enjoy playing social games. There are still many things left to discover about the social games market, though. How long can a social game last? FarmVille is hitting three years in June, and still makes good money. How long can that continue? Is there still a large untapped audience of social game players? Can existing social games transition to mobile platforms and harness some of that platform growth? Can China become a strong social game market for a non-Chinese company? What will Zynga's market look like in a year or two or three? There are plenty of unknowns ahead for Zynga, and the journey promises to be an interesting one to watch.