BioWare's Zeschuk widens his role at company
UPDATE: Email suggests he plans to focus on more than just Star Wars: The Old Republic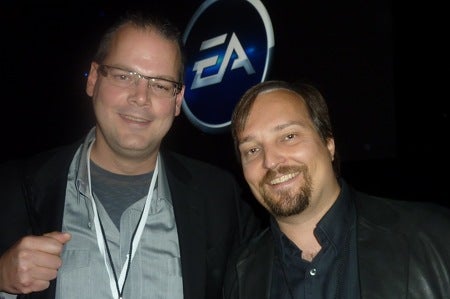 Update: An email has come to light that explains a little more about Greg Zeschuk's future at BioWare.
"With regard to BioWare Austin, I handed off the leadership of the studio to Matthew Bromberg quite some time ago (back in May). Ray [Muzyka, BioWare co-founder] and I picked Matthew to take over and he's been doing a great job with the studio," he told Gamasutra earlier this month.
"My time in Austin was always planned to have a finite endpoint (my family was still living in Edmonton throughout my time in Austin) and now that I've handed the baton to Matt I will be able to spend more time on a wider range of BioWare games rather than focusing on just one as I did with SWTOR."
Original story:
Greg Zeschuk, one of the co-founders of BioWare, appears to have left his position as general manager of the studio.
The rumours were reported by German site GamersGlobal, and suggested that both Zeschuk and Ray Muzyka skipped a recent Bioware meeting, and that Zeschuk has been MIA from the studio for weeks.
Attempts to reach out to EA over rumours that Greg Zeschuk has left Bioware received a very definitive "no comment" this morning, but a separate EA representative did confirm to GamersGlobal that Zeschuk was "still with EA," but was cagey about his role with Bioware.
"When Greg Zeschuk announced the reorganisation of [BioWare Austin] in May, he outlined his plan to return to his family in Edmonton for a much deserved vacation," it said.
"Greg also announced the new GM of BioWare Austin and Old Republic, Matt Bromberg. Greg is still with EA. He's now back in Canada, taking time off and thinking about new projects. No change with Ray Muzyka."
The report also suggested there were fears within the BioWare Austin studio that both Zuschek and Muzyka were planning to leave, and the studio could become EA Austin.
Bioware recently revealed that as well as Zeschuk's departure, May saw staff reductions in the BioWare Austin studio.
Bioware has recently found success with Mass Effect 3, but its MMO Star Wars: The Old Republic has had a bumpier ride. EA's Frank Gibeau recently called the subscription base of less than one million disappointing.
Originally available as subscription-only, the game is now free-to-play up to level 50.