Star Wars: The Old Republic goes free-to-play up to level 50
UPDATE: EA confirms subscriptions now under 1m, performance "disappointing"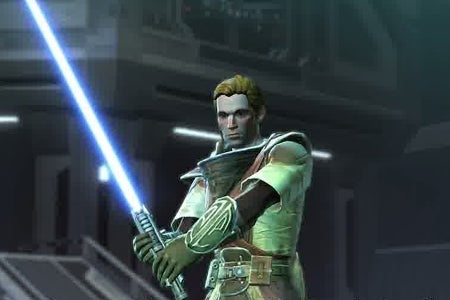 Update: On the investors conference call, Frank Gibeau (head of Labels) confirmed that The Old Republic's subscription base has indeed fallen beneath 1 million and that the company has been "disappointed" with the game's performance. Gibeau noted that 500,000 is the break-even point, and while the game is still well above that, the numbers are not acceptable, he said.
Original story:
Electronic Arts has just confirmed what many in the industry had been expecting: the fledgling Star Wars: The Old Republic title will be going free-to-play this fall [Update: it'll be in November]. It's not 100 percent free, however, as it's for the first 50 levels with some restrictions (which can be unlocked with Cartel Coins).
Gamers will have access to all eight classes as well as storylines all the way up to level 50, which essentially enables players to experience the bulk of the game. To gain full access to the game and to push past level 50, BioWare will be offering incentives to gamers to keep them interested. Microtransactions will still be part of the game.
"Players want flexibility and choice. The subscription-only model presented a major barrier for a lot of people who wanted to become part of The Old Republic universe," said Matthew Bromberg, GM of BioWare Austin. The game will be offered for $15 in August with an added free month to get people playing a bit more, and the subscription model will remain in place. Those who seek access to more advanced parts of the game without paying for a subscription can use Cartel Coins, which can be unlocked or purchased in-game.
"Since launch, we've been listening to feedback from our fans and adding new content and refining The Old Republic at a breakneck pace," said BioWare executive producer Jeff Hickman.
"We believe we are in a position to help improve the service even more, not only by continuing to add new content, but also by expanding the game to many more Star Wars fans, increasing the populations on worlds and the vibrancy of the community."
The Old Republic was facing increasing scrutiny in the analyst and investor community as subscriber numbers had continued to dip. EA is hopeful that going free-to-play and offering up more content will keep buzz high for the game. BioWare noted that it will be increasing the frequency of game content updates, "with the first of many new releases coming in August." Additionally, current subscribers will receive some Cartel Coins and qualify for access to special in-game items, the developer said.