ZeniMax claims Oculus uses its IP
UPDATE: John Carmack reveals lines of ZeniMax code used in Oculus: "Zero"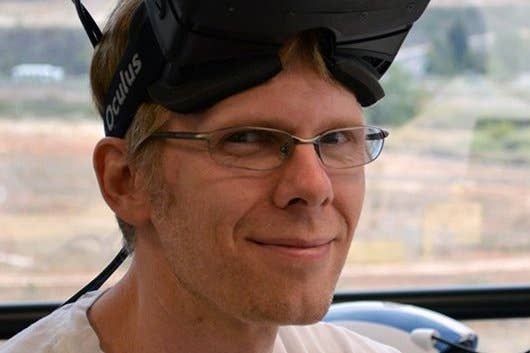 UPDATE: John Carmack responded to the allegations brought by his former employer on Twitter yesterday. In two tweets, the esteemed programmer rubbished ZeniMax's claims of ownership.
No work I have ever done has been patented. Zenimax owns the code that I wrote, but they don't own VR.

— John Carmack (@ID_AA_Carmack) May 1, 2014
Oculus uses zero lines of code that I wrote while under contract to Zenimax.

— John Carmack (@ID_AA_Carmack) May 1, 2014
ORIGINAL STORY: ZeniMax Media is laying claim to a portion of the technology behind the Oculus Rift VR headset. The Wall Street Journal reports that the id Software parent company believes it has a right to compensation from Oculus as a result of id co-founder John Carmack's work on the Rift. Carmack provided assistance to Oculus founder Palmer Luckey in early 2012, helping him create an early prototype to show off the Rift technology.
According to a letter ZeniMax sent to Oculus and Facebook lawyers last month, "It was only through the concerted efforts of Mr. Carmack, using technology developed over many years at, and owned by, ZeniMax, that Mr. Luckey was able to transform his garage-based pipe dream into a working reality."
An Oculus representative told the paper, "It's unfortunate, but when there's this type of transaction, people come out of the woodwork with ridiculous and absurd claims. We intend to vigorously defend Oculus and its investors to the fullest extent."
The transaction referred to in the Oculus statement is the pending $2 billion Facebook acquisition of Oculus, originally announced in March. A person familiar with the discussions told the paper that Oculus had previously offered ZeniMax a small equity stake in the company to resolve the matter, but a deal could not be reached.
"ZeniMax believes it is necessary to address these matters now and will take the necessary action to protect its interests," a representative told the paper.
Carmack joined Oculus at its chief technology officer last August, while retaining his "technical leadership" at id Software. After several months trying to balance his duties, Carmack resigned from id entirely in November, saying he left because he wouldn't have the opportunity to work on VR at id.