Carmack joins Oculus VR
id Software co-founder announced as Rift maker's new full-time CTO; id says Carmack's technical leadership at studio "unaffected"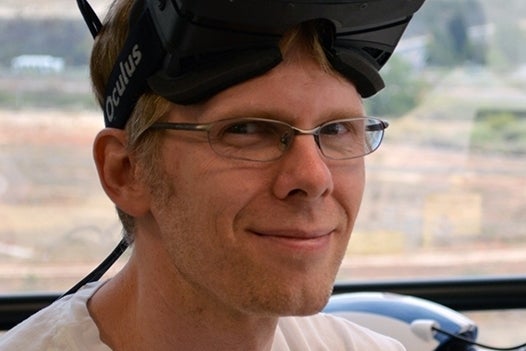 [UPDATE]: A Bethesda representative provided the following comment: "John has long been interested in the work at Oculus VR and wishes to spend time on that project. The technical leadership he provides for games in development at id Software is unaffected." When asked for clarification, the rep told GamesIndustry International that Carmack "will spend time working out of Oculus as part of his role with them, but he will also continue to work at id."
Carmack provided his own clarification in a Twitter post, saying, "My time division is now Oculus over Id over [rocketry developer] Armadillo. Busy busy busy!"
The original story follows below:
John Carmack has always been a vocal supporter of the Oculus Rift VR headset, but the id Software co-founder has taken that support a step further. Oculus VR today announced that Carmack has joined the company full-time to be its chief technology officer, and will work out of a new Dallas, Texas office the company is forming.
A representative with id Software parent Bethesda had not returned a request for comment as of press time, but Oculus referred to Carmack as "formerly at id Software."
"The dream of VR has been simmering in the background for decades, but now, the people and technologies are finally aligning to allow it to reach the potential we imagined," Carmack said in a statement. "I'm extremely excited to make a mark in what I truly believe will be a transformative technology." Oculus noted that Carmack has championed open source software, and co-founder and CEO Brendan Iribe stressed the company shares his commitment on that front.
"John's early experiments with the Rift put Oculus on the map and helped create an amazing amount of momentum around virtual reality," Oculus founder Palmer Lucky said. "His technical genius and passion for solving hard problems makes him the ideal CTO."
Oculus Rift kits have been available to developers since March. The headset has no commercial release date as of yet.