YouTubers walk away from G2A sponsorship revenue
Accusations of fraudulent transactions on G2A's marketplace has prompted some streamers to break their partnerships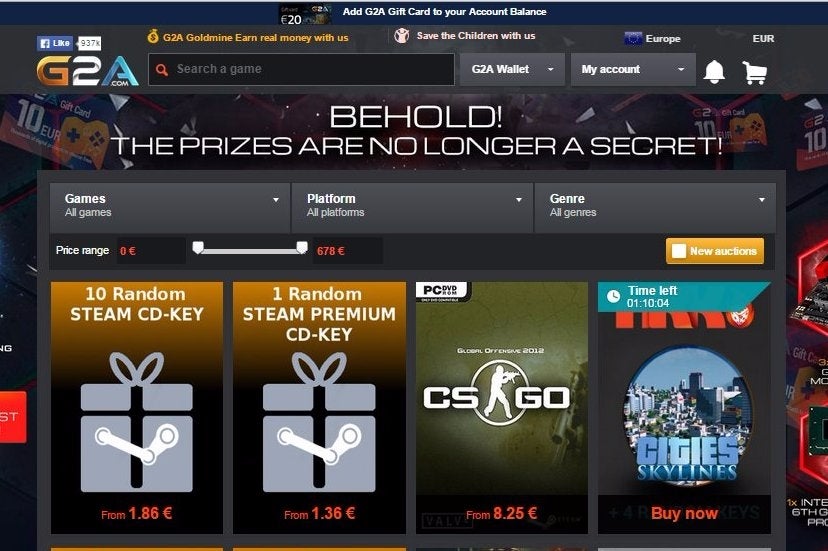 Several prominent YouTubers have walked away from commercial deals with G2A following recent accusations that it had turned a blind eye to fraudulent transactions on its marketplace.
While G2A has been criticised in the past for not taking a firmer stance against fraud, Tinybuild CEO Alex Nichiporchik brought the issue to wider public attention than ever before. The G2A marketplace, a popular venue for the resale of online keys, has since introduced a royalty scheme for developers and implemented tighter verification, but a new report from Kotaku indicates that the debate has left a lasting mark on its reputation.
G2A has worked with streamers on sites like YouTube and Twitch for several years, offering a monthly payment in return for promotion on their channels. This has led to partnerships with influential figures like PewDiePie and Matroix, though "more than a dozen" attempts by Kotaku to contact streamers running G2A promotions did not receive a response.
However, Kotaku also discovered that G2A has lost a number of partnerships due to its clash with Tinybuild. One of those, LIRIK, made it clear that the partnership had ended because, "as you guys know, some...stuff happened. There's so much news."
Another YouTuber, MrMattyPlays, also dropped G2A as a sponsor due to its, "negative association." G2A received praise for both the amount it paid and the ease of the relationship, but, "When I have a sponsor that is being accused and essentially proven of hurting developers; that contradicts what I believe in."
While Nichiporchik certainly thrust the issue of fraud on the G2A marketplace into the spotlight, a video exposé from LevelCapGaming - which was released before Tinybuild published its article - was every bit as influential on the way G2A is perceived among streamers. "I blame a lot of YouTubers - myself included - for massive brand integration of G2A," said Charlie Goldberg, who runs Level CapGaming. "We helped create a brand that gamers associate with cheap legitimate games. Too many of us are young and easily swayed by money. We don't have managers or a team of people seeking out advertising deals. It's just us."
Kotaku mentions its difficulty in getting streamers to speak freely about G2A on several occasions, so it's hard to get an accurate picture of just how many partners the company has lost. However, a G2A spokesperson played down the negative impact.
"G2A is working successfully with over 500 partners including 70 eSport teams and 100 events. A few partners, ten in total, took a break, some to renegotiate their contracts, some for various other reasons. The real story here however is that 490 partners chose to stick with us."