"You need a community before doing something like Kickstarter"
Press coverage doesn't result in more backers, indie developers say, so it pays to have your own community before you start
The specialist games press is no longer an effective tool for attracting backers to a Kickstarter campaign. According to a panel of indie developers, all of whom had run successful crowdfunding campaigns, any coverage a game does receive is unlikely to result in dollars towards its target.
Speaking at the Ludicious conference in Zurich, Stray Fawn Studio's Philomena Schwab highlighted a simple truth, one with which any games journalist would readily agree. "Doing a Kickstarter is not news for the press any more," she said. "They don't really care."
"Doing a Kickstarter is not news for the press any more - they don't really care"

Stray Fawn Studio
That may be overstating the case somewhat, but it's fair to say that, nine times out of ten, only blockbuster crowdfunding campaigns can expect much coverage; a game based on Apocalypse Now, for example, or the follow-up to one of Kickstarter's great success stories.
That level of status can't simply be conjured from the air, and yet the press continues to play an early and integral role in many indie crowdfunding campaigns. Schwab and her team tried something different, devising a strategy for Kickstarter in which press coverage would only be sought after the minimum funding target had been achieved, to reach stretch goals and sustain momentum. The press may not respond to the mere existence of a Kickstarter campaign any more, she reasoned, but "having a successful Kickstarter is slightly better."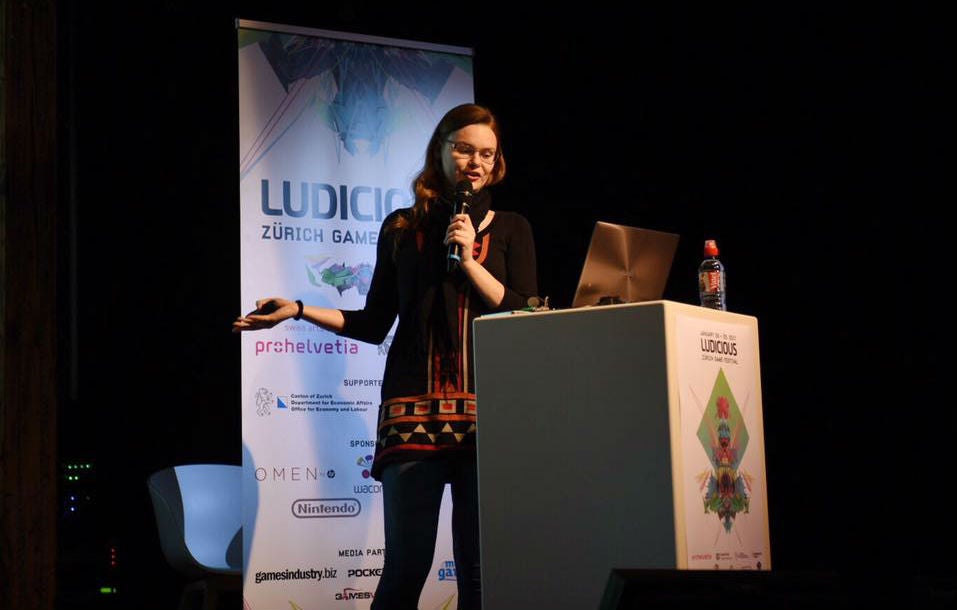 When the campaign reached its target, and when specialist press coverage did arrive, the result didn't justify the effort. "Press really wasn't that important," Schwab said. "Even the bigger sites only gave us a few hundred extra dollars [from backers], which is not that big of a deal." In fact, Stray Fawn found a much better return by thinking beyond the games press, and pitching its product, Niche: A Genetics Survival Game, to sites and communities interested in its scientific themes. "Science blogs, Facebook pages - they actually brought in more money than the popular gaming press."
"Why would any developer in their right mind start a Kickstarter campaign with no community?"

Solar Powered Games
Another developer on the panel, Kornel Kisielewicz, found that this held true even in circumstances that, at first glance, would appear to be ideal. In 2003, Kisielewicz created a roguelike based on id Software's Doom, a hobby project that he called "DoomRL." Last year, his studio, Chaos Forge, launched a Kickstarter campaign for what he described as a "spiritual successor": Jupiter Hell, which applied the roguelike template in a more copyright friendly - and therefore commercially viable - manner.
After 20 days, ZeniMax issued a cease-and-desist letter ordering that Doom's trademarks be removed from the DoomRL website, the corporate hammer falling on a game that had already existed for more than a decade. Kisielewicz pasted the letter into Twitter, went to bed, and woke up to more than 4,000 retweets and articles on Kotaku, Polygon, PC Gamer, and a host of other specialist websites.
This situation and the press exposure it brought seems like an indie developer's dream, and near impossible to replicate, but Kisielewicz said the articles resulted in relatively little traffic for Jupiter Hell's Kickstarter page. The studio's grassroots activity on networks like Twitter, Reddit and Facebook were far more productive. "Those [specialist websites] didn't count," he added. "The one that did count was our own community. Word-of-mouth was much stronger... The games press was not as important as our own community spreading."
Though both Kisielewicz and Schwab were raising money for very different projects, in very different circumstances, there was a common thread. Neither Chaos Forge nor Stray Fawn Studio saw Kickstarter as an opportunity to build a community; each had been building a community independent from any crowdfunding plans, and they were now feeling the benefit of that endeavour.
Kisielewicz had stayed in touch with the people that originally clustered around DoomRL, updating the game for more than ten years after it first launched. Schwab and her team had used government grants to fund bare-bones trips to a range of events, expos and conferences, building a Facebook group member by member until it had several thousand. By the time they considered using the crowd to fund a project, the crowd was ready and willing to reciprocate. Because of this, the fact that press coverage yielded such underwhelming results wasn't the difference between success and failure.
"Word-of-mouth was much stronger... The games press was not as important as our own community spreading"

Chaos Forge
"The people in our community went crazy," Schwab said, referring to the moment Stray Fawn launched the game on Steam Greenlight, months prior to the start of the Kickstarter campaign. "Now there was a way they could give something back, for letting them play the game for free, for being nice to them and listening to them. They all ran over to Greenlight and voted and voted, and we made it into the top ten.
"The main priority of our Kickstarter was not to raise money. Of course, getting some extra money would be very nice, but the main goal was to get that energy back and do something together with our community... It seems that, when you have that energy in a community, they want to give things to you. You need a community before doing something like Kickstarter."
For Kisielewicz, the conclusion was more pronounced. "[Jupiter Hell] would be a horrible and failed Kickstarter if it weren't for the fact that we had a big community already built."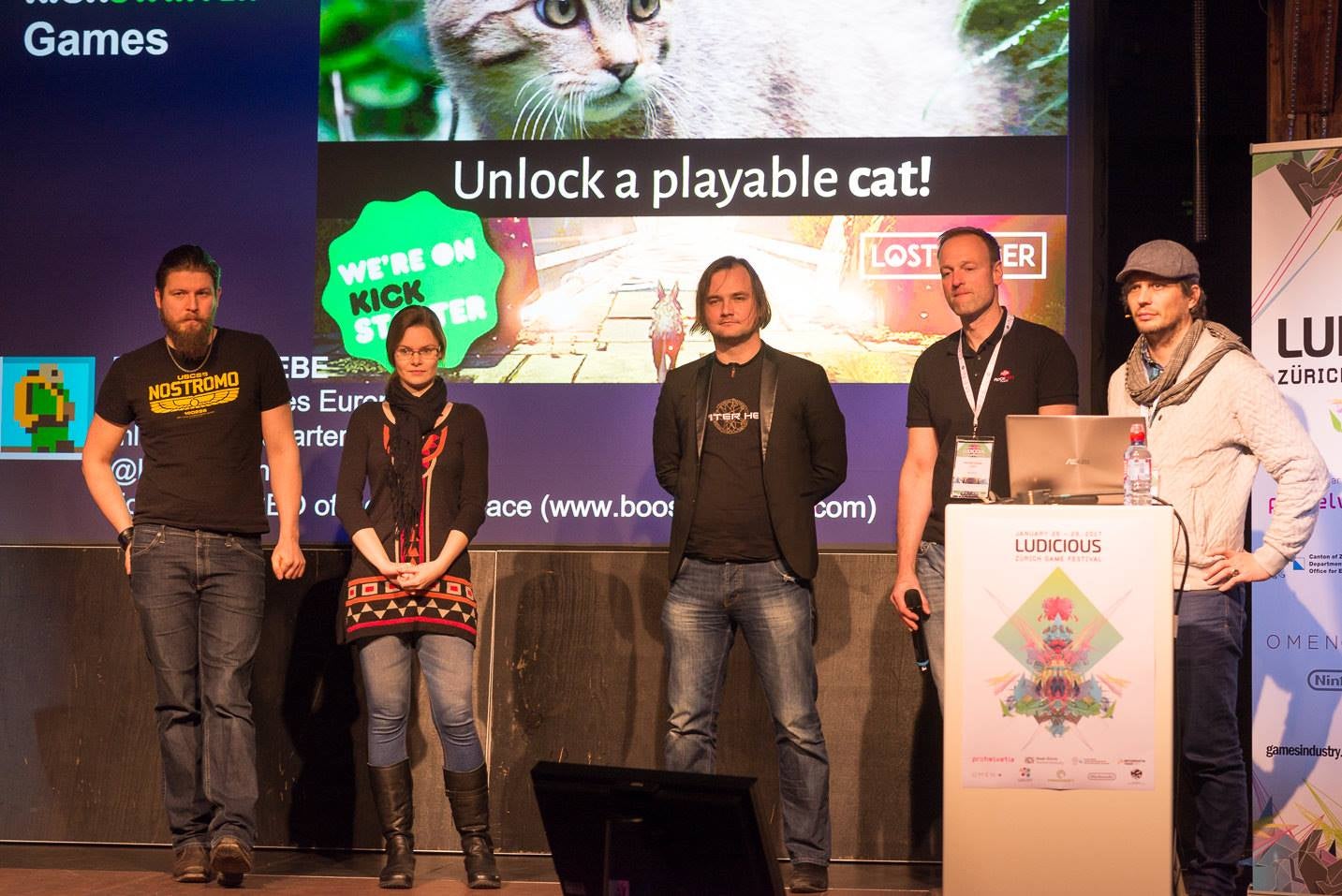 This echoes the argument put forward by Shahid Ahmad and Jason Della Rocca at Casual Connect Europe last year. "One of the most important things you have as a developer is the community you can take with you, and your ability to engage with that directly and authentically," Della Rocca said, and that applies as much to Kickstarter as it does to finding a publisher.
"When you have that energy in a community, they want to give things to you"

Stray Fawn Studio
With an existing community as a bedrock, the emphasis shifts from seeing your project in the feed of Rock Paper Shotgun to seeing it in sub-Reddits and Imgur posts. For Stray Fawn Studio, the latter was particularly productive, with a single animated GIF posted to Imgur bringing in pledges worth thousands of dollars - many times higher than even the most popular article from a games journalist. Michael Schade, founder of Everspace developer Rockfish Games, also expounded the benefits of engaging directly with social networks, and being ready and waiting to take advantage of any "spikes in interest."
"When you're running a Kickstarter, and even after the Kickstarter, if something goes viral you don't go to sleep. You stay awake," he said. "If a question comes up [from the US west coast] you have to answer it immediately. If you answer the next day the crowd has gone.
"Reddit and Imgur are great sources to reach out to your fanbase. In our case, the most recent GIF we did generated more than 1.3 million views, and in total all the animated GIFs we put out on Reddit and Imgur clocked up somewhere around 16 million views. Compared to what a publisher does, they were really puzzled that we could create so many eyeballs, even without spending a lot of money - actually, without spending any money at all."
This organic, hands on approach to community building has its own value, quite apart from the benefits it might eventually yield during a crowdfunding campaign. The fourth developer on the Ludicious panel, Solar Powered Games' Nico Grupp, detailed his struggle to inch even $1,000 past the target in the dying hours of his campaign. The reason? "We started with no community at all."
"Why would any developer in their right mind start a Kickstarter campaign with no community?" Grupp asked. "Basically, you shouldn't."
GamesIndustry.biz is a media partner for Ludicious 2017. Our travel and accommodation costs were provided by the organiser.