Wii U retailer feedback and pre-sales already "extremely strong" says Reggie
Nintendo also confirms no standalone GamePads sold at launch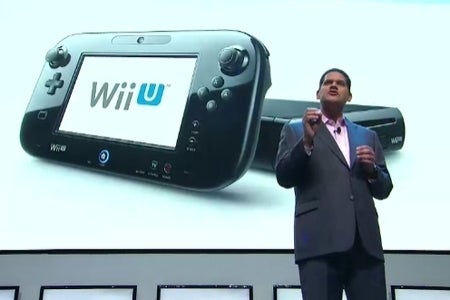 Wii U, it's finally been revealed, will launch on November 18 with a starting price of $299. It's going to be a hugely important launch for Nintendo in a very crowded and competitive entertainment landscape, but Nintendo of America boss Reggie Fils-Aime is very encouraged by the early response to the new console.
Speaking at the New York City Wii U event, Fils-Aime told GamesIndustry International that Nintendo's already seeing lots of excitement from retail partners. "We've announced the price and we have a number of retailers taking pre-orders and the feedback that I'm getting from retailers is extremely strong in terms of pre-sales and consumer excitement at the store," he said.
Fils-Aime stressed to us that with every hardware launch, Nintendo looks to ensure a good value proposition for the consumer, and he's confident most of Nintendo's customers will feel that Wii U does indeed offer a good value for the money.
"In the end... I care about the consumer who's putting money down on a pre-order and whether or not we're presenting a great value to them. Based on some of the reports I'm getting, the answer is yes," he said.
Elsewhere in the interview, we asked about whether we'll be able to buy standalone GamePads at launch and when we'll see games that support two GamePads. It'll be some time it seems, and Reggie confirmed to us that GamePads won't be sold individually initially.
We'll be posting the full interview tomorrow, in which Reggie discusses how Nintendo arrived at the price points they did, why Nintendo Land is the pack-in game (in the $349 SKU), competing with tablets and free-to-play, the ever-stretching "launch window" and more. Update: The full interview is now available.