Why did Borderlands 3 re-cast Troy Baker's role?
Voice actor says developer Gearbox "wouldn't go union"; studio says it tries to meet or exceed union standards for pay, working conditions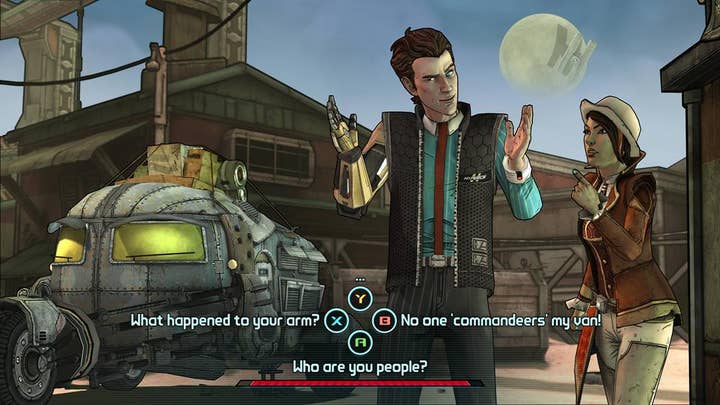 While Gearbox brought the Tales from the Borderlands character Rhys into Borderlands 3, it left the voice actor behind. VG247 recently spoke to Troy Baker, who played Rhys in the previous title, and asked why he didn't reprise the role for Borderlands 3.
"So [Gearbox] came to me, and they were like, 'Do you want to do this?'," Baker told the site. "Which I said, 'Absolutely.' And then they made it impossible for me to do the role. It had nothing to do with money, it had nothing to do with money. They just simply would not go about doing it the way that we needed it to be done. So then it was like, I never said no."
When asked if it was a matter of scheduling conflicts, Baker responded, "No, it was simply a matter of they wouldn't go union. And I can't do a non-union gig."
Baker is a member of SAG-AFTRA, a union covering a variety of actors, journalists, singers, and other media professionals. SAG-AFTRA's rules state that members cannot work "for any producer who has not executed a basic minimum agreement with the union..."
Speaking with Polygon, a SAG-AFTRA representative said that Gearbox "refused and disengaged" from talks regarding such an agreement.
"The misguided decision by Gearbox to deny their performers the opportunity to have fair union wages, a safe workplace and the possibility of health care coverage for their families, is unfortunate," a SAG-AFTRA representation told the site.
A Gearbox representative responded to our request for comment, saying, "Troy is an exceptional talent and we were disappointed that he declined to partner on Borderlands 3 after being offered the part. We wish him the best and hope he knows the offer to collaborate with him still stands. Gearbox is a Texas company and is bound by Texas law - which means that a person cannot be denied employment because of membership or non-membership in a labor union or other labor organization. As a talent-owned and talent-led organization, Gearbox enthusiastically works to ensure our pay and working conditions meet or exceed union standards."