Who won E3 2016?
Hindsight can be a wonderful thing
Who won E3 is pretty much the first question I get asked once the press conferences have come to a close.
It's a question that has become a traditional staple of the event since it began back in 1995.
Execs may play it down, but they all want to win E3. It all started before the LA expo even started, back when the games industry would primarily attend CES (often stuffed at the back or in a tent). In the early 1990s, Sega's senior management would post notices through the doors of retailers the night before the show, announcing their products and pricing, so that Nintendo had no time to react.
Sony adopted similar tricks at the very first E3 in 1995. Former Sega exec Steve Race, who had joined Sony to launch PlayStation in the US, played numerous pranks on Sega. He deflated their giant Sonic, and even ran trade posters with the slogan: "If you bought a Saturn, your head was in Uranus."
And of course there was Race's speech where he walked to the podium, said the words "299", and then returned to his seat. It was a mic drop before the term 'mic drop' was a thing. The PS1 was undercutting the Sega Saturn by $100.
"E3 2016 actually had all three rivals playing very different games"
Things are a little more civil today, but the rivalry is just as fierce. Let's not forget what happened in 2013, when Sony gleefully announced that you can trade-in your PS4 games, knowing full well the PR impact it would have on Xbox.
Indeed, PlayStation often have alternative conference plans drawn up so they can react to whatever Xbox decide to do.
Yet not every year is as clear as others. E3 2016 actually had all three rivals playing very different games.
I remember at the time thinking that PlayStation was the clear winner. It had a number of surprises and big exclusives: God of War, Spider-Man, Days Gone and Resident Evil 7 amongst them.
Xbox had teased Scorpio, revealed its new 'S' console revision and announced just a handful of sequels: Dead Rising 4, State of Decay 2 and Forza Horizon 3.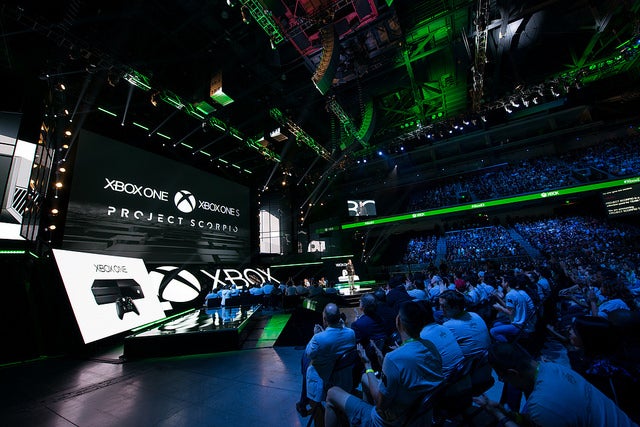 Meanwhile, Nintendo showed up with just one game: The Legend of Zelda: Breath of the Wild.
Yet it's clear now that Sony's focus at E3 last year was designed to show PS4's long-term potential. Outside of the third-party games, the majority of projects on show are still without release dates. Sony wanted to give fans a taste of what was coming later, and even made the choice not to show two major products that were due that Christmas: PS4 Pro and PS4 Slim. It worked at the time, but it can seem a little anti-climactic when it takes so long to get those games into people's homes.
Whereas Sony were looking into the far future, Xbox did the opposite. Yes there was Sea of Thieves, and the tease of Scorpio (which has been very effective), but most of the Xbox games at E3 were due in a matter of months. In fact, the newly announced Xbox One S, Dead Rising 4 and Forza Horizon 3 were all released by the end of the year.
It may have made the overall conference a little lacking in surprises (the hardware was leaked before the show began), but it was clearly effective where it counted. Xbox One S enjoyed a strong launch and gave Microsoft some renewed confidence that it could still compete with PlayStation.
Nintendo, at the time, looked like a company that was effectively avoiding E3. I remember one well-known US journalist telling me that Nintendo was showing "supreme arrogance" in bothering to turn up to E3 with just a single game. We all knew that a mysterious new console was coming, but Nintendo wasn't ready to announce it. So instead it dedicated its entire E3 showing to Zelda.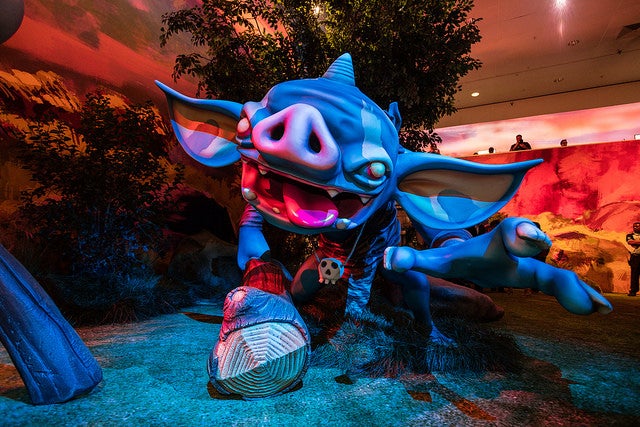 But it worked. The hype, the stampedes and the extravagant stand made Zelda the most talked about game at E3. Zelda has always benefited from a high level of anticipation, but the launch of Breath of the Wild will go down as one of the series' biggest moments - and E3 2016 was, in many ways, where the launch campaign started. It all resulted in the absurd fact that more people bought Zelda on Switch than actually bought Switch consoles.
So who won E3 2016? Well, in truth, they all pretty much achieved what they set out to do. But that objective can be sometimes hard to work out when sitting there in the middle of the E3 circus.
I suspect that I'll be asked "who won E3?" the moment Nintendo finishes its digital event on Tuesday next week. And I will certainly have an opinion.
But you're probably better off asking me again in 12 months time.