Watch with Apple: Developer perspectives
TheCodingMonkeys, Eyes Wide Games and more on developing for Apple's latest tech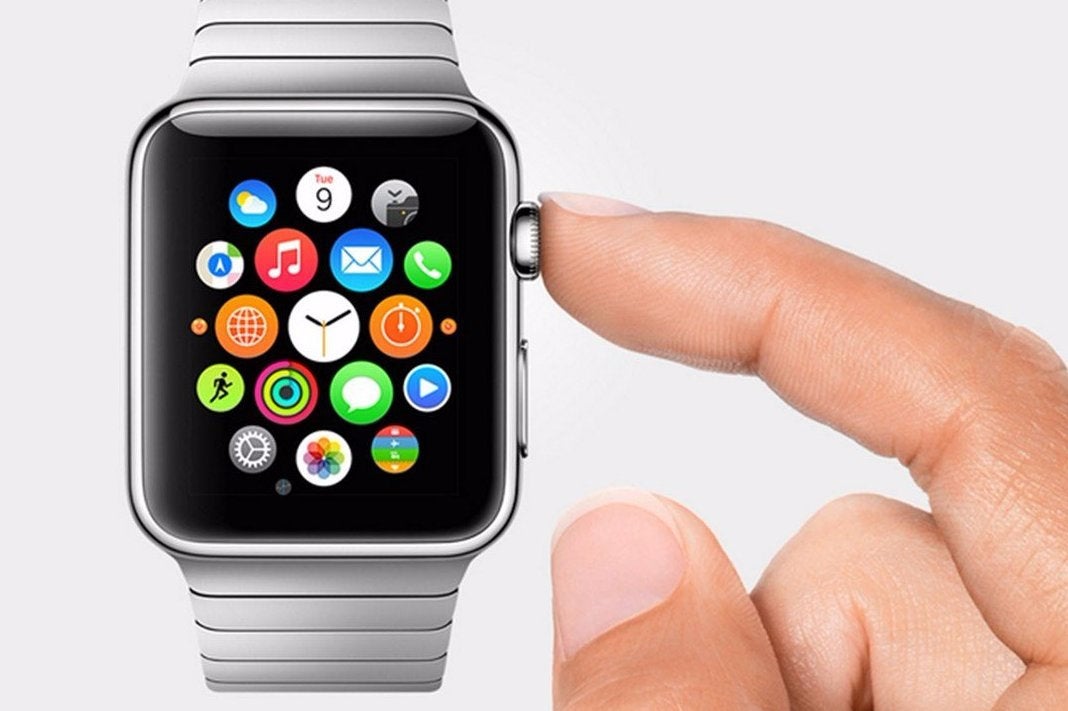 Smartwatches are nothing new, but a smartwatch from Apple? That's something worth a second look for developers, because no one can sell tech like Apple can sell tech.
Apple Watch officially launches today, so GamesIndustry.biz rounded up some of the top teams creating games for the new wrist candy. They shared why they feel the platform is worth focusing on, what challenges it poses and just who they think they're developing for.
"For us, Apple Watch is the gaming platform of 2015. A brand new Apple platform from Apple with no existing games? Now that's a challenge we're eager to tackle," says Aki Järvilehto, CEO of Everywear Games in Helsinki. His team is releasing Runeblade, an RPG designed for the device, today.
WearGa created the number one all-time game on the Pebble smartwatch and is releasing the gorgeous Cupcake Dungeon, also an RPG and also out now.
"The smartwatch market is currently relatively niche, but with Apple now entering the space we expect that to change, and fast. Estimates of Apple selling 25 to 30 million devices in year one now seem like they could become a reality," says CEO Paul Virapen.
For Eyes Wide Games in Atlanta the attraction is with being one of the first players on a brand new Apple field, and the scope that allows. Stephen Griffin, CEO, explains the team began working on a sports game, Watch This Homerun, at the beginning of this year.
"There are less expectations about what a game has to be, so that makes it exciting from a creative standpoint. That's how we decided to do it, the opportunity as well as the fact it was an interesting challenge."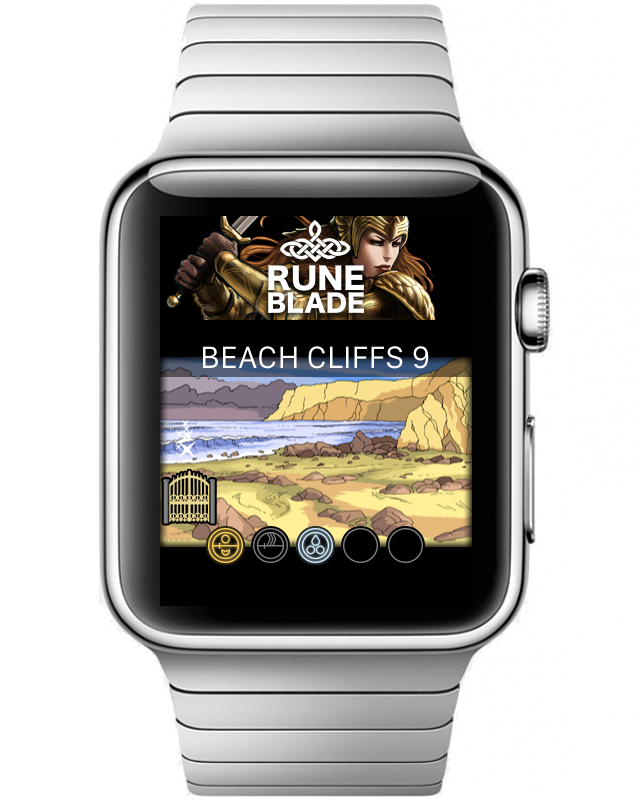 Key to successful development on any platform is knowing who your audience is. The developers all have their own take on just who will be in the first wave of Apple Watch purchasers, and their insights range from the fairly obvious to the more detailed.
"Right now, I'd say those individuals who are lovers of all things Apple and tech-savvy early adopters who like to get the latest technology first. Who wouldn't want to be the first person on their block with the latest device?" says Carlson Choi, VP of Digital Initiatives Group at Mattel. Mattel has created a version of the Magic 8 Ball for the watch.
Justin Kubiak, VP, Distribution and Licensing, Scopely thought the early adopters would also be some of the heaviest users of the new device.
"Clearly the early Apple Watch customer will be the most ardent enthusiast, one that uses the device all day, every day."
Virapen had a much clearer picture of who those people were, and who they would become.
"Right now, the early adopters will likely be early-20s to late-30s professionals, people with a relatively large disposable income and quite tech savvy. However over time that will shift naturally, much as happened in the early days of the smartphone market, and eventually reach a strong mass adoption."
"We don't think that college kids are going to go and buy it, because they're going to spend that $400 to go and buy a top of the line console"
It was Griffin who had the most exacting expectations for the market for Eyes Wide Games' baseball title.
"We don't think that college kids are going to go and buy it, because they're going to spend that $400 to go and buy a top of the line console," he explains. "We still hesitate to see whether or not it's going to be a female demographic that buys it. For sport it will be fine - my wife already wears a sports watch when she goes out and exercises - but it's still unclear about whether or not it will catch on as a casual device for women."
"We settled on who can spend $400 on a watch that wouldn't rather spend that on a console, and then men, because it already fits in with the watches that men wear. So that's why we said it's going to be sports, not crazy RPG games or esoteric Japanese themed games."
Once you know your player, you have to figure out how they're going to play. A 15 second time limit on sessions is something I heard from the majority of developers I spoke to, and seems to have become the golden window for gaming on Apple Watch. With a phone you get minutes, with a watch you need gameplay that can be completed in a glance.
"When you play a game on your phone you've got to pull it out, get past the security codes on the interface, get into the front end... with the watch all that is going to be cut away," says Griffin. "When that effort is cut away to get to the game, we think we're going to be able to get away with a lot. I hesitate to say lighter game experiences, but shorter play spans."
The​CodingMonkeys has managed to score Apple's endorsement for Rules!, its first watch title. Martin Pittenauer, the studio's head, pointed out the physical considerations of smartwatch development.
"You want to find a mechanic that has a sweet spot around 30 seconds, so holding your arm up doesn't tire you out."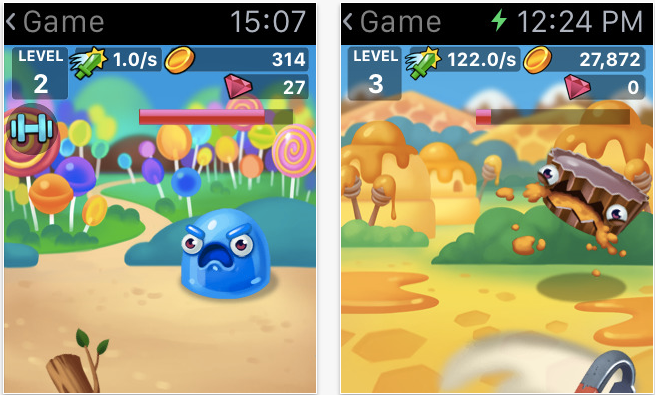 WearGa's Virapen explains they've distilled the RPG experience down to short, intense bursts. And he means short.
"Where on a mobile a median average session is around three minutes, we're aiming for five seconds. This means that we have to give players light but meaningful decisions hourly and daily, and in smaller micromanagement sessions between."
He adds they're aiming for gaming sessions that fit into people's routines, and mentions elevator rides as a specific example.
"I think that's going to be the key for games that are designed for Apple Watch," adds Järvilehto.
"They need to be balanced in the context of simplicity, complexity and depth in a way that people feel is natural for them. And while the gameplay sessions themselves are very short, they build into this highly ambitious long-term narrative."
With a new market comes the ability to set price points, and our group of developers had different approaches in mind.
"We are doing a lot of industry firsts with Runeblade, but innovating with new business models isn't one of them," says Järvilehto.
"Once you go down to 99c you can never come back up again"
"Runeblade is a F2P title, and we're keeping everything as simple as possible in that regard. This allows us to focus on delivering a fantastic game experience. Eventually we'll be more proactive with a monetization model, but for now, our focus is entirely on the game itself."
WearGa's Cupcake Dungeon will also be free, promises Virapen.
"The game is totally free and features no in-app purchases, advertisements or other forms of monetisation. We want to build an audience first and show how fun games can be on these new devices first, and look at how best to structure monetisation around these experiences later."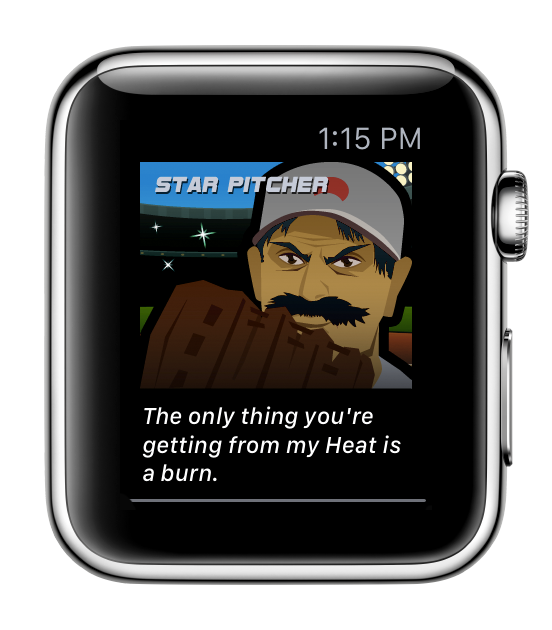 Other developers are keen to try different price points, Griffin was still deliberating over an exact figure when we spoke but points out that if someone is willing to pay $400 for a watch, they're not a person to dither over $1.99 for an app to use with it.
"Once you go down to $0.99 you can never come back up again, so it's an interesting puzzle that we're dealing with in terms of what will be the demand," he says.
Pittenauer argues that the added value element of games that can be played on the watch could even stabilise the mobile app market.
"Right now the Apple Watch is something that comes as an add-on so you can't really price it individually, but from my point of view it might be something that stabilises prices by adding something," he says.
"This app is now worth $3 instead of $1. Approaching it from that point of view, the Apple Watch is something that could stabilise the price points for games at a slightly higher level."
"Ultimately [Apple] will unlock the technology where you'll be able to do a lot more with it but right now it's still very constrained"
For all developers, whatever the price point and whatever the genre, the real test is whether Apple's device gets the install base to make it a viable development platform. Unlike a mobile phone a $350 (or more) watch isn't an essential item for everyone over the age of 10, and it's a device that needs to offer fashion as well as fun apps. And if it does take off? The Apple Watch may still have some tricks up its sleeve, suggests Eyes Wide Games.
"Ultimately [Apple] will unlock the technology where you'll be able to do a lot more with it, but right now it's still very constrained. Partially because they probably wanted to make sure that developers were able to understand the technology and get things out," predicts Griffin.
"We think in the future we're going to be able to do even more amazing things, because there are interesting features of the watch that we can't even access yet."
And if this has tickled your development fancy, Pittenauer has some advice for anyone interested in developing for the device. The good news: it involves buying yourself a fancy new timepiece.
"The most important thing is get a watch and try it on the device. It's really a thing you have to experience and a thing you have to look at while developing the game. It's hard to even imagine games for the watch without having touched it. To really polish a game you have to have the device."