VR hardware will grow to $50 billion by 2021 - Juniper
Research firm expects gaming to drive new tech, with consoles accounting for half of all VR hardware revenues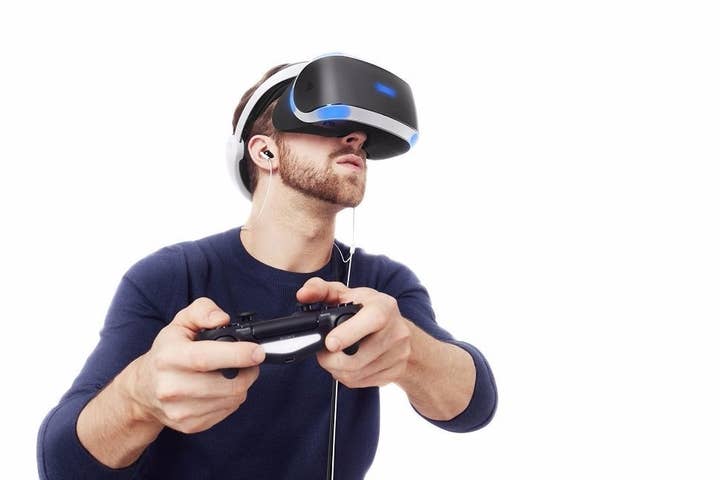 Oculus Rift, Vive, and PlayStation VR may not have set the world on fire just yet, but analysts are still big on virtual reality. In a "Virtual Reality ~ Virtually Here" whitepaper released today, Juniper Research forecast that the VR hardware market--including VR headsets, peripherals, and 360-degree cameras--would grow to more than $50 billion by 2021.
"This rapid growth will arise from a widespread adoption of VR by smartphone users, and the high unit prices commanded by headsets for PCs and consoles," the report said. "The market will be triggered by the launch of PlayStation VR this October, and Microsoft's Project Scorpio in 2017 - offering compatibility with the Oculus Rift."
Juniper noted that the biggest hurdle for VR is the cost of the hardware. While the company believes smartphone-based VR headsets will dominate in terms of units sold and mainstream adoption thanks to price, it believes the mobile revenue share of the VR market will slide from 15% this year to 7% in 2021. Meanwhile, console VR is expected to outperform its PC counterparts because the cost of adoption will be lower, partly because consoles are much cheaper than VR-capable PCs at the moment, and partly because console VR headset makers can offer the hardware at a lower cost and make the money back on software sold through their closed ecosystems.
"We expect 2017 to be the biggest year for console-based VR revenue growth, as there are several units coming into the market which are not feeling the impact of price competition," Juniper said. "This means we will see a rise in [average selling price] across both 2017 and 2018 as the newer models come into the market, and only adjust to each others' presence over the course of a year or two, insulated to a degree by ecosystem lock-in."
Juniper also expressed some concern about price erosion in the PC VR market.
"In the several months since the launch of PC-based VR this year, consumer expectations are likely to have changed to expect shorter, cheaper games," research author Joe Crabtree said. "When AAA publishers release to PC, they may have trouble selling with traditional AAA prices, while console users have no such habit to break."
$50 billion isn't the largest number being tossed around for the VR industry, but it is still quite bullish. In August, IDC projected worldwide VR/AR revenues of hardware and software to total $162 billion in 2020. However, the firm expects AR to account for the lion's share of that number, with hardware making up about half of the total revenues. While that might suggest VR hardware topping out around the $40 billion range, IDC didn't specifically break down its numbers and Juniper's projections include an extra year for the industry to grow.
Juniper's numbers also seem bullish by comparison in the near-term, as the firm estimates that 2016 will see $5 billion in VR hardware revenues generated worldwide. In January, Superdata projected that 2016 would see VR hardware and software revenues combine for $5.1 billion, but scaled that back twice before ultimately settling on a combined projection of just $2.9 billion.