Vive Focus Plus targets enterprise market
Newly announced HTC stand-alone premium VR headset offered for commercial training and simulation uses, launches in second quarter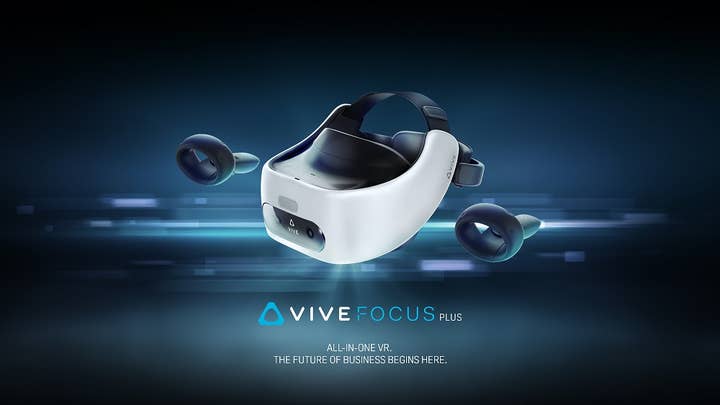 The Vive family of headsets is expanding again. HTC today announced the Vive Focus Plus, a new stand-alone VR headset intended for enterprise customers.
As the name implies, the Focus Plus is an upgrade on the original Focus, adding in two six-degrees-of-freedom controllers as opposed to the original Focus headset's single three-degrees-of-freedom controller. HTC is also touting the headset's new lenses as improving visual clarity, saying that unlike other stand-alone headsets, the Focus Plus makes no trade-off on visual quality. (Like its predecessor, the Focus Plus is powered by the Qualcomm Snapdragon 835 system on a chip.)
Finally, the Focus Plus is also being marketed as a more comfortable version of the headset, with easy-to-clean materials that make it "ideal for high-usage environments." But where the original Focus was designed for mass market audiences as well as enterprise users, it appears the Focus Plus is being targeted more specifically to the latter. Promotional art for the headset bears the tagline, "The future of business begins here."
"At Vive, the announcement of Vive Focus Plus furthers our commitment to rapidly iterate and refine the VR market for both businesses and consumers," HTC Europe GM Paul Brown said. "This rollout of Vive Focus Plus leads the way for deeper immersion, more realistic training and simulation, and easier porting of experiences from PC to the stand-alone category."
There is no pricing information on the Focus Plus at the moment, but the original Vive Focus starts at USD $599. The Focus Pro will launch in the second quarter of this year.
Beyond the two Vive Focus headsets, HTC also offers the Vive and Vive Pro, and is planning to launch the Vive Pro Eye (a Vive Pro with eye-tracking) and the Vive Cosmos (with a new tracking system) later this year.