Video: Highlights from BAFTA Games Question Time
The creators of The Walking Dead, Dear Esther, The Room and Thomas Was Alone discuss fan feedback, clarity of design, music as a slave and hardware constraints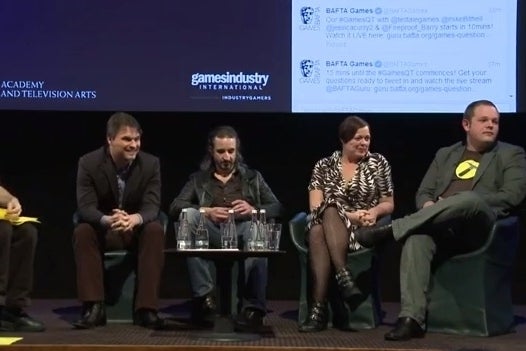 Earlier this week, BAFTA hosted its Games Question Time in association with GamesIndustry International, with four award-winning games developers tackling questions from an audience keen to learn more about the creation process behind their acclaimed games.
Dan Connors of Telltale Games (The Walking Dead), The Chinese Room's Jessica Curry (Dear Esther), Fireproof Studios' Barry Meade (The Room) and Mike Bithell, creator of Thomas Was Alone all took on subjects ranging from story-telling and the role of audio to hardware constraints and opening up the design process to fan communities.
Here we present five of the most interesting highlights, edited down for easy consumption.
Gameplay or Story: Barry Meade of award-winning outfit Fireproof Studios states he's never seen games as a story-telling medium, while Telltale Games' Dan Connors argues that just because games haven't traditionally excelled at story telling doesn't mean they can't in the future.
Is Audience Feedback Useful: The Chinese Room's Jessica Curry - and the rest of the panel - express "disgust" that BioWare gave in to fan pressure to change the ending of Mass Effect 3. Mike Bithell points out that fan feedback is just one of many tools the designer can use to improve a game.
Involving the Audience in the Development Process: When the development process becomes more transparent through crowd funding, what do designers owe the fans? Bithell says crowd funding a project is purely about marketing, while Curry reveals that fans have criticised The Chinese Room for not talking enough about Amnesia: A Machine For Pigs.
Do Hardware Platforms Constrain Creativity: Design is about constraints, says Bithell. Connors argues that creating projects for new consoles are constrained by the cost needed to create AAA products, which results in fewer chances being taken.
Is Music a Slave to the Game?: Jessica Curry believes music is still the slave of the visual medium, but games like Fez and Disaster Piece are bucking that trend in the indie market and embracing audio experimentation. Dan Connors says that music in cinematic games has the role of making emotional moments more convincing.