Video games declining on Kickstarter - ICO
Number of projects down, but funding stable; meanwhile tabletop games are enjoying "crazy growth," says ICO Partners
According to ICO Partners' mid-year status report on Kickstarter, while games remain incredibly popular on the crowdfunding platform, all is not as it seems. The subcategory of video games has actually not been growing at all, while the tabletop/board games segment has been growing at a tremendous rate.
For the first half of 2017, the total amount pledged for successful video game projects on Kickstarter was over $9.4m, way down from 2015's first half of $19.98m pledged or the second half of $21.15m. That said, it's a moderate increase from 2016's first and second-half totals of just under $8m each.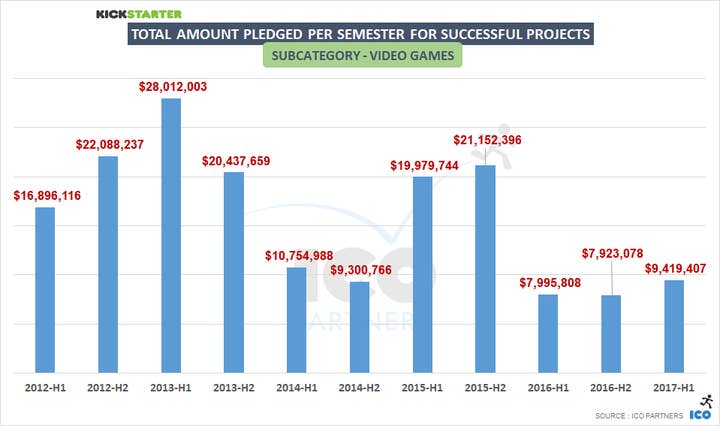 "Video Games are keeping the same rhythm as the previous year, with roughly 30 projects per month getting funded," said ICO's Thomas Bidaux. "The second half of the year should probably see a few more projects funded than have been so far in 2017, if it follows the pattern of previous years.
"As seen in the past data analysis, the Video Games subcategory is very dependent on hits when looking at the total amount of money raised. In that sense, the first half of 2017 has been the best semester since 2015. And yet, this is a far cry from the best semesters in that subcategory."
Determining how much to ask for on Kickstarter when launching a crowdfunding campaign is a key component for any developer looking to the platform to raise money. ICO has observed a sort of sweet spot that's developed recently. "An interesting evolution of the numbers when looking at projects tiered by amount raised, there is a growth of the number of projects raising between $100k and $500k recently," Bidaux said. "It seems this is a range of funding that is more accessible than it used to be, and could be where Kickstarter could grow its Video games subcategory."
While video games are somewhat in a holding pattern on Kickstarter, the subcategory that's seen explosive growth is tabletop games, which literally has jumped up to 24% of all money raised by successful Kickstarter projects. In fact, "The number of projects failing is stable, meaning the success ratio is steadily increasing (62% of the projects got funded in the first half of 2017)," Bidaux noted. There were 957 tabletop games projects funded in the first half of the year with only 581 failing. As you can see from the graph below, there's been a rather impressive improvement in this category over the last five years.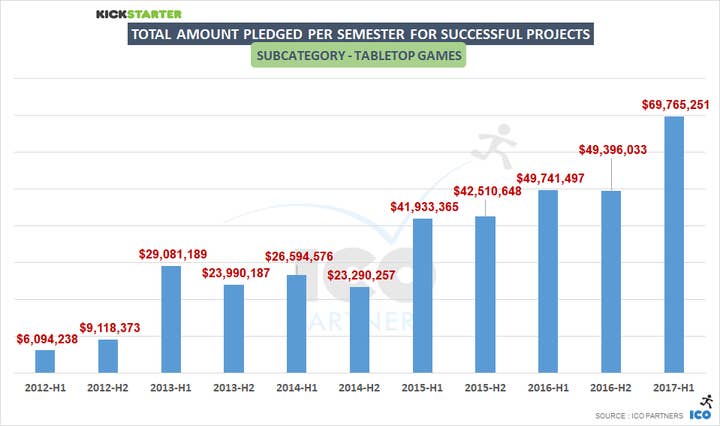 It'll be interesting to see if more traditional games developers look to leverage the tabletop growth trend, as there is a bit of crossover between the industries. Sensible's currently live Kickstarter for Beasts of Balance is the perfect example of this blurring of the lines.