US game sales down 11% in November despite Call of Duty
NPD's numbers show that retail is still struggling even with Call of Duty, Halo, and Assassin's Creed topping the charts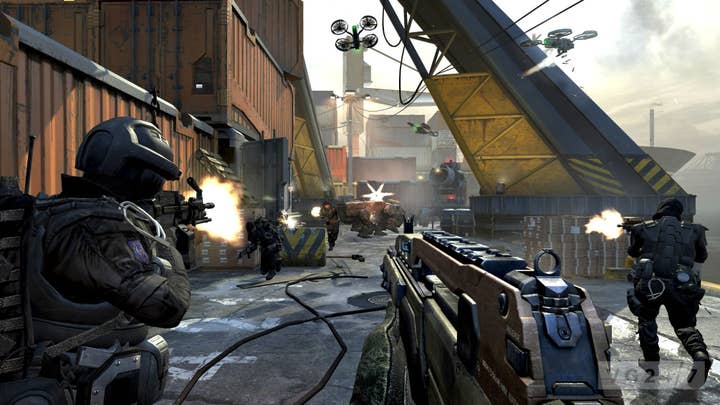 While Call of Duty: Black Ops II stormed out of the gate with $500 million generated in 24 hours, and Halo 4 produced $220 million on its first day, The NPD Group's just released November report does not bode well for the holiday season in the US.
Following a miserable October, the all-important fourth quarter continued to exhibit double-digit declines, as total industry sales dropped 11 percent to $2.55 billion in November. Total software sales (including PC) fell 11 percent to $1.46 billion, while hardware dipped 13 percent to $838.9 million. Accessories were down 8 percent as well, totaling $280.9 million.
NPD industry analyst Liam Callahan put the decline into context with the last major console transition period. "It's important to compare this month's results to November 2005, which was the last time the industry began to transition between console generations with the launch of a new platform. Comparing this month's results to November 2005, retail video games sales are nearly twice as big as they were then (+97 percent). This really demonstrates the long-term health of retail sales even as many platforms are quite late in their lifecycles," he noted.
"Despite an overall retail video game decline of 11 percent, November had the smallest year-over-year decrease we have seen for dollar and unit sales so far this year. This is a sign of momentum going into the December holiday period."
Interestingly, Callahan also pointed out that Wii U's launch performance compared quite favorably to the original Wii's launch (from a revenue standpoint). "The much anticipated launch of the new Wii U console brought in more dollars than the Wii launch in November 2006, up 21 percent from that launch month," he said. "With an average price 35 percent higher for the Wii U at launch compared to the Wii, this is an example of how consumers are willing to come out and spend when they see the value of the product."
"Comparing Wii sales from November 2011 to Wii sales combined with Wii U sales in November 2012, dollar sales increased by 76 percent," he added.
Here is the top 10 games chart for the November reporting period: