Unreal Engine business a "lucky coincidence," says Epic
Epic VP Mark Rein talks Infinity Blade, Big Huge Games hirings and Unreal Engine 4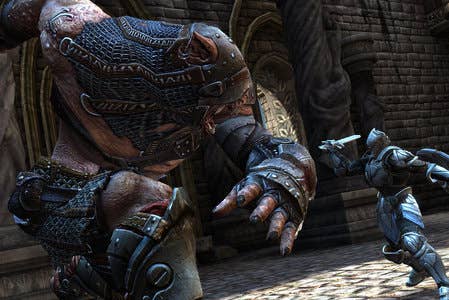 The Develop Conference, held in Brighton, England each year, heard comments from Epic VP Mark Rein on the development and growth of Epic Games. He noted during a session that many projects were in progress from the studio of just over 250 employees, and that growing to over 250 employees is a tough thing to do for any company - something Epic does not take lightly.
Rein remarked that the monetization of Unreal as a licensed-engine and the subsequent middleware empire has been a "lucky coincidence" for the company. As it turns out, the first two Unreal Engine licensees, Microprose and GT, had reached out to Epic about using the Unreal technology; it wasn't Epic's idea. "We wanted to make an engine that would outcompete other people," Rein said.
Of course, Epic has been rather successful in this regard; Unreal Engine is perhaps one of the most prolific engines in gaming, utilized on smaller titles as well as some of the biggest franchises in gaming. Epic's "lucky coincidence" has opened the studio up to other projects, such as the rather ambitious title currently being taken on by former Big Huge Games alums.
After the unfortunate circumstances surrounding the shuttering of 38 Studios, the team at Big Huge Games, who had also helped with Kingdoms of Amalur, was out of a job. Mark Rein and Epic were approached by several on the team, asking for permission to use an IP owned by Epic. Further discussion ensued, and now a new Baltimore-based team under Epic is working on an as-of-yet unannounced title.
The Epic executive also offered insight to one of their biggest achievements outside of the core gaming space: Infinity Blade. Rein revealed that the team had actually been working on Unreal Tournament for the iPhone. A separate project for something along Infinity Blade's idea was thought up for the Kinect as well. This all led to Epic working with Chair after coming to the conclusion that a shooter simply was not going to work on current mobile devices.
"We decided twin-stick shooters on phones didn't work. We said to Chair--we want you to make the 'Shadow Complex of iOS'," Rein said.
[via Gamespot]