Unreal dev tools for iPhone and iPad due tomorrow
Epic keeps license free for non-commercial games; mobile devs "nuts" not to work on iOS - Rein
Epic Games will tomorrow release a new version of its Unreal Development Kit, now with support for iPhone and iPad versions of the engine.
This follows the well-received launch of Infinity Blade, the first Unreal-powered title for iOS, and which turned over at least $1.6 million in its first five days on sale.
The kit remains free to download, while Epic requires no payment for any UDK games released for free, regardless of platform.
As with the existing UDK, any developers wishing to charge for their Unreal-powered iOS Apps will be required to buy a $99 license. Once their titles pass $5000 in sales, they must also provide provide 25 per cent of all royalties.
"Apple's App Store is the most vibrant market for mobile gaming," Epic's Mark Rein told the Wall Street Journal.
"If you're going to make a game for a mobile device, and you want to make the most money, you're nuts not to make it for iOS."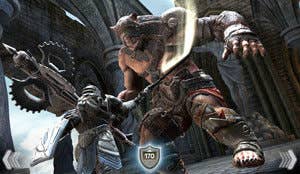 Rein also hinted that an Android version of Infinity Blade and other UDK titles may be possible down the line, but disparate hardware specs and Google's filesize limitations presented major obstacles at present.
Meantime, Epic-owned Infinity Blade developer Chair Entertainment has revealed it is to cease work on its planned adaptation of Orson Scott Card's Ender's Game novel.
Said Chair co-founder Eric Mustard to Joystiq, "One of Epic's primary objectives is to create original and unique franchises. I don't know that Ender's Game fits into that strategic objective anymore."
The new version of UDK will be available here tomorrow.