UK sees its first female only game jam
Debbie Rawlings and Helen Kennedy host event at Mind Candy offices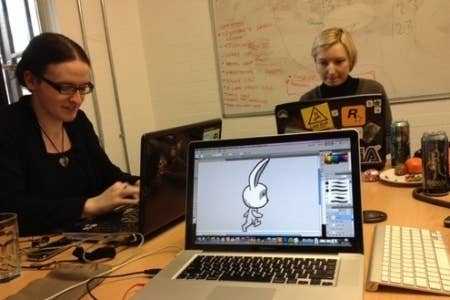 The offices of Mind Candy have played host to the XX Game Jam, which organisers Debbie Rawlings and Helen Kennedy believe is the UK's first female-only event of its kind.
"Within eight days of the registration going live we had filled 40 spaces," Rawlings told the BBC.
She has organised similar events in Bristol in the past and is also director of operations for Auroch Digital Ltd.
"We have a waiting list of about another 40 already so we could run another next week and I'm totally confident that would sell out too."
The 24 hour event was held at the end of last month to coincide with Ada Lovelace Day, which tries to highlight the role of women in technology, science and mathematics. Men were welcome to attend the showcase, but not to participate in the actual games development.
"The whole idea of an all-female game jam is something I discussed a while ago," added Kennedy.
"I took the idea out to Canada and pitched it for funding and they told me it couldn't be done, the whole format of a game jam was somehow too masculine to be done with just women. I thought that was a rather challenging thing to say as I don't believe in those sorts of categorisations."
University of the West of England, London Games Festival, Next Gen Skills and Auroch Digital all supported the event.