UK retail charts: Super Mario Maker 2 overtakes Crash Team Racing at No.1
F1 2019 makes No.3, Judgment is No.4, while Bloodstained reaches the Top Ten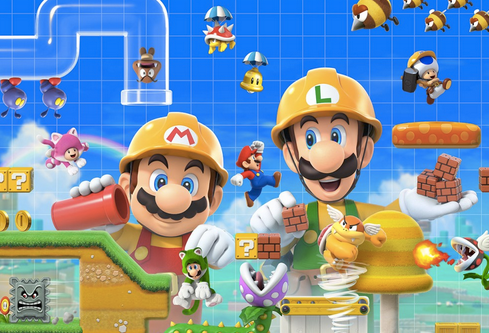 Super Mario Maker 2 has ended Crash Team Racing Nitro-Fueled's brief stay at the top of the UK physical retail charts.
The Nintendo Switch exclusive is the biggest Nintendo launch of the year, ahead of New Super Mario Bros U Deluxe.
The arrival of the game coincides with a significant marketing push for the console, which has seen a number of Switch titles rise up the charts. Mario Kart 8: Deluxe jumps from No.8 to No.5 with a 39% increase in sales week-on-week, while Super Smash Bros Ultimate rounds off the Top Ten at No.10, rising 14% in sales. The Legend of Zelda: Breath of the Wild also rose up 66% in sales and is at No.11 (up from No.22). The 2017 game misses out on the Top Ten by just 28 copies.
The other big Switch performer of the week is Bloodstained: Ritual of the Night. The Nintendo version reaches physical retail this week (the Xbox One and PS4 editions arrived last week), which helped the game increase 60% in sales and climb from No.17 to No.9. The Switch version actually sold more in its first week than the Xbox One and PS4 versions combined managed in their first week. Nintendo Switch has proven to be a successful platform for retro-inspired indie games.
Crash Team Racing Nitro-Fueled may have had to relinquish No.1, but it still holds No.2, with a respectable 48% drop in sales week-on-week.
There were a bunch of new games in the physical retail charts this week, including F1 2019 which makes No.3. It didn't match F1 2018's No.1 performance last year, but the sales are pretty much identical. F1 2019 has managed to launch earlier in the F1 season (last year's game arrived in August), so Codemasters might hope it can achieve higher sales as a result.
Then at No.4 comes Sega's new IP Judgment for PlayStation 4.
Further down the charts, The Sinking City from Big Ben (and distributed in the UK by Maximum Games) debuts at No.12, Meanwhile, No.23 sees an appearance from Ravenscourt's new Car Mechanic Simulator.
The end to the recent PS4 game sale means that a few Sony exclusives slip down the charts. Spider-Man drops from No.19 to No.39, for instance. Whereas price discounting on Assassin's Creed Odyssey has taken that game from No.34 to No.8, with a whopping 136% increase in sales week-on-week.
Elsewhere, FIFA 19 takes a heavy drop after some recent promotional activity, and falls from No.2 to No.20, down 75% in sales (the football game was No.1 just two weeks ago). Anthem also drops out of the charts altogether -- it was No.10 last week.
However, it's all very close in there. Just 4,000 games seperates No.4 from No.40.
Here is the UKIE/GfK Top Ten for the week ending June 29th:
| Last Week | This Week | Title |
| --- | --- | --- |
| New | 1 | Super Mario Maker 2 |
| 1 | 2 | Crash Team Racing Nitro-Fueled |
| New | 3 | F1 2019 |
| New | 4 | Judgement |
| 8 | 5 | Mario Kart 8 |
| 5 | 6 | Red Dead Redemption II |
| 7 | 7 | Grand Theft Auto V |
| 34 | 8 | Assassin's Creed Odyssey |
| 17 | 9 | Bloodstained: Ritual of the Night |
| 11 | 10 | Super Smash Bros Ultimate |