UK companies have one month left to enter Best Places To Work 2023
Over 100 businesses are taking part so far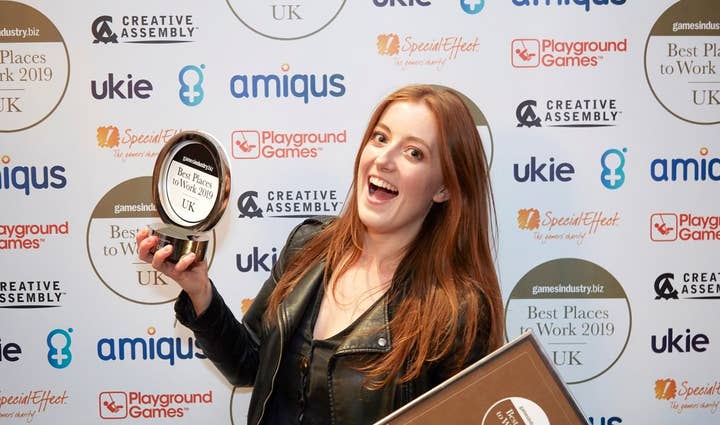 UK games companies have just one month left to enter the GamesIndustry.biz Best Places To Work Awards 2023.
The deadline for all submissions is Friday, August 25th for the UK. Those in the US have a little longer (Friday, September 8th), and Canada participants have until Friday, September 22nd.
The UK winners will be revealed at a ceremony on September 27th at BAFTA's HQ. It will be the conclusion of our HR Summit, which you can find out more about here.
The awards are open to all games companies with offices in the UK, including developers, publishers, service companies, retail and media, and you can submit your company through here.
The Best Places To Work Awards are based on a two survey system, one for the employer to fill in (and worth 20% of the score) and the other for employees (80% of the score). For a detailed rundown on how the awards process works, our Frequently Asked Questions and how these awards are judged, click here.
All responses are entirely confidential and deleted once the reporting is complete. Businesses that do not win will not be named.
Participant can receive a free report from us featuring their overall scores, and we also have benchmarking and advanced reports available for a fee.
Our special award also return, where we will name companies who are showing excellence in the areas of Diversity, CSR (Corporate Social Responsibility), Health & Wellbeing, Education and Environmental support. These awards are automatically entered by those who sign-up, and are based on how they score in these individual areas.
Sponsors for the event include Double Eleven (Education Award), Hutch Games (Small Company Category), Playground Games (Mid-Sized Company Category) Rocksteady and Special Effect (The CSR Award), and Ico Partners (the Diversity Award)
Recruitment specialists Amiqus is also back supporting the event and will be handing out its G Into Gaming Award, which celebrates an individual who supports diversity in the games business.
To take part, simply click here. The deadline for all completed UK entries is Friday, August 25th.
For more details, contact bestplacestowork@gamesindustry.biz. For sponsorship enquries, contact george.corner@reedpop.com.