UK Charts: PGA Tour 2K21 lands at No.2
And Animal Crossing: New Horizons is No.1 again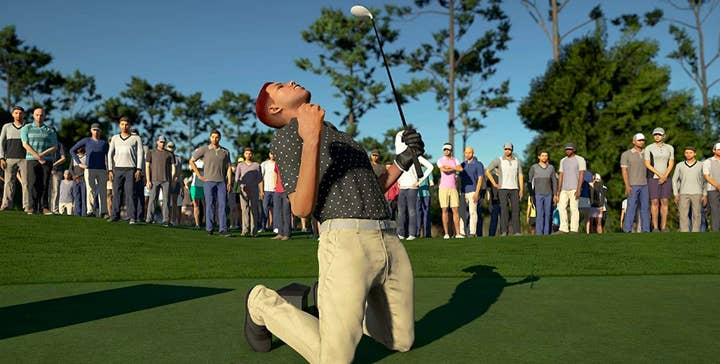 Another quiet week for UK games retail means that Animal Crossing: New Horizons has taken the No.1 spot despite a 2% drop in sales week-on-week.
Few games tend to launch during the Summer months, and this week there's only one new game in the charts in the form of PGA Tour 2K21, which debuts at No.2. It marks a rare appearance of a golf game in the UK Top 40.
That means the other niche sports game in the Top Ten, UFC 4, falls two place to No.3 after a 38% drop in sales week-on-week. The EA game topped this physical retail chart last week.
Otherwise, it's a pretty standard weekly chart. One notable difference is that price activity on PS4 exclusives has seen a spike in sales for those games including Spider-Man at No.7 (up 75% week-on-week), Days Gone at No.13 (up 162%) and God of War at No.24 (up 60%).
The UK chart is produced by GfK and is based purely on physical boxed game sales.
Video game releases start to pick up from next week, with a number of smaller titles heading to game stores, including Project Cars 3 from Slighty Mad Studios (which released its Fast & Furious game earlier this month), Madden NFL 21 from EA, and Wasteland 3 from newly-acquired Microsoft studio InXile. Those games arrive ahead of the launch of Marvel's Avengers and Tony Hawk's Pro Skater 1 + 2 at the start of September, which will likely prove to be bigger games at physical retail.
Here is the GfK Top Ten for the week ending August 22nd
| Last Week | This Week | Title |
| --- | --- | --- |
| 2 | 1 | Animal Crossing: New Horizons |
| New Entry | 2 | PGA Tour 2K21 |
| 1 | 3 | EA Sports UFC 4 |
| 3 | 4 | Mario Kart 8: Deluxe |
| 4 | 5 | Ghost of Tsushima |
| 6 | 6 | Minecraft (Switch) |
| 5 | 7 | FIFA 20 |
| 7 | 8 | Grand Theft Auto 5 |
| 20 | 9 | Marvel's Spider-Man |
| 10 | 10 | Ring Fit Adventure |