UK Charts: No new releases means Mario Kart 8 Deluxe races back to No.3
Nintendo racer boosted by new Switch bundle, FIFA and COD still top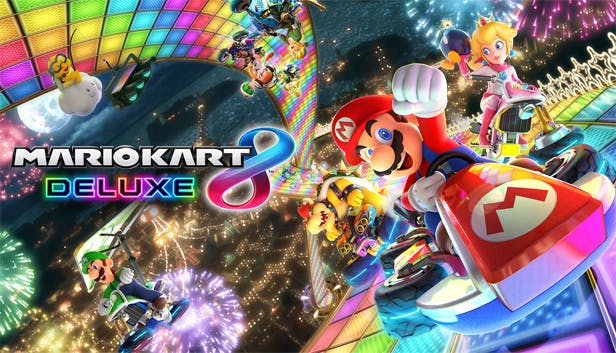 As 2019 begins to wind down, the charts settle into the usual pre-Christmas pattern with the annual best-sellers leading the way and big Q4 releases making up most of the Top Ten.
The biggest exception this week is the two-year old Mario Kart 8 Deluxe, which leapt from No.7 to No.3 with a 29% week-on-week boost in sales. This was in part driven by a new bundle that saw the game included with the improved model of Switch.
It's one of four titles Nintendo has in the Top Ten including Pokémon Sword at No.5, Luigi's Mansion 3 on No.7 and Pokémon Shield at No.10. Both Pokémon titles saw a 41% dip in sales, while Luigi's Mansion only slipped by 8%.
In fact, the only other title to see sales life week-on-week was Just Dance, up by 16%. The game was driven predominantly by the Switch version -- and the Wii edition (yes, the original Wii) outsold PS4 and Xbox One.
The rise of Mario Kart knocked Star Wars Jedi: Fallen Order down to No.4. FIFA 20 and Call of Duty: Modern Warfare are non-movers at No.1 and 2, despite sales dips of 38% and 36% respectively.
Sea of Thieves drops four places to No.8 after its Black Friday boost, while Minecraft on Xbox rounds off the Top Ten. There were no new releases in the Top 40
Here is the UKIE/GfK Top Ten for the week ending December 7:
| Last Week | This Week | Title |
| --- | --- | --- |
| 4 | 1 | FIFA 20 |
| 1 | 2 | Call of Duty: Modern Warfare |
| 7 | 3 | Mario Kart 8 Deluxe |
| 3 | 4 | Star Wars Jedi: Fallen Order |
| 6 | 5 | Pokémon Sword |
| 13 | 6 | Just Dance 2020 |
| 9 | 7 | Luigi's Mansion 3 |
| 4 | 8 | Sea of Thieves |
| 5 | 9 | Minecraft: Xbox Edition |
| 8 | 10 | Pokémon Shield |