UK Charts: EA Sports UFC 4 battles to No.1
Animal Crossing: New Horizons down to No.2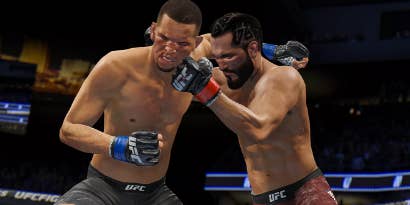 EA Sports UFC 4 is this week's UK No.1 in the boxed retail charts.
The fighting game's first week sales are down 47% compared with the launch of its predecessor in February 2018. However, this data does not factor in digital sales, so its true performance is impossible to judge for now.
It means that last week's No.1, Animal Crossing: New Horizons, slips to No.2, one place ahead of another Nintendo Switch exclusive, Mario Kart 8: Deluxe.
Otherwise, it's another quiet week for the games retail market. Recent PS4 release Ghost of Tsushima is down to No.4 after a 23% sales drop week-on-week, and we have two games returning to the Top 40 this week -- Pokémon Shield at No.33 (sales up 14%) and Horizon Zero Dawn: Complete Edition at No.34 (up 20% week-on-week).
Here is the GfK Top Ten for the week ending August 15th
| Last Week | This Week | Title |
| --- | --- | --- |
| New Entry | 1 | EA Sports UFC 4 |
| 1 | 2 | Animal Crossing: New Horizons |
| 3 | 3 | Mario Kart 8: Deluxe |
| 2 | 4 | Ghost of Tsushima |
| 4 | 5 | FIFA 20 |
| 5 | 6 | Minecraft (Switch) |
| 8 | 7 | Grand Theft Auto 5 |
| 7 | 8 | Paper Mario: The Origami King |
| 6 | 9 | F1 2020 |
| 9 | 10 | Ring Fit Adventure |