UK chancellor confirms tax relief for games
£15m relief for games in 2013-14, £35m in 2014-15; TIGA, Rebellion, Square Enix, Denki, Relentless, Double 11 and more praise move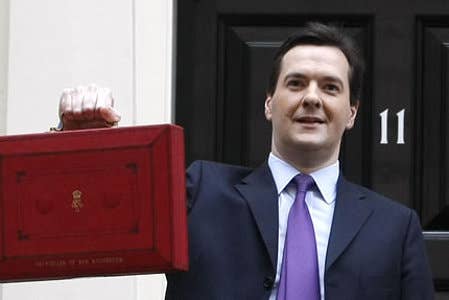 The UK chancellor George Osborne has confirmed that the videogame industry is to receive some form of tax relief.
Speaking in today's budget, he acknowledged the need to "support our brilliant video games and animations industries"
"Following consultation on the design, the Government will introduce corporation tax reliefs for the video games, animation and high-end television industries from April 2013, subject to State aid approval," read the official budget report.
The report puts the relief for video games at £15 million in 2013-14, and £35 million in 2014-15. Relief for the years following are not listed.
UK trade association TIGA, which has long campaigned for tax credits said the news is "terrific" for the regions development sector and help contribute UK GDP by £283 million.
"Tax relief for the video games sector will increase employment, innovation and investment in the UK video games industry," said TIGA CEO Richard Wilson.
"Our research shows that Games Tax Relief should generate and safeguard: 4,661 direct and indirect jobs; £188 million in investment expenditure by studios; increase the games development sector's contribution to UK GDP by £283 million; generate £172 million in new and protected tax receipts to HM Treasury, and could cost just £96 million over five years. Tax breaks for games production will ensure that the UK remains at the forefront of video game development. It will also help to rebalance the UK economy away from an over-reliance on financial services towards a high skill, R&D intensive and export focused industry."
Jason Kingsley, CEO of developer Rebellion and chairman of TIGA added: "It will save jobs and companies, promote growth, build financial confidence and bring in much needed export income from around the world. It is exciting that they have made such a positive move and we look forward to working with them on the details of implementation."
Colin Anderson, MD of Dundee studio Denki said the move "will stimulate much needed investment and innovation in one of the UK's leading knowledge based industries," while co-founder of Bossa Studio, Imre Jele added that "This tax credit will reduce the cost of games development, allowing us to hire more staff, invest more in our industry and create more games. It is good for the games industry and good for the UK economy."
Bobby Kotick, CEO of Activision Blizzard, added that "this is a great first step and should put the UK in a stronger position to compete with other countries offering incentives for videogames production. The UK is an important centre for development talent, employing 9,000 people in the videogames sector, and anything that promotes further investment should be welcomed. "
More reactions from UK development heads follow:
Gareth Edmondson, TIGA Vice-Chairman and Managing Director, Thumbstar Games (Newcastle): "I am delighted the Coalition Government has finally backed TIGA's call for Games Tax Relief. This is a real triumph for UK developers. It will enable the UK games industry to remain a success story."
Philip Oliver, CEO Blitz Games Studios (Warwickshire): "TIGA has worked tirelessly to raise the profile of our industry in political circles and today's decision is proof that this campaign has paid off. It is fantastic that the Government is supporting TIGA's Games Tax Relief and we are sure that this measure will grow the industry, create more jobs and lead to higher tax revenues for Government in the future. It is a great result for the games industry and for the UK economy."
Phil Rogers, president and CEO of Square Enix Europe: "This is great recognition for the videogame industry and a big step forwards for games development in the UK. We know we have some of the World's leading talent in this country and this commitment from the government should help to stimulate further investment and opportunities here. Over the past few years a lot of people have put a lot of work into getting this result, and it's great to see that effort starting to pay off."
KarlHilton, MD, Crytek (Nottingham): "This is the right decision for the future of the UK games industry and consumers across the world who enjoy playing British made games. TIGA's victory will enable the UK games sector to compete on a more even playing field. It will also promote the creation of high skilled jobs, enhance investment and stimulate an export focussed industry."
Patrick O'Luanaigh, CEO, nDreams (Farnborough): "The Government has made a wise investment by committing to TIGA's Games Tax Relief today and the whole of the UK industry will applaud them for this decision. TIGA has fought a great campaign on behalf of UK developers and digital publishers. With this result, the UK video games industry should attract more investment and will create more high skilled jobs."
Andrew Eades, CEO of Relentless (Brighton): "UK developers have been competing on an uneven global playfield. Today's decision by the Government to back TIGA tax break campaign will help ensure that we can remain competitive in the global market."
Lee Hutchinson, CEO, Double Eleven (Middlesborough): "The UK video games industry is one of the most creative and innovative in the world. This decision will mean we can continue to invest in UK talent, invest more in our studios and create more highly skilled jobs. This is a great day for games developers. It is also a major achievement by TIGA"