Ubisoft posts record sales again, delays Skull & Bones again
CEO Yves Guillemot says the games industry will reach 5 billion players in the next ten years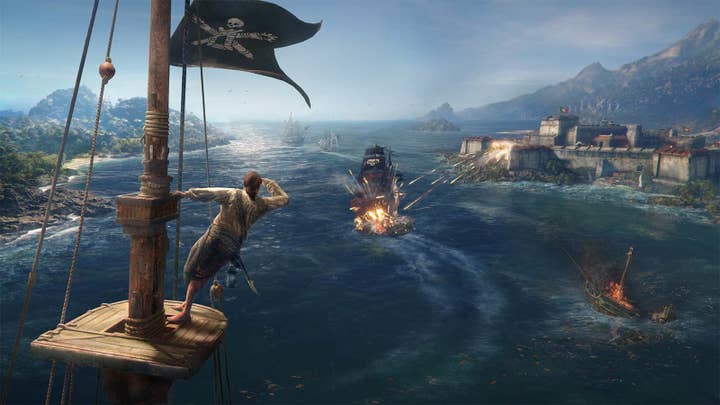 Ubisoft today reported its annual earnings for the year ended March 31, prompting a bit of déjà vu. For the second straight year, the company posted record sales figures and delayed the anticipated open-world pirate game Skull & Bones all the way out of its new fiscal year.
While the company's 2019-2020 fiscal year won't see Skull & Bones, it will feature four AAA releases. Three of those are unannounced at the moment, and the fourth is Ghost Recon Breakpoint, due for launch October 4.
For the full year, Ubisoft reported net bookings of €2.02 billion ($2.26 billion), up 17% year-over-year but slightly below guidance. Under the new IFRS 15 reporting standard, net revenues totalled €1.85 billion (2.07 billion), with net income of €100 million ($112.04 million).
While not directly comparable, last year's revenues under the previous IFRS standard were €1.73 billion, ($1.94 billion) with net income of €139.5 million ($156.29 billion).
As for specific game performances, Ubisoft noted that Rainbow Six: Siege had topped €1 billion ($1.12 billion) in lifetime net bookings and continues to grow with the player base up 40% year-over-year to more than 45 million. Meanwhile, Assassin's Creed: Odyssey set franchise records for player recurring investment (Ubisoft's catch-all term for DLC, season passes, subscriptions and advertising) as well as other unspecified engagement metrics.
Player recurring investment is also increasingly important to Ubisoft. Last year it accounted for 28% of net bookings, but this year that share was up to 31%. Furthermore, Ubisoft expects that to grow in the current year.
That's not the only digital revenue on the upswing for Ubisoft, as the company reported digital now accounts for nearly 69% of its net bookings, compared to 58% last year. That is expected to pass 70% in the current year.
While the gaming industry's shift to digital has been pronounced in recent years, Ubisoft CEO Yves Guillemot said in prepared remarks that it is only beginning.
"The video game industry is at the dawn of a deep-seated transformation, which, as barriers between platforms and between geographic regions continue to disappear, should allow us to reach 5 billion players over the coming ten years," Guillemot said. "These major changes will be driven in large part by the growing success of console and PC franchises on mobile and the advent of cloud gaming. The latter will allow for, among other things, appealing multi-screen offerings and the creation of amazing new experiences that make use of unprecedented technological capacities. A clear indicator of the future scale of this transformation is how an increasing number of platforms are competing with one another to obtain quality content and access to communities of engaged players."
In order to take advantage of that transformation, Guillemot said Ubisoft is "speeding up our investments in our teams and studios in order to support the group's growth and continue to increase our profitability over the coming years."
For the current fiscal year, Ubisoft is projecting net bookings up 8% to €2.19 billion ($2.45 billion), with non-IFRS operating income also up about 8% to €480 million ($537.78 million).