Ubisoft leads new video game marketing awards nominations
Wargaming.net, GOG.com, Gamersfirst and more to be honoured in Paris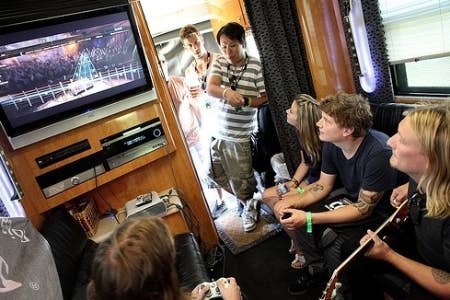 The creative teams behind Assassin's Creed publisher Ubisoft have been nominated in three of the seven categories for Game Connection's Marketing Awards, with winners to be announced in Paris next week.
Campaigns for THQ's Metro: Last Light, Gamerfirst's APB Reloaded, NC Soft's Guild Wars 2 and Wargaming's World of Warplanes are also up for recognition at the inaugural event, which aims to recognise the talent behind some of the industry's most recognisable print, online, physical and video ads.
The awards take place on Wednesday November 28th, with all nominations in the seven categories put forward for the overall Best Videogame Marketing Team 2012.
The full list of nominees follow:
Best Broadcast Campaign
ichi - "Enter the Metro": global online trailer for Metro: Last Light (THQ)
Sid Lee Paris - "Rise": European trailer for Assassin's Creed 3 (Ubisoft)
[a]list games - EU and NA launch trailer for APB Reloaded (GamersFirst)
Best Digital Campaign
4T2 Multimedia - branded advergame for Hero Factory (Lego)
NC SOFT / Target Media - branded online campaign for Guild Wars 2 (NC SOFT)
MediaMonks - online game for House of Anubis (Nickelodeon)
Best Experiential Marketing
GOG.com - booth design and execution at Penny Arcade Expo Prime 2011 (GOG.com)
TBWA\Brussels - train station football stadium for PS Vita (Sony Computer Entertainment)
Ideactif - European bus tour for Rocksmith (Ubisoft)
Best Mobile Campaign
Crispin Porter + Bogusky - "Autodance" smartphone app for Just Dance 3 (Ubisoft)
Panache PR - global PR campaign for Smash Cops (Hutch Games)
Fishlabs Entertainment - "Sports Car Challenge" mobile app (Volkswagen Group China)
Best PR Campaign
Wargaming.net - western Europe campaign for World of Warplanes (Wargaming.net)
Bethesda - France campaign for Dishonored (Bethesda)
Marchsreiter Communications - GSA campaign for Dark Souls (Namco Bandai Partners)
Best Print Campaign
CD Projekt RED - EU and NA campaign for The Witcher 2 on Xbox 360 (CD Projekt RED)
NC SOFT - European campaign for Guild Wars 2 (NC SOFT)
Bethesda - France campaign for Dishonored (Bethesda)
Best Social Media Strategy
neoco - European graffiti campaign for Borderlands 2 (2K Games)
Amplitude Studios - US, EMEA, Russia community campaign for Endless Space / GAMES2GETHER (Amplitude Studios)
CD Projekt RED - EU and NA campaign for The Witcher 2 on Xbox 360 (CD Projekt RED)