Ubisoft launches Uplay PC digital distribution platform
Ubisoft releases its own contender to Steam and Origin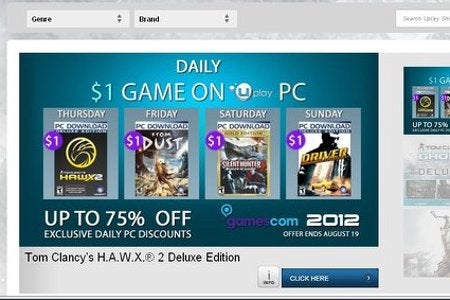 Ubisoft has become the next publisher to jump into the digital distribution arena with the launch of its Uplay PC application. Like Valve's Steam and EA's Origin, Uplay PC is intended to be the company's community and online retail platform, with friends lists, and integrated store, and a chat system. Uplay PC is an expansion of Ubisoft's 35-million member strong Uplay platform and replaces individual game launchers for Ubisoft PC titles.
"Uplay PC is a great way for customers to discover Ubisoft's games, connect with their friends and gaming communities, and win achievements and content that's not available anywhere else." said Stephanie Perotti, Worldwide Director for Online Games, Ubisoft. "For PC gamers that are already fans of Ubisoft's titles or have been considering trying some of our classics, this promotion is a great deal, and our way of saying thank you for their support."
To kickoff the launch of the Uplay PC application, Ubisoft has made certain PC titles only $1, including Driver: San Francrisco, From Dust, Silent Hunter 5, and Tom Clancy's H.A.W.X. 2. H.A.W.X. 2 is today's $1 title, with a different title taking that spot throughout the weekend. Uplay PC will also be sporting daily discounts up to 75 percent off on other titles.