Ubisoft conference headlined by Tom Clancy's The Division
An online MMO headlines Ubisoft's revelations for E3 2013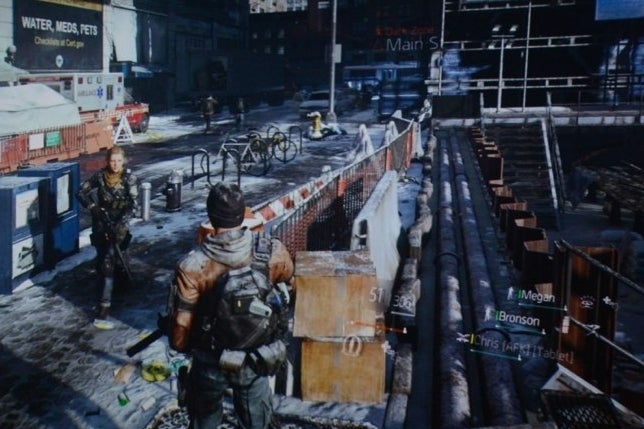 Ubisoft joined the E3 2013 festivities today with its press conference event hosted by actress Aisha Tyler. The event featured the announcement of third-person shooter MMO Tom Clancy's Division, alongside other new titles like the transmedia Rabbids Invasion and criminal racing game The Crew. Previously revealed titles like Assassin's Creed IV and Watch Dogs also made appearances at the conference.
The media event began with Alice in Chains' Jerry Cantrell showing off his guitar skills and voice commands for in Rocksmith 2014, the latest title hoping to teach gamers how to play guitar. The game's new session mode reacts to how you're playing, and Cantrell added that's it's almost like playing with a real band. Rocksmith 2014 is coming October 2013.
Conference host Aisha Tyler then came onstage and explained that Ubisoft is jumping "belly first, ass out in the next-gen pool" with its new titles.
The second title shown was Splinter Cell: Blacklist, coming on August 1. The eponymous Blacklist is a series of attacks by a group calling themselves The Engineers, and series protagonist Sam Fisher has a new team formed to handle the threat. The game features the return of the fan-favorite Spies vs. Mercs multiplayer mode.
Former Wii U-exclusive Rayman Legends received a new release window on Wii U, Xbox 360, and PlayStation 3, with the game now expected in September.
The Mighty Quest for Epic Loot is Ubisoft's new free-to-play dungeon crawler/dungeon defender that "teaches you how to survive in a capitalist society" according to Tyler. Ubisoft Montreal brand creative director Louis-Pierre Pharand announced that the game has reached free beta today.
South Park: the Stick of Truth was up next with a brand-new trailer, touting "new publisher, same South Park." The game is now coming this holiday season.
Ubisoft then changed over to talking about its next generation offerings, with Tyler inviting CEO Yves Guillemot to join her on the stage. Guillemot introduced a new game from its Reflections and Ivory Tower teams called The Crew. The game, which is coming to Xbox One and PlayStation 4, looks to embrace the same cops vs. criminals theme that has run through the past few Need for Speed games, with the addition of off-road racing and cooperative heists.
Ubisoft Ivory Tower creative director Julian Gerighty called The Crew the "ultimate open-world multiplayer playground" with players being able to play in single-player, but with the added possibility of NPCs drivers being actual players. A demo showed four players enjoying completely different game experiences and then joining together in a single game, seamlessly. The Crew also features a deep customization system, allowing players to change out their rims, tires, engines, and more.
"The core of the game is collaborating and competing," said Gerighty before leaving the stage.
Dominic Guay joined the conference to talk more about Ubisoft's Watch Dogs, but offered up little besides a brand-new trailer for the game.
Another installment in Ubisoft's popular Just Dance series, Just Dance 2014, was announced, coming in October "across all platforms."
Tyler then announced Rabbids Invasions in partnership with France Television and Nickelodeon. Ubisoft French Studios IP director Adrian Lacey came out to announce that Rabbids Invasion would be coming to Xbox One, featuring interactivity with the show. The game itself looks to be an overlay of the television show, adding the ability to shoot at the Rabbids as hijinks ensue.
Assassin's Creed IV: Black Flag began with a pre-rendered trailer showing assassin pirate Edward Kenway killing all sorts of people in all sorts of ways. This was followed by an in-game engine trailer showing off cities, jungles, and underwater environments.
"We promise to deliver a brutal pirate experience," said Assassin's Creed IV creative director Jean Guesdon, who called the title the "most ambitious open-world game ever created."
"The game will allow you to explore this pirate world the way you want," he added.
Ubisoft then kicked off a trailer that showed a sci-fi futuristic city that gave way to the announcement of Trials Fusion on Xbox One, Xbox 360, PlayStation 4, and PC, with Trials Frontier on mobile platforms. Both games will "work together and complement each other," according to Tyler.
Yves Guillemot returned to the stage to announce Massive Entertainment's newest title, Tom Clancy's The Division, an open-world online RPG. The game depicts how "our complex world" falls after a bio-terror attack on Black Friday. Players act as members of the fictional Directive 51, tasked with saving the world from complete collapse.
The Division is a third-person shooter with a stylish hovering user interface and RPG elements. A skill system made an appearance, allowing the person playing the demo to change their skills on the fly. The game seemed to be an online third-person amalgam of previous Tom Clancy titles, like Splinter Cell and Ghost Recon.
[Image via Engadget]