Twitch will take on Steam by selling PC games
Streamers will receive 5% cut of all games sold
In what is the biggest development in digital games retail for some time, live streaming giant Twitch will start selling games (and DLC) via its website this Spring.
What's more significant is that consumers can buy directly from under the videos of 'partnered' Twitch streamers, with a proportion of the revenue going to the streamer.
The way the breakdown of revenue works, is that publishers and developers will receive 70% of the revenue (which is in-line with other online stores), the streamer will receive 5% and Twitch will, presumably, collect the rest.
That means if a game (or in-game content) is sold directly by a publisher or developer's own Twitch channel, that means the revenue could be as high as 75%.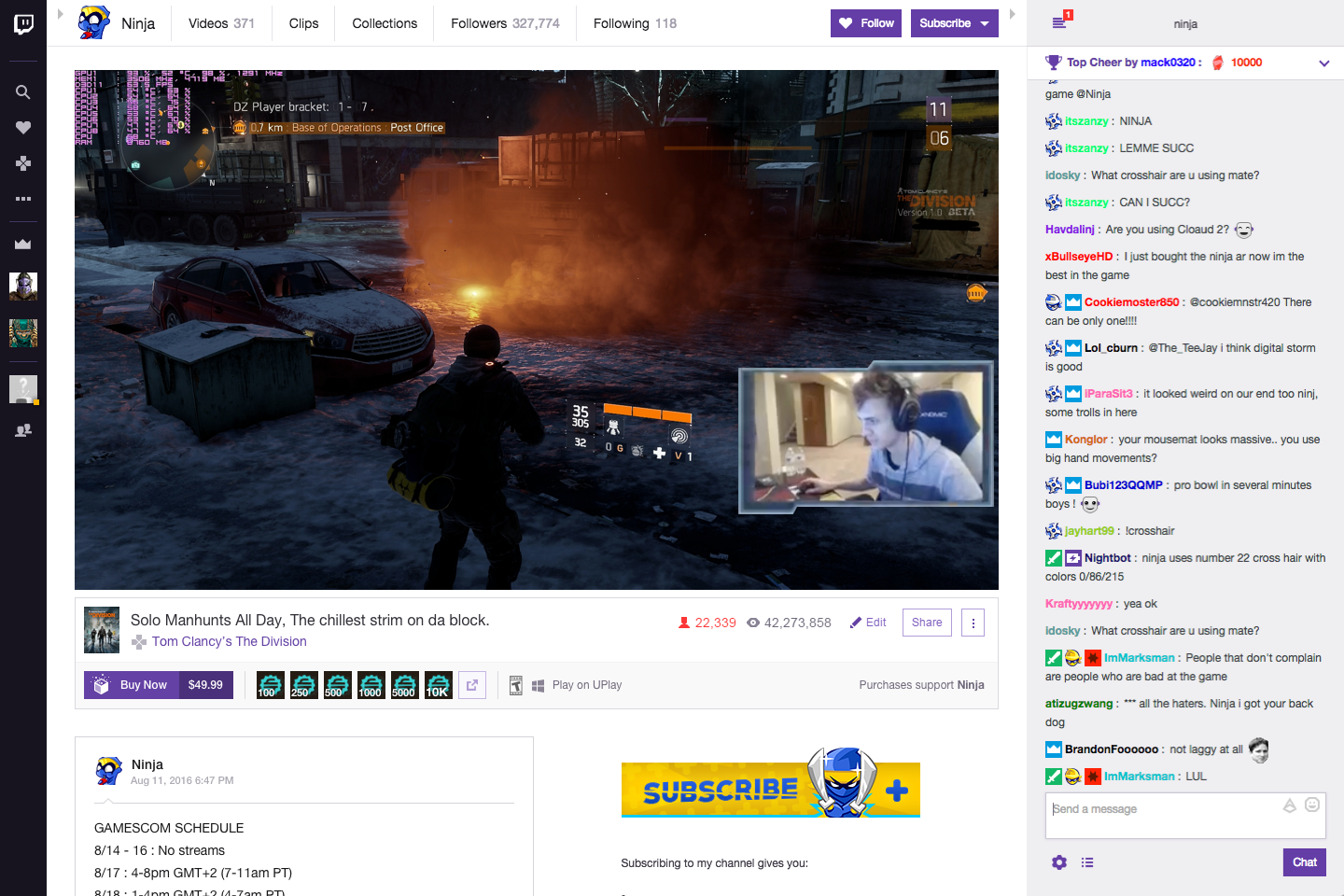 The idea is that this will allow for direct-selling from publishers, and that it benefits both the platform and its users in ways that its rivals do not. Matt McCloskey, VP of Commerce at Twitch, describes it as "a win-win-win".
Another incentive for Twitch shopping is the introduction of Twitch Crates. By shopping via Twitch, the community will receive a free Crate that includes random items, such as emotes, chat badges and 'Bits for Cheering'.
GamesIndustry.biz managed to have some questions answered by Robin Fontaine, who is product marketing manager for Ecommerce at Twitch.
She explains that like other digital retailers, sales events will form a part of Twitch's retail strategy.
One big element of Twitch is that the company live streams the major conferences at events such as E3. We asked if this might enable live pre-ordering for its community, but Fontaine says that the functionality will not be available initially.
"At launch pre-ordering won't be available," Fontaine says. "We know this is an important element of game distribution and we will be working with our developers and publishers to create compelling pre-order programs in the future."
"At launch pre-ordering won't be available. We know this is an important element of game distribution and we will be working with develpers to create compelling pre-order programs."
In terms of who those developers and publishers are, the firm has signed deals with Ubisoft, Telltale Games, Digital Extremes, Hi-Rez Studios, tinyBuild, Paradox Interactive, Trion Worlds, Vlambeer, and 'many more'. Of course there's some notable names missing there, including big publishers like EA, Activision, Blizzard and Sega. Fontaine says the aim is to get every games publisher who streams via Twitch selling via the website.
Yet what about beyond PC? Twitch was acquired by Amazon in 2014, which is a powerhouse for console games and physical distribution. Surely there's an opportunity here to expand and encompass the entirety of games retail.
Fontaine wouldn't commit to the idea, however. "We see a number of potential ways this program will grow. Which direction we decide to go will be largely driven by what our community wants."
The relationship Twitch has with Ubisoft, which has publicly backed the initiative, is significant because that publisher has its own digital store in the form of uPlay.
"We absolutely believe that our platform is additive to publishers' own distribution methods."
"We see PC gaming as an open ecosystem and want Twitch Games Commerce to operate in that spirit," Fontaine says. "We absolutely believe that our platform is additive to publishers' own distribution methods. We want to partner with them to extend their reach beyond their existing clients to help them more directly reach their audience on Twitch."
She continues: "Gamers are already coming to Twitch to discover and learn about games they want to buy. Developers are looking for ways to tap into this audience and offer content when they are most engaged. Twitch Games Commerce shortens the cycle between discovery and purchase."
Twitch isn't launching a typical game store like Steam, and selling will only occur via selected Streamer channels and the individual game pages. However, Fontaine says there may be a call for a Twitch store in the future.
Players can either download the game and play it via the Twitch desktop app, or through existing developer or publisher-operated services (such as uPlay).
The Twitch store will reach the US first in Spring (prices in dollars), with localised versions set for later in the year.
But there are some potential concerns about the programme. One being the impact on the streaming community. If streamers are actively incentivised to sell games, does that not potentially harm the credibility of the channel?
"Twitch already has a robust economy where viewers support streamers by subscribing and Cheering with Bits," Fontaine says. "This is only one more tool that allows viewers to help support streamers just by getting great games and content on Twitch."
That doesn't quite satisfy the question, although you would hope the entertainers will be careful not to upset its audience
Another question mark is over whether this is likely to have a significant impact at all. Selling via the media and social media - particularly Facebook and Twitter - have had mixed results, with shoppers preferring to look around for the best deals.
"For starters, Twitch is not like other platforms," she says.
"Many people are already coming to Twitch to learn about games they might want to buy. As a result, it naturally makes sense to let them purchase on Twitch right when they see something and want it. The Twitch community has also shown they are motivated to take part in programs that support their favorite streamers, and this offers them an easy way to do that. When you add Twitch Crates to the mix--which rewards fans who purchase games with things like exclusive emotes, chat badges, and Bits - we have something interesting."
It is far too early to consider Twitch a threat to Steam's dominance. Yet there's certainly an attractive proposition here. The key, as always, will be in the pricing. Online shoppers are the most savvy of all, and if buying from Twitch is more expensive than Steam or EA Origin or Good old Games or Humble Bundle, then the likelihood is that consumers will simply shop at those places instead.