Trip Hawkins steps down as Digital Chocolate CEO
Rumors of layoffs and office closures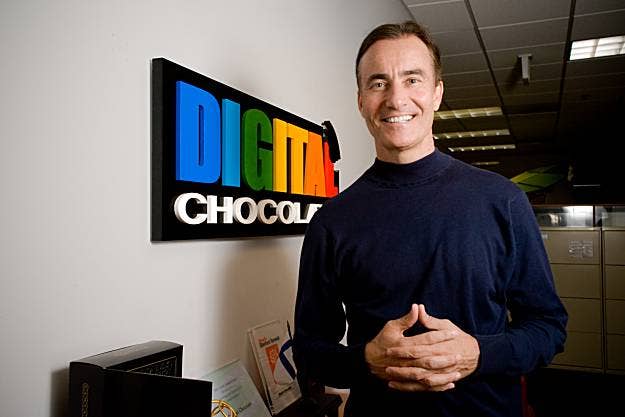 Long-time industry leader Trip Hawkins announced on his company blog that he is stepping down from his role as CEO of Digital Chocolate. "I am transitioning now into a consulting and advisory relationship with Digital Chocolate. For its next stage of growth, Digital Chocolate is narrowing its focus and it made sense to get more streamlined."
This news coincides with a report that Digital Chocolate is laying off some 180 employees across their offices worldwide, include their headquarters in San Mateo, California. The report from TechCrunch also noted that Digital Chocolate president Mark Metis has been named interim CEO. According to the report, half of the employees in the San Mateo and Bangalore offices are being laid off, and offices in Mexicali, Armenia, and Sandlot offices in Bothell, Washington and St. Petersburg are being closed. (Sandlot was purchased by Digital Chocolate in 2011.)
Digital Chocolate has been in business for 8 years, with over $60 million in venture capital funding from Kleiner Perkins and Intel, among other investors. The company has produced titles on Facebook, iOS, Android, and the web, among other platforms. According to AppData Digital Chocolate currently has over 6 million MAU (monthly active users), down from 8 million MAU a month ago. This is down from a high point of 29.8 million MAU in December of 2010, due mainly to the success of Millionaire City, which had 12.9 million MAU at the time.
Trip Hawkins is the founder of Electronic Arts and 3DO, and Monday May 28th is the 30th anniversary of the day he formally incorporated and founded Electronic Arts. Hawkins also worked at Apple from 1978 on, when the company had only 25 employees; when he left Apple had grown to 4,000 employees. He spent 12 years at EA as CEO and Chairman of the Board, then spent 12 years at 3DO, and now 8 years at Digital Chocolate.
Hawkins plans to continue working in and around the game industry: "I will remain involved in digital media and games and be available for opportunities including mentoring, consulting, teaching, speaking and writing," Hawkins wrote on his blog. His personal website is at www.triphawkins.com.