Treyarch: "Call Of Duty zombies shouldn't exist"
Studio head Mark Lamia on how he followed the fun and bet on his team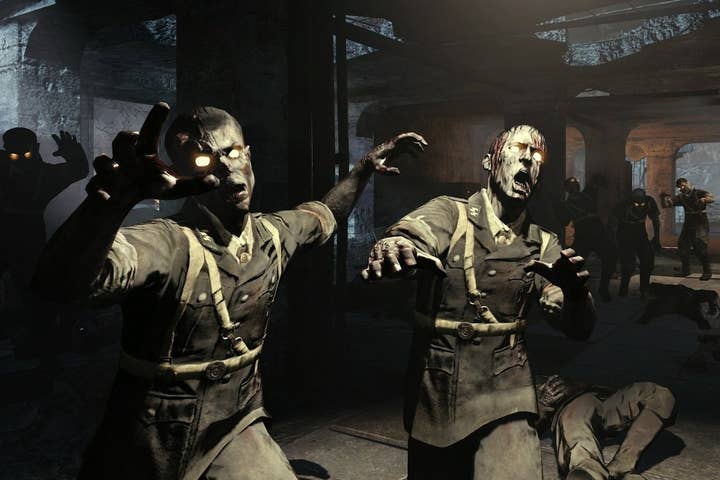 Call Of Duty: World At War's zombies are now one of the most popular parts of the franchise, but in his DICE Summit talk this morning Treyarch studio head Mark Lamia revealed he came close to stopping his team's work on the unplanned project.
"Call Of Duty Zombies shouldn't exist," he told attendees, explaining that the team had come up with the project, secretly, right when Treyarch needed to be focused on Call Of Duty: World At War.
"It was a really turbulent time in the studio's history, as we were evolving and changing our identity and our cultures were clashing and blending on an incredibly short and demanding Call Of Duty development cycle.
"World At War would be our first shot at a two year development cycle in the franchise and up until this point I think it's safe to to say we were still struggling to find our voice and establish our identity inside the franchise, despite the experience on the team it's fair to say we still lacked a bit of confidence."
"Some people in the franchise leadership were totally opposed to zombies... they thought it would be a disgrace to the franchise"
When he found out about the zombies off-shoot, Lamia almost cancelled it to force the team to go back to the main gameplay of World At War. The team was crunching, behind schedule and stressed with the main game.
"We've got a tough development, the team is working with new technology, we're behind schedule, the team is crunched, late stage innovation, unapproved, unplanned, unscheduled, definitely un-greenlit work," he summarized.
"As a studio head I was ultimately responsible for delivering to our publishing and our business partners. The classic management, the right thing, the reasonable thing to do would have to just insist that the team stop getting distracted, focus of delivering what we were already signed up for and what we were already behind on delivering.
"And there were some inside the leadership of the studio felt that I needed to make that decision right then or totally jeopardize the development. I almost did, in what would have certainly been one of the biggest mistakes of my career."
Luckily Lamia calmed down and decided to play the game. He noticed that developers, even after 14 hours days of crunch wanted to sit down and play when they finished work. He realized he wanted zombies on the disc, he wanted players to have it.
"Some people in the franchise leadership were totally opposed to zombies and a zombies mode, and they thought it would be a disgrace to the franchise."
Treyarch made a deal with the executives, the zombies mode would be an Easter egg, unlocked only when people finished the main game. It was of course a huge hit, fans lobbied to have the mode unlocked to everyone could access it - which Treyarch eventually did,. That campaign, says Lamia, was when they realized they had "caught lightning in a bottle."
"We made the right choice to follow the fun, follow the passion and bet on a dedicated team."