Trailmix aims to reinvent casual games - with a little help from Supercell
Backed by $4.2m from Supercell, King veterans Carolin Krenzer and Tristan Clark will push toward a richer and more meaningful take on casual gaming
Carolin Krenzer and Tristan Clark have seen the boom in casual games on mobile from the inside.
Both joined King to help found its London studio in August of 2012; a point in time when Candy Crush Saga was just a three-month-old a browser game, and the company (which was still called 'King.com') had less than 150 employees.
By the time they both left in the middle of last year, Candy Crush had become arguably the biggest brand in mobile games, King had launched and been acquired by Activision Blizzard for billions of dollars, and the company headcount was somewhere far north of 2,000 people.
"It was quite a ride," recalls Krenzer, who previously worked at Playfish during the Facebook boom. "We experienced this incredible hyper-growth over five-and-a-half years. But at some point your job is kind of done. We came in to build up something from scratch, and we felt it was time to move on."
Krenzer and Clark are from somewhat different backgrounds, but in their time at King appears to have perfectly aligned their ambitions. Clark's previous experience was founding an indie studio, Launching Pad Games, in his native New Zealand. For him, the rapid growth of King was perhaps even more surprising, and when the time came to move on there was no doubt as to the kind of environment he now wanted to work.
"That feeling where there's half-a-dozen of you, and you can just focus on the product, that's something that we really wanted to chase again"

Tristan Clark
"Setting up the London studio felt like setting up an independent developer, basically," says Clark. "You worked across everything, and both Carolin and I like to have our hands on all sorts of parts of game development... That feeling where there's half-a-dozen of you, and you can just focus on building that product - that spark - that's something that we really wanted to chase again."
Krenzer and Clark's new company, Trailmix, has been in stealth mode until now, but it has only existed for a handful of months. However, while the studio itself is entirely fresh, it's clear that its founders have been thinking about the ideas that will drive its creative direction for some time.
Trailmix, which is based in London, will not be making a play for new platforms like VR or AR; rather, it will attempt to reinvent the casual games space that they both know so well.
"We're not focusing on a new platform, because we believe that mobile gaming has not been fully exploited as a medium for entertainment," Krenzer says. "In terms of the experiences you can give to an audience, and to new audiences also."
Trailmix is still at too early a stage to dig into the specifics of its plans, but in offering up the broad strokes an intriguing picture emerges. Clark points to recent hits like Gardenscapes, Episode - Choose Your Story, and Choices: Stories You Play as "seeds of what we want to go after."
"What unites them all is a rich layer of meaning, some substance behind them - that's one piece of the puzzle that we want to do. We see that as the start of something," he says.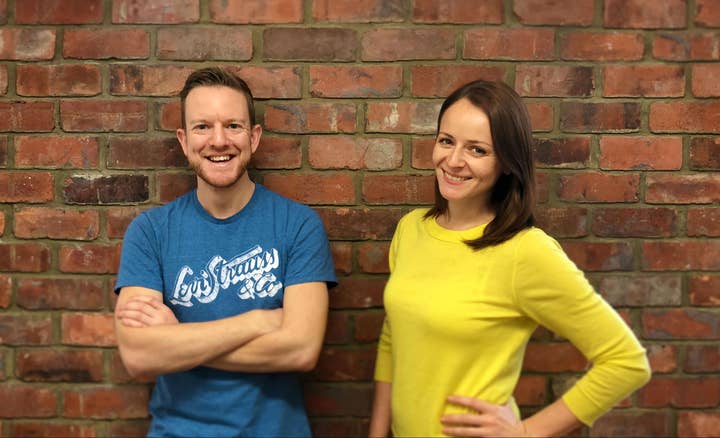 "It's time to get philosophical. Casual games are snackable, they're built to fit into your daily life really well, they keep you coming back long-term, and they're extremely low barrier to entry. That's the best of what they do, and they do provide a very useful distraction when you're commuting or whatever else.
"But you have games like Monument Valley, you have Journey, you have Flower; broaden that out to other media and you have the Harry Potters of the world, you have sitcoms, you have Game of Thrones. The kind of conversations you have from that, the kind of sustenance you get from that, it's an entirely different thing [to casual games].
"The best fiction doesn't just take you someplace else; it gives you something to take back into your world"

Tristan Clark
"What we're doing is combining both of these. Keep [the games] as open, as accessible and snackable, but use that as a foundation to thrust up towards something that has those layers of meaning, that is as memorable as any of those other games, any of those other fictions.
"The best fiction doesn't just take you someplace else; it gives you something to take back into your world."
At its root, Trailmix's pitch goes to the very root of what "casual" really means when it comes to casual gaming: Is it the level of investment the experience demands in exchange for satisfaction, or is it the way the players themselves regard the experience?
Trailmix wants to find ways of making its audience more emotionally engaged and invested, with products that fit just as neatly into daily life as something like Candy Crush Saga. This idea will be "an umbrella" for a family of Trailmix products that offer different ways of solving the problem, and the coming months will be a process of refining and changing and discarding as Krenzer and Clark move closer to the first of them.
"We want to try them all," Clark says, "and that's why we want several swings of the bat."
And Trailmix will have the ability to take those swings, thanks to a $4.2 million investment from Supercell. In a statement issued to GamesIndustry.biz, the Finnish company's CEO, Ilkka Paananen, spoke with enthusiasm about the "vision" that Krenzer and Clark are pursuing.
"You don't need a lot of people to make something great - that is still true for the mobile games industry"

Carolin Krenzer
"They have a true passion to push boundaries in the casual games genre and bring something completely new to the market," Paananen said. "At Supercell, we believe that building great games is all about the best teams and great culture. Tristan and Carolin have already done this once and now they will do it again, just better."
The importance of culture to what Trailmix wants to accomplish is a key feature of my discussion with Krenzer and Clark. Both are advocates of diversity in the workplace, and they believe that Trailmix's products will be a reflection of the open and inclusive environment they create within the studio. Even beyond diversity, though, both hold up Supercell as "a shining light" in the casual games business, a belief they held long before it showed interest as an investor. Even with the extra money, Trailmix will follow Supercell's example by growing slowly, and choosing just the right people for its team. By the end of the year, the plan is to be no larger than ten people.
"You don't need a lot of people to make something great - that is still true for the mobile games industry," says Krenzer. "The amount of people at the company is not going to be an indicator of success for us, because it does feel like for some companies it is. But it's just not true, and I think that Supercell shows that it's not true.
"It's the best partner we could possibly imagine for what we want to do... We were prepared to spend months or even the next year to find the perfect funding opportunity for us, and our dream partner came in right at the beginning. Now we don't have to worry about that. Now we can just make games."
"We said that we'd need several swings of the bat, right?" Clark adds. "Well this allows us to do it."