Three priorities for creating a safe and diverse games studio
At Develop 2023, Code Coven's Cinzia Musio posed questions studio leaders should ask themselves about how their company supports marginalised people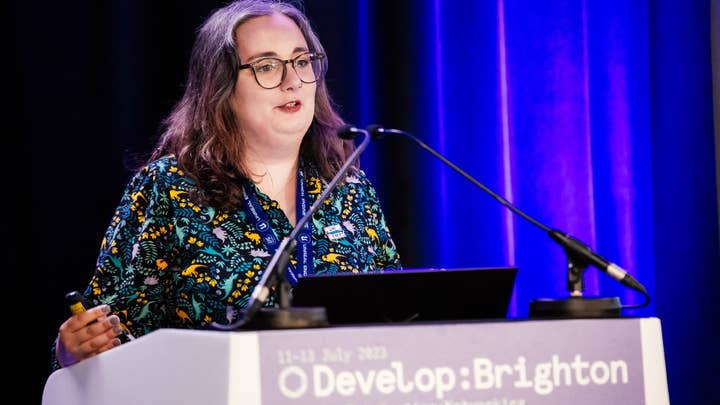 At Develop Brighton earlier this year, Code Coven's co-CEO Cinzia Musio advocated for improved support of marginalised people in the gaming industry.
Musio's talk, entitled 'Supporting Marginalised Genders in Games: Where is the Accountability?', explored studio initiatives aimed at promoting accountability and creating an atmosphere of diversity and inclusion.
She also introduced Code Coven's new Evolve program, of which GamesIndustry.biz is a partner. Evolve is a studio accreditation initiative that aims to set a standard for accountability and DEI in the games industry, with Vancouver-based studio East Side Games becoming the first studio to be Evolve-accredited.
"The real journey towards equity, diversity, and inclusion is not always going to be paved with easy wins," Musio noted. "Sometimes you are going to have to have difficult and uncomfortable conversations. Getting yourself comfortable with this is important to be able to embrace these conversations rather than shying away. You must become comfortable with the uncomfortable.
"It's not going to be easy to make systemic changes, and you're going to have to confront and unlearn the systems of privilege you have in place — it has to happen to move forward."
Throughout their talk, Musio emphasised that if developers and studios can commit to systemic change, they can prevent instances of discrimination and harassment from happening within the wider entertainment industry.
She acknowledged that while representation is marginally improving — a recent UKIE census showed a 4% rise in marginalised people working in the industry from 2020 to 2022 — systemic issues in areas like leadership have not seen any improvement.
"Equity, diversity, and inclusion is incompatible with knowingly keeping or hiring toxic people"
Musio also noted the lack of diversity at this year's Summer Game Fest as a symptom of a number of issues at play. In an interview with CBC, host Geoff Keighley acknowledged the issue and said Melanie Liburd, the actor who stars as Alan Wake 2's new protagonist Saga Anderson, was set to appear on stage but couldn't due to scheduling conflicts.
"This really highlights that in many places in the industry, we continue to treat diversity and inclusion as a tick box exercise," she explained. "That once you've done one thing, you've brought in one woman, then you've fixed it for everyone. The obvious thing is that this showcase still would have had a massive diversity issue if that one woman did show up."
Musio stressed that "everyone deserves to be safe, no matter who they are" and that while people "can keep having this conversation and think about how they are going to advance the industry," marginalised people cannot be left out or left behind.
"If we're not talking about the end point, which is making marginalised people safe, we are forgetting why we are doing this," she said.
Any studio, no matter its size, has a duty of care and to provide an environment where individuals can voice their concerns without fear of retaliation. This, Musio added, is a legal requirement and those not putting in the work are not respecting their employees.
In response to these concerns, Musio outlined a set of practical tools for studios to embrace systemic change, including making tough choices, fostering a safe environment for voicing concerns, and eliminating toxic individuals from the workplace.
Create a safe space
Musio recommended that studios need to foster a safe work environment where people can confidently raise issues and receive constructive feedback.
"Remember, it is not your employees' job to fix those problems for you," they said. "It is the role of senior leadership to fix any systemic issues you have at your studio."
Creating a safe workplace sometimes means removing people, and studios need to get comfortable with that idea.
"It's the role of senior leadership to fix any systemic issues you have at your studio"
"Equity, diversity, and inclusion is incompatible with knowingly keeping or hiring toxic people," Musio continued. "If the marginalised people at your studio are telling you someone you're looking at hiring is going to be toxic, believe them. It is not worth the risk to the wellbeing of your marginalised employees. Do not keep these people, do not hire these people."
And if there are toxic people within the studio, Musio suggested removing them immediately, noting that a safe and a positive studio culture is as easy to make as it is to break.
"Yes, it means that you might have to rehire very senior people at a time that's inconvenient to you but the risk of keeping them is greater."
She added: "Coming back from broken trust is more difficult than it is to rehire a senior staff member. So do the work before it becomes too late. Don't wait until the end and don't wait until things have gone too far."
Look for the glass ceiling at your company
Musio emphasised that many workplaces have barriers for progression, especially for marginalised people — points in the hierarchy where they are often passed over for promotion.
"We call that the glass ceiling because you can see what's above you, but you can't reach it," she said. "It's completely transparent but you just can't get there."
Musio urged company leaders to consider the following:
Where is the glass ceiling in your business?
What is preventing marginalised people from being included?
Which areas in your company are marginalised people consistently not being promoted?
How are opportunities that will lead to growth being distributed?
"Look at the data across the studio and figure out where people are left behind. Investigate why this is and take immediate action about it," she explained. "It's not going to be easy, because you are dealing with systemic issues. But if you effectively put in the work and make changes across your studio, you will end up a richer, more open studio for everyone with more opportunities for you to innovate."
Make your studio more inclusive
Musio also pointed out the significance of cultivating an inclusive studio environment for a secure and productive workplace.
"Spend time making sure that your studio is inclusive for everyone at all levels," Musio encouraged. "It's not only great for innovation, but also for hiring and retention. A studio that is inclusive and talks about it will have more people likely to stick around for the long term."
She highlighted how people have realised that a studio that values diversity and inclusion is one that values its employees at all levels, especially when it comes to hiring. And, in turn, individuals "are going to be treated well and will less likely be asked to crunch or be treated poorly in general. People will actually want to be a part of those studios that are putting in the work."
Musio suggested managers at games companies think about the following:
How can you make your benefits more inclusive?
What reporting processes do you have in place, and are people able to use them without fear of retribution?
What do your employees think about the policies and benefits at your studio?
Where is your gender pay gap?
Where is your race pay gap?
"If we're not talking about the end point, which is making marginalised people safe, we are forgetting why we are doing this"
Concluding their talk, Musio reminded the audience of the unique position the games industry is in, giving people the opportunity to walk through someone else's life for a few hours — and how that can be used for the greater good.
"So if you take that responsibility seriously, if you put in that work, you can make a difference for everyone everywhere. You can create more empathy for marginalised people by telling those unique stories."
She added: "You have an opportunity here to not only change your studios, change the industry, but change society overall for the better. And that starts with investing your time in your marginalised people at your studios."
More GamesIndustry.biz Academy guides on working in games
Sign up for the GI Daily here to get the biggest news straight to your inbox