Starlink: Is this Christmas' riskiest video game?
In a period awash with major sequels, Ubisoft's Starlink is the only new IP coming out. Can it survive?
When it comes to major AAA sequels, this Christmas is one of the noisiest in years in recent memory.
At the top end, there's Red Dead Redemption 2, Assassin's Creed Odyssey, Call of Duty: Black Ops IIII, Fallout 76, Battlefield V and the usual sports contenders. Then there's Spyro, Hitman 2, Just Cause 4, LEGO DC Super Villains... and that's before the Nintendo double-header of Super Smash Bros and Pokémon.
It's a line-up that most retailers would be salivating over, but it's also - dare we say - a little boring.
Some of those titles are trying new things, whether it's the multiplayer component in Fallout, the RPG elements in Assassin's Creed, or the motion mechanics in Pokémon. But these are still products built on very familiar foundations. Where are the brand new ideas? The spark of creativity that will inspire the market as we head into the festive period?
Well, there is one interesting thing. Nestled between Call of Duty and Red Dead Redemption is Ubisoft's Starlink, a new kids property created over five years by a 100-person development team, using the toys-to-life concept that has been abandoned by Activision, Warner Bros. and Disney.
Starlink is an open-world space exploration and combat game, where players obtain real physical ship models and attach them to their controllers. Users can remove parts from the models - namely wings and weapons - and attach different ones, and these changes are then recreated on the screen.
"Younger players today want to play those big AAA open world experiences, but often the age rating of those games are not appropriate"
"From the beginning we knew that we had to come with something different," creative director Laurent Malville tells Gamesindustry.biz. "The idea was to propose a game that would do things differently. This is why we thought about the modular starship... it is something we've never seen before. When you connect the parts it changes in the game instantly, and it also adds to the gameplay. We always thought that was something new and exciting.
"The second part of that is we wanted a game that would carry the innovation of that modular starship. This is why we decided to build this big open world game, with a lot of systemic elements. We thought that the combination of the two would create an experience that would be rich for young players. It was important for us to come up with something that hasn't been done before."
It's certainly a risky proposition. Conventional wisdom states that toys-to-life is a dead category. Kids, we are told, are gaming more on PCs and mobile than consoles. And you definitely shouldn't launch a new IP this late in a console cycle. Nevertheless, Ubisoft Toronto - the developer behind the project - had earned the right to create a new concept after years working on sequels to Far Cry, Assassin's Creed and Splinter Cell. And Ubisoft as a publisher has a reputation for backing ambitious and risky concepts.
"We had a blank space to create a new game, and a new way to play," Malville adds. "We were always excited by what it could be, and were always supported by Ubisoft."
Although the game clearly targets kids, Malville suggests it has far broader appeal. Indeed, as the project evolved, so did its target audience.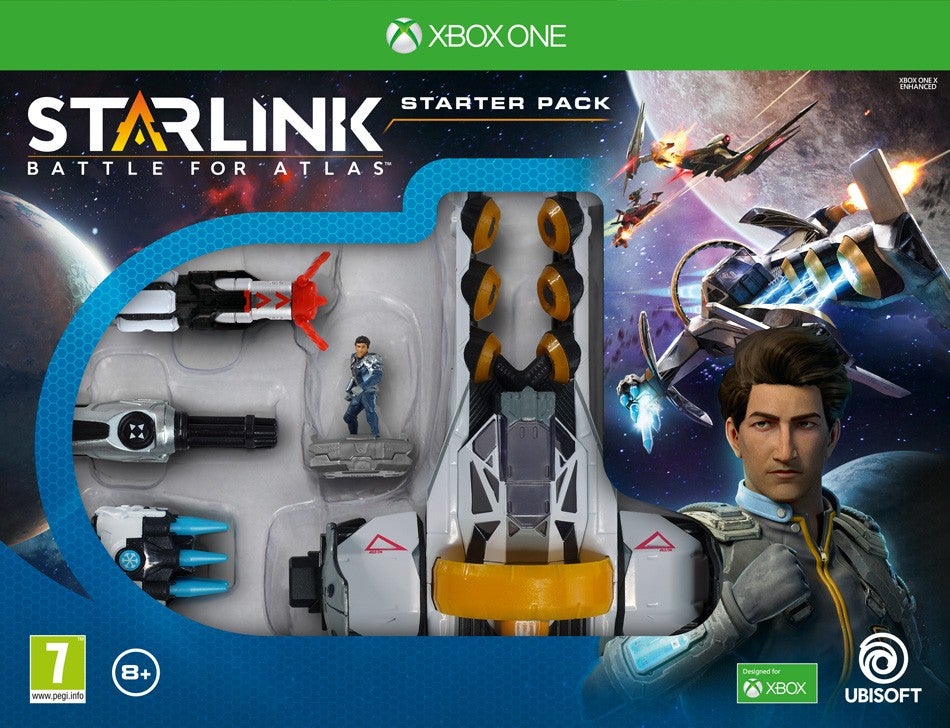 "In the beginning, we developed the game with 8 to 12 year-olds in mind," he says. "But as we progressed with development, we observed that older players were also interested, especially the open-world and the systemic aspects. The game is designed for younger players primarily, but I think that a lot of older players will have a blast with the game. "The big thing for us was to make sure we didn't talk down to younger players. Younger players today want to play those big, AAA, open-world experiences, but often the age ratings of those games are not appropriate. It was a point for us to have this big open world game, with some advanced mechanics, but that would be friendly for younger players."
Ubisoft Toronto has also been keen to differentiate Starlink's toys-to-life elements from Skylanders and Disney Infinity. These are different toys with different functions, there aren't hundreds of them to buy and collect, and there's actually no requirement to buy any of them - you can access the entire game just with the Starter Pack.
"There are no planets that are restricted or things like that," Malville explains. "That's important. A bit like a deck-building experience, we wanted players to be excited to buy a new ship, or a new pilot, or new weapons, because they are going to give you more strategy in your combat experience. Not because the game is telling you that you can't do something without an add-on. We flipped the way were were thinking about it.
"When we announced to the team that we were doing the collaboration with Nintendo, the team was ecstatic"
"Another point that was important for us was to have an achievable collection. We talked to a lot of parents, and we understand that feeling of never being able to complete the collection. It feels unreachable if it's too big. That feeling is not good. That's why we're releasing the game with the Starter Pack, and then four pilot packs, four starship packs and four weapon packs, which you can buy additionally. Again, you don't have to.
"For us, it was a good thing because the collection feels achievable, but also you can see that all the parts have a gameplay impact. So when we add a new ship or a new pilot, it has to make sense with the mechanics of the game. It's not just aesthetic."
Starlink takes a more ethical approach to the toys-to-life business model, then. Nevertheless, this is still a very risky project; it's a full-priced game targeting an audience currently obsessed with Fornite. It's also launching at a point in the console generation where - historically - gamers are less inclined to try things they're not sure about.
At least, that's partially true, because one of the platforms Starlink is launching on is still pretty new. The Nintendo Switch actually seems purpose-built for Starlink. It has a similar target audience and, compared with other consoles, there aren't many original AAA products launching on the device this year.
To cement this connection with Switch, Ubisoft Toronto has teamed up with Nintendo to introduce Star Fox into the game - complete with characters, story, and a physical Arwing spaceship.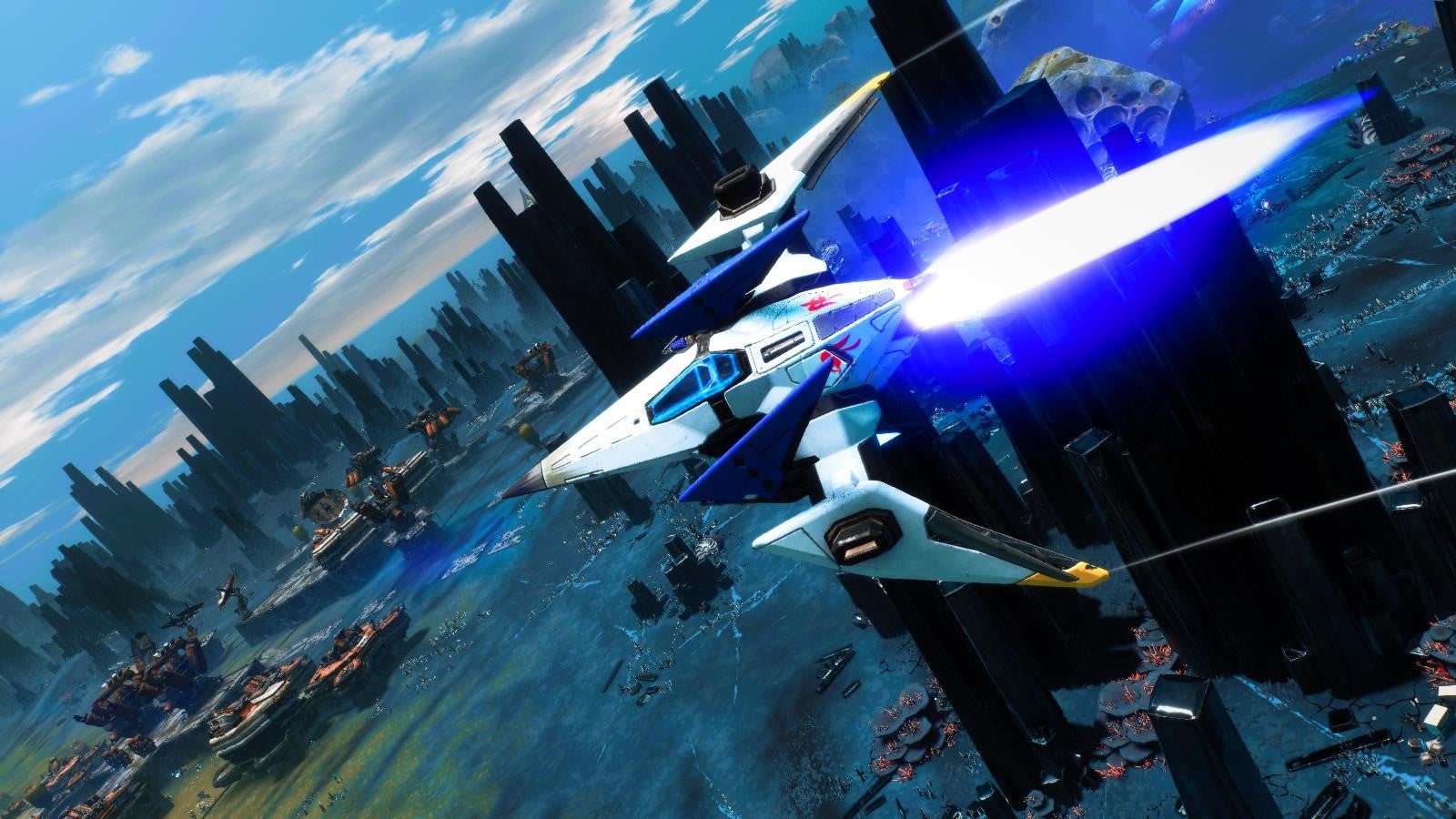 "It started at E3 2017," Malville begins. "We revealed Starlink to the world at the Ubisoft press conference. We had a behind-closed-doors VIP room. Nintendo came to see the game. I did the demo and at the end they asked if they could come back with more people. They came back a second time, a third time, a fourth time, and each time with amazing directors, like the director of Mario Odyssey and the director of Arms.
"I think they came back five times in total, and the fifth time they came back with [Nintendo of America president] Reggie Fils-Aimé. Several weeks after that, Ubisoft Paris told us that we were invited to Kyoto to Nintendo HQ to present Starlink to Mr Miyamoto, and the original Starfox team. The presentation was about what Starlink is, and also what a collaboration between Starfox and Starlink could look like.
"It was an incredible chance. We had 3D-printed the Arwing, so we had what it could look like with the Starlink technology. It was really a 3D-printed grey block where you removed the wing and put a different wing on it... and Mr Miyamoto said that he and the Starfox team would need to talk between them, because it modified the shape of the Arwing. Mr Miyamoto thought it was better for the players, because it's modular and you can mix and match, but they needed to talk about it first.
"A couple of weeks later, we were back in Toronto and we were given the green light. And we were allowed to have modular wings on the Arwing, which was awesome. When we announced to the team that we were doing the collaboration with Nintendo, the team was ecstatic. Because most of us in the team all grew up during the 80s and '90s. So we all know Star Fox very well and were in love with this brand. It was a big honour."
However, Malville says he didn't get too emotional - unlike Ubisoft Milan's Davide Soliani, who also teamed up with Nintendo on Mario + Rabbids: Kingdom Battle.
"[laughs] I didn't cry," he says. "I had too much of a mix of stress and excitement. I remember I sent an email to Davide for some tips, and he said: 'Just be yourself, you know your game, so be yourself and that's the best you can do.'"
The Nintendo connection does add something to the appeal of Starlink this Christmas. If it can deliver the quality (and the early buzz is promising), then it might find a hungry audience of Nintendo fans ready to give it a try. Yet it remains a bold project. Star Fox isn't exactly Mario or Zelda. A lot of work will need to happen if the game is going to rise above the Christmas noise.
Yet in a year devoid of many risk takers, you can't help by hope that it manages to do so.