The UK's biggest games student event returns to EGX in October
New features include student challenges and the chance to graduate from the GI Academy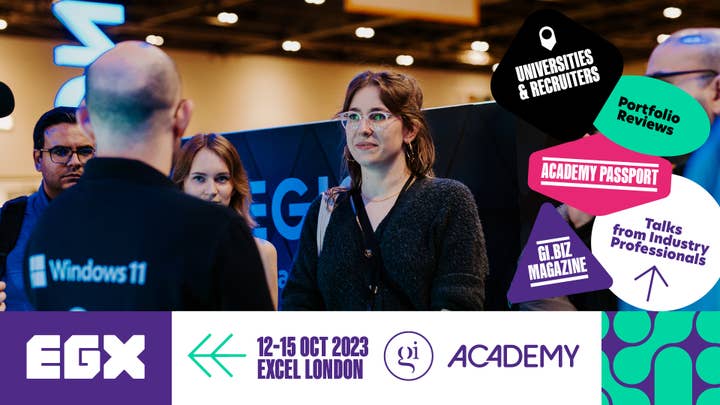 The GamesIndustry.biz Academy student event will return to EGX in October, with four days of career talks, one-to-one sessions, new student challenges, merchandise and more.
In fact, it is our biggest and most ambitious student event so far. Students, job seekers and those simply interested in working in games can take part in a series of tasks that, once completed, would allow them to 'graduate' from the GI Academy. More details on how this works will be revealed closer to the show.
The GI Academy will also feature developer and educator booths, with the event already 70% full. For more details on booths, contact George.Corner@gamesindustry.biz.
Outside the Academy, several student game showcases are also taking place within EGX.
Abertay University's award-winning Dare Academy games design programme will be back, with student teams ready to showcase their games, engage with visitors, speak to people about university life and share their experiences around how to get started on a path into the games industry.
"Dare has had an incredible track record of producing teams that have gone on to achieve critical and commercial success, with games like PHOGS! from Bit Loom and Skye Tales from Puny Astronaut just two examples of those to have received a global release, having begun life at Abertay," said Dr Dayna Galloway, Head of the Division of Games and Arts at Abertay University.
"The Dare Academy format of mixing students from across our range of video games courses into multi-disciplinary teams has proved really successful because it replicates an industry environment, but also gives our students a real-world flavour of what it takes to take a game from concept through to completion."
Meanwhile, Games Talent Wales is returning and supporting 16 new games teams from across Wales, and showcasing their games at EGX as its final exhibition of the year.
"Games Talent Wales is the Welsh national talent development programme that specialises in the creation, support and enhancement of small independent game studios by providing finance, mentoring and comprehensive support leading to game publication," said Richard Hebblewhite, Games Talent Wales Director and Head of Computing at Wrexham University.
"Founded at Wrexham University in 2017 as part of our games development course suite, we have gone from strength to strength and now boast a portfolio of 16 active games studios."
In addition, another special education event is planned for HR and course leaders within EGX. More details on this will be announced in the coming weeks.
For more details on the GI Academy and how to get involved, contact George.Corner@gamesindustry.biz.