The mobile games market is getting bigger -- and not just for the top ten
Battle passes made money for the major publishers in 2019, but there was growth outside of the top ten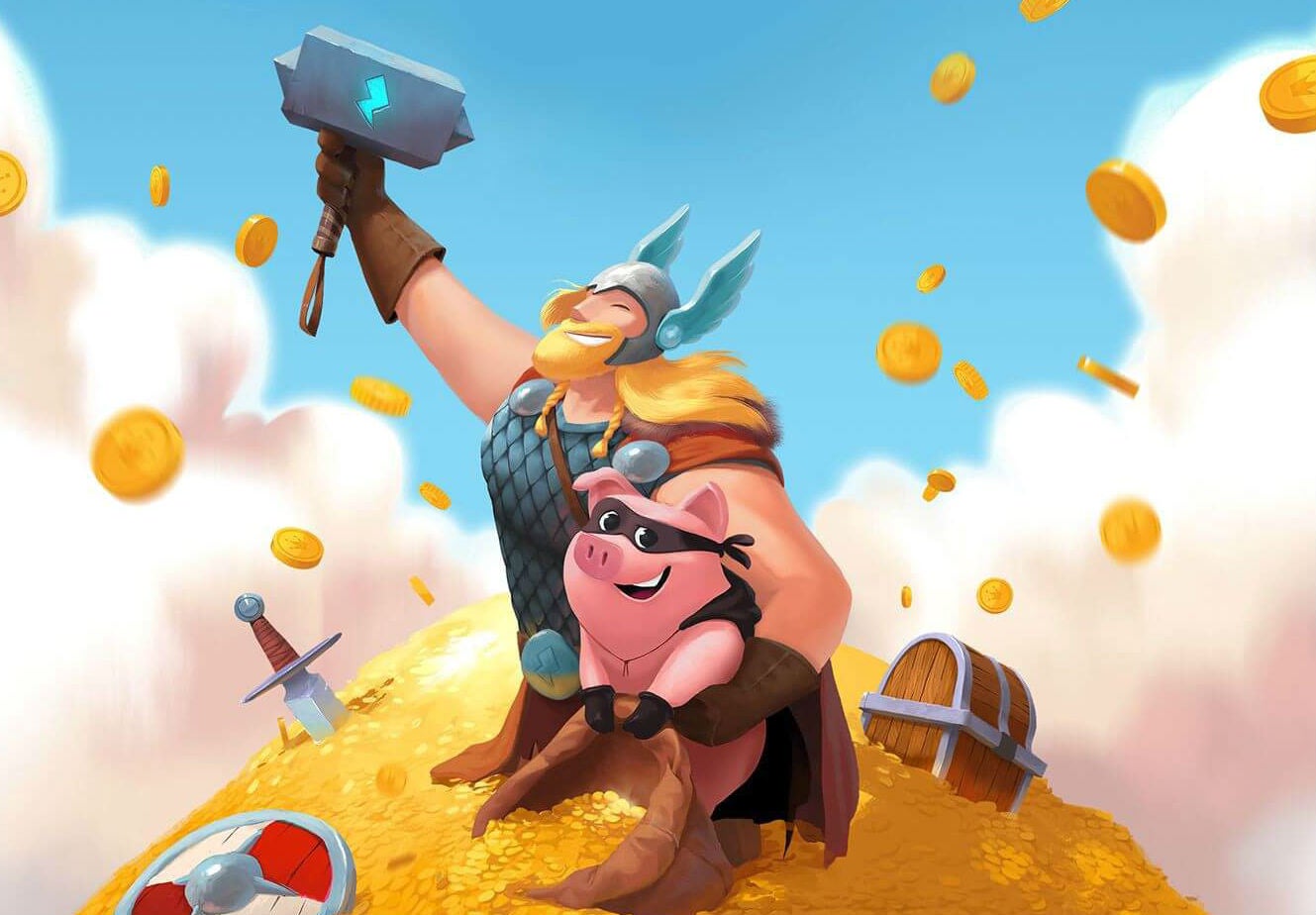 2019 was another stellar year for mobile game revenue. Sensor Tower estimates show that worldwide spending in games grew 12.8% across the App Store and Google Play, from $54.7 billion in 2018 to $61.7 billion in 2019. For some perspective, that's 74% of all in-app spending for the year, which hit approximately $83.5 billion in total not including Android in China.
Tencent's Honor of Kings was once again the highest-grossing game of the year, generating close to $1.5 billion in gross revenue. Another title from the Chinese publishing giant, PUBG Mobile, shot up the charts in 2019 to hit No. 2 in the rankings with just under $1.5 billion as well. The battle royale game grossed close to $1.3 billion more than in 2018 thanks to its re-launch in China, where it's now known as Game For Peace.
The top five was rounded out by Sony Aniplex's Fate/Grand Order -- which became Japan's top grossing game of 2019, usurping Mixi's Monster Strike - King's Candy Crush Saga, which increased user spending by $84.5 million year-over-year, and Niantic's Pokémon GO, which had its best year ever.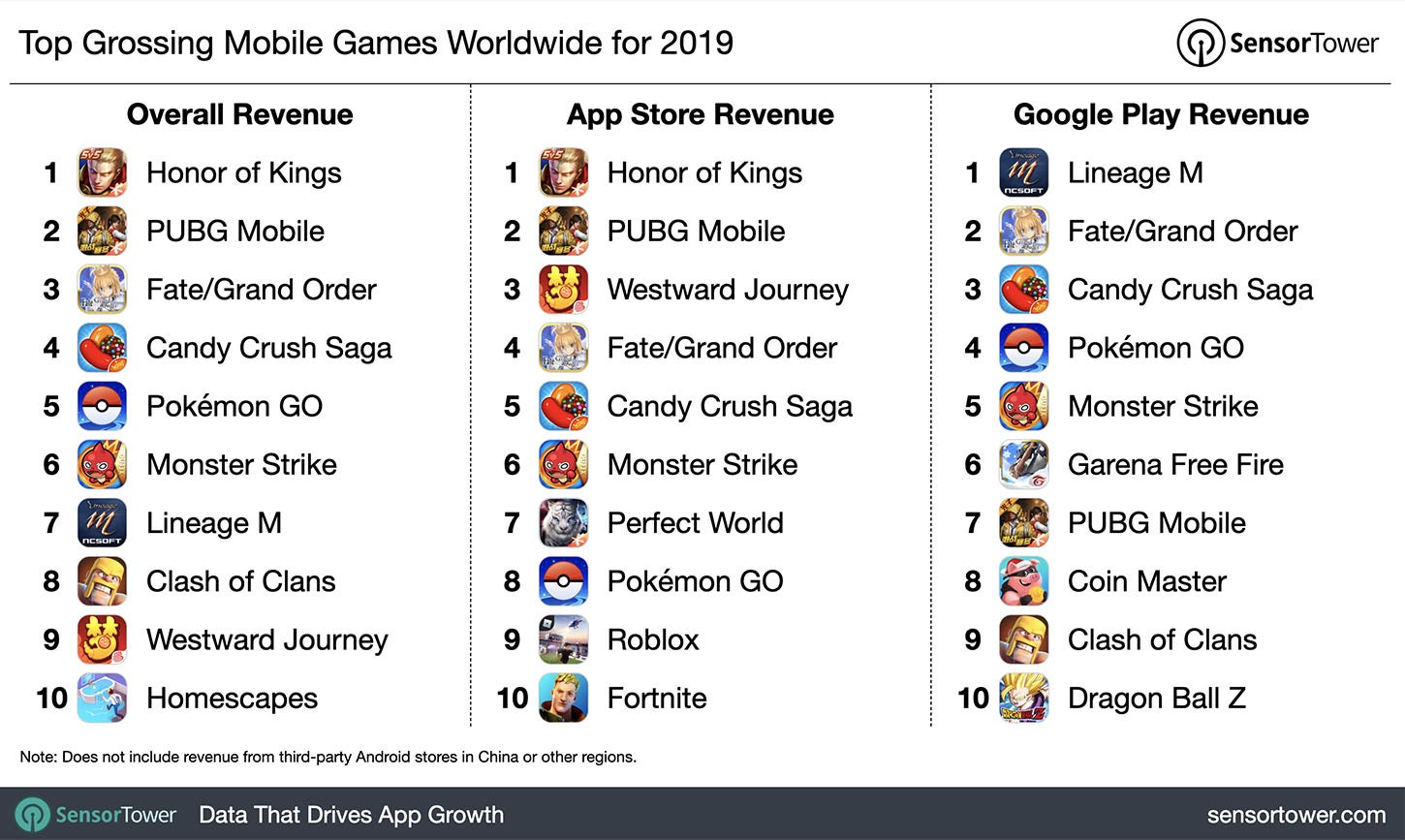 The top ten grossing games generated an estimated $9.7 billion in combined revenue during 2019, up 5.2% year-on-year. That figure represented approximately 15.8% of all user spending in games on the App Store and Google Play last year. In 2018, the top ten accounted for 17.2% of all user spending in games.
The top 11 to 30 mobile games, meanwhile, accumulated an estimated $8.8 billion, up 15.9% over the previous year. In 2018, that total represented around 14.1% of all user spending from both stores in, while in 2019 it accounted for 14.3%. This shows that the money from user spending on mobile gaming has become less concentrated in the top ten -- and even top 30 -- titles in the global market.
The big stories
"Just how well a battle pass can work in other genres remains to be seen, but the results suggest there can be significant rewards"
If you've ever taken even a cursory glance at the top grossing mobile game charts each month, you'll have noticed that there are few dramatic changes -- it's often the same titles dominating throughout the year. In 2019, eight games climb into the year's top 30 revenue generators, with new entrants including PUBG Mobile, Garena Free Fire, Coin Master, Brawl Stars, and Empires & Puzzles.
Between the fresh faces and the old guard, there are a number of lessons to learn about what's driving growth.
Battle pass integration
PUBG Mobile's success owes a lot to its launch in China under a new name, Game For Peace. Prior to this, it had been unable to monetise in China due to the country's big game freeze in 2018 and the subsequent slow return of licence approvals. It also came back with some alterations, including no blood and a greater focus on patriotism.
But monetisation began improving before the switch, thanks to the launch of a battle pass system that was previously popularised by another battle royale sensation, Epic Games' Fortnite. After making close to $1.5 billion in 2019 alone, the decision to implement the battle pass -- along with a number of collaborations and in-game events with IP such as Godzilla and Resident Evil -- has proven to be astute.
Following in Fortnite and PUBG Mobile's footsteps was another, somewhat unlikely game: Supercell's evergreen strategy title Clash of Clans. The introduction of a Gold Pass and Season Challenges in April last year led the game to a 27% increase in annual revenue to $722 million. This stemmed years of decline since the $1.8 billion it earned in 2015.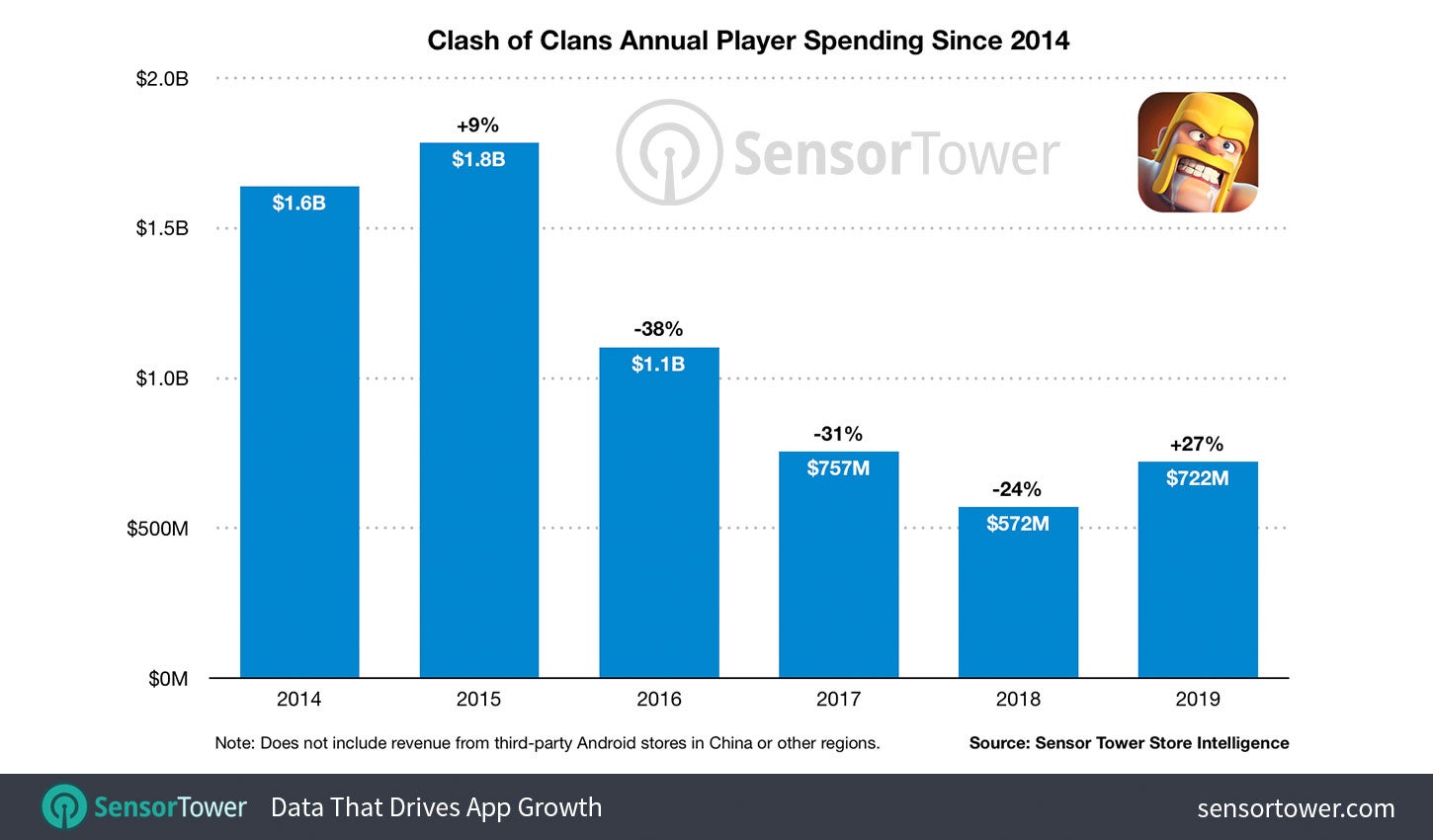 Such is the success of this business model that two of the year's biggest launches adopted something similar: Call of Duty Mobile has its own battle pass, while Mario Kart Tour launched with a monthly subscription.
Despite releasing in September, Call of Duty Mobile still generated $114.9 million, while another September release, Mario Kart Tour, raced to $74.4 million by the end of the year. Just how well a battle pass can work in other genres remains to be seen, but -- at least from these publishing giants -- the results suggest there can be significant rewards for this kind of monetisation.
The fast risers
Of the top 30 games, 11 of these titles increased revenue by more than $100 million in 2019. For some, this was due to a launching late in 2018, but for others, 2019 was a year for high growth through a combination of user acquisition and new features.
PUBG Mobile was far and away the fastest riser, followed in second by Moon Active's Coin Master. We mentioned in our previous article that Coin Master had a stellar 2019, and it capped the year with $538.4 million in revenue, with sales driven by the United States, Great Britain and Germany. Indeed, China barely registered as a key territory, proving that, while the Chinese market is highly lucrative, there are still big gains to be made in the rest of the world.
Playrix's Homescapes saw user spending rise 71.5% to $626.8 million in 2019, coinciding with a significant increase in downloads, suggesting a strong user acquisition push. Downloads in 2019 jumped 189% to 156.1 million.
Downloads for another Playrix game, Gardenscapes, also increased significantly -- by 247.2% to 113.4 million, with revenue increasing 10.5% to an estimated $528.9 million. Both titles were top 30 grossers in 2019, offering an example of just how important UA spend is. But given the high cost, it's difficult to gauge just how profitable these titles are.
Depending on how you spin the data, there are many more lessons that can be learned from 2019 about how the mobile games market will move forward in 2020. It will be fascinating to see how the battle pass and subscription models evolve throughout the year, and which games adopt them.
But a key takeaway from 2019 is that, with 22 different publishers in the top 30 and revenue increasing outside the top ten, the market is growing for everyone.
Craig Chapple is Mobile Insights Strategist, EMEA, at mobile intelligence firm Sensor Tower, provider of data and insights needed to master the mobile app ecosystem. He has previously served as senior editor at PocketGamer.biz and has worked in the games industry for over eight years.