The Legend of Zelda: Link's Awakening topples Borderlands 3 in UK Charts
The most successful Zelda remake so far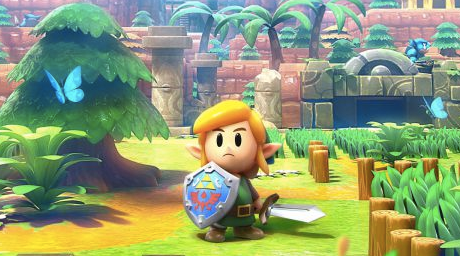 The Legend of Zelda: Link's Awakening on Nintendo Switch is No.1 in the UK Boxed Charts.
Link's Awakening is the latest Zelda remake from independent developer Grezzo. The company previously created the 3D remakes of Ocarina of Time and Majora's Mask for 3DS. Link's Awakening is Grezzo's biggest Zelda launch in the UK yet, surpassing the record set by Ocarina of Time 3D by 27%.
It's actually only the third time Zelda has been No.1 in the UK charts. The last time was way back in 2003 with the launch of The Legend of Zelda: Wind Waker on Nintendo GameCube. Before then, Ocarina of Time was No.1 on N64 back in 1998 just before Christmas. It followed Nintendo air-lifting copies of the game to stores after it sold out in its first week.
It's the fastest-selling Switch game released this year, surpassing the record set by Super Mario Maker 2.
The biggest Zelda launch on Nintendo Switch in the UK was Breath of the Wild, which was a launch title for the system. In fact, Breath of the Wild is still in the charts today, and saw a 22% increase in sales over the last week (it's currently at No.16).
Indeed, a number of Nintendo Switch games performed well this week, coinciding with the launch of the new Nintendo Switch Lite console. Mario Kart 8 Deluxe is back at No.3 after a 23% rise in sales, Super Smash Bros Ultimate is at No.18 with a 15% increase in sales, while Super Mario Odyssey is at No,.24 with an 18% sales bump.
Also new this week on Switch is Ni No Kuni: Wrath of the White Witch, which initially launched on PS3 back in 2013. The Switch version debuts at No.23, while a new PS4 version came in slightly lower at No.26.
Last week's No.1, Borderlands 3, drops to No.2. The 2K game was the fastest selling game in the UK so far this year, but it fell 69% in sales during its second week. Other big new releases last week also fell quite hard. Gears 5 drops from No.2 to No.4 after a 74% sales fall. Efootball PES 2020 falls 73% and is at No.5, while Greedfall drops all the way from No.5 to No.28 after a 78% sales drop.
It's worth remembering these are just physical game sales. Digital sales are not included in this chart.
One other new release this week is Truck Driver. The Maximum Games title debuts at No.11.
The highest riser this week is Ubisoft's The Division 2, which goes from No.20 to No.6 after a 114% sales spike. The game has benefited from some discounting at UK retail.
Here is the UKIE/GfK Top Ten for the week ending September 21:
| Last Week | This Week | Title |
| --- | --- | --- |
| New Entry | 1 | The Legend of Zelda: Link's Awakening |
| 1 | 2 | Borderlands 3 |
| 6 | 3 | Mario Kart 8: Deluxe |
| 2 | 4 | Gears 5 |
| 3 | 5 | Efootball PES 2020 |
| 20 | 6 | Tom Clancy's The Division 2 |
| 8 | 7 | Grand Theft Auto V |
| 7 | 8 | Spyro Reignited Trilogy |
| 10 | 9 | Crash Team Racing: Nitro-Fueled |
| 4 | 10 | NBA 2K20 |