"The bankers are actually much more metal than publishers"
Headbang Club's David Elahee talks about Double Kick Heroes' path from Ludum Dare prototype to multiplatform launch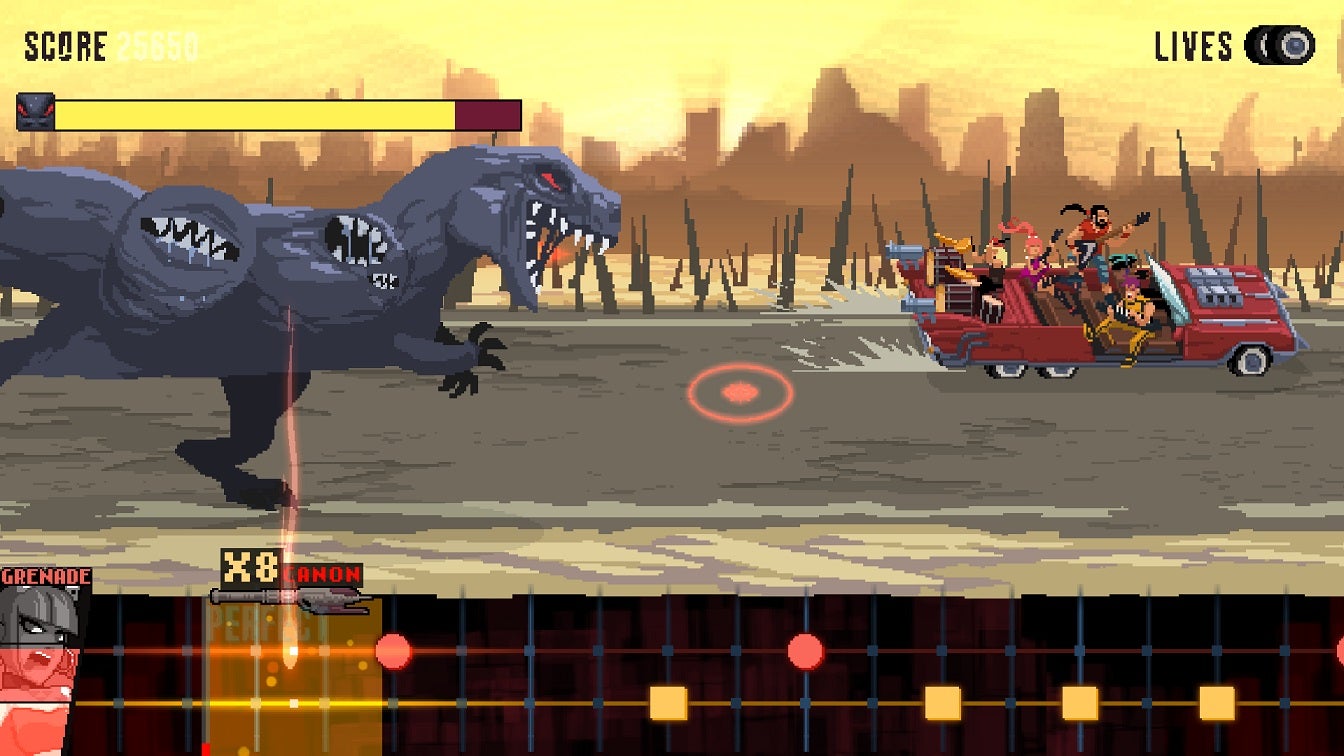 When Headbang Club co-founder David Elahee started shopping the studio's debut title Double Kick Heroes to publishers, he noticed a pattern. Speaking with GamesIndustry.biz at PAX East last month, Elahee says he very quickly got the feeling that the game wouldn't be picked up by any publisher because "everything that made the game unique was also a weapon against the game in the publishing community."
Double Kick Heroes is a pixel art game with zombies, two things that some consider to be played out in the current indie market. It also features a metal soundtrack and aesthetic, which have never been terribly mainstream to start with. It has some violence, so the potential audience could be limited by a restrictive rating. Oh, and it's a rhythm game, something very few companies have been able to publish successfully in Western markets ever since the plastic instrument peripheral crash of nearly a decade ago.
"We asked 50 publishers, and we never got a deal," Elahee said. "We started out [asking for] $100,000, then $50,000, $30,000. We never got a deal. In the end it was just depressing so we went to the banks and [government funding]... The bankers are actually much more metal than publishers."
Based in France, Headbang Club found substantial funding for the game from local and national government programs. Elahee says Double Kick Heroes' unique mash-up of game genres and mechanics appealed to government funding sources because it was clearly distinguished from anything else on the market, while the metal focus that publishers saw as limiting actually made it more attractive because the game could be clearly argued as a distinctive cultural product.
"Even if they don't fund you, there are very good things to talk about with publishers"
Even though the discussions with publishers didn't result in a deal, Elahee still sees them as worthwhile.
"We had to self-publish, but it was interesting to talk to so many people and refine the message, refine how we convey ideas, how we would talk to the public," he says, adding "Even if they don't fund you, there are very good things to talk about with publishers."
For example, even though Devolver didn't sign Double Kick Heroes, Elahee says the publisher was willing to help out with some suggestions and an introduction or two to other potential partners. And in more general terms, speaking with publishers can help developers better understand the publisher mindset, even if it's not driving all of their creative decisions.
"You must think like a risk assessment company," Elahee said. "What are the risks of your game? What is the sales potential of your game? And try to stay innovative within that. All three aspects are hard to tackle at once."
For the past year, Double Kick Heroes has been in Early Access on Steam. Elahee says the game has sold about 3,000 copies on Steam already, which gave Headbang Club some traction and allowed it to sign a distribution deal for a Nintendo Switch version. The Switch version is expected to arrive alongside the game's full launch on Steam this summer, and was one of the games featured by Nintendo in its January Indie Highlights video. In short, the game is well on its way to being a successful project.
"Broadly speaking, we invested $110,000," Elahee says. "Between advances and Steam sales, we're at 60% recoup and the game is not out."
"A lot of communities found an interest in Double Kick and helped us push the project"
But in some ways, Double Kick Heroes is already a clear financial success for Headbang Club. The game was conceived for the game jam Ludum Dare #34. Elahee and three others (including Headbang Club artist Guillaume Breton and composer Frédéric Motte) put together the prototype in two days. The project attracted 30,000 players in a week and seemed to naturally resonate with a number of audiences the developers didn't even pursue.
"We were really touched that it was speaking to people, to the metal community, to the rhythm game community," Elahee says. "A lot of communities found an interest in Double Kick and helped us push the project."
The response encouraged them to turn the game into a commercial release, and even before they realized it would not be popular among publishers, they planned to support development by taking on work-for-hire projects. They did some work for fellow French studio Accidental Queens (the studio behind A Normal Lost Phone and Alt-Frequencies), and music videos for artists.
As Double Kick Heroes gained traction, Headbang Club was able to command more "highly creative and financially interesting" work-for-hire projects, Elahee said. So even before the passion project has paid for itself directly, it's been a boon for the work-for-hire business. In turn, the work-for-hire business also been beneficial for Double Kick Heroes beyond simply helping fund the project. As Elahee described it, you make a video for an artist, that artist talks to a friend at a label, that label has metal bands, and the next thing you know, Double Kick Heroes has licensed music from a major metal act like Gojira.
"Usually a band like that would ask for $10,000 or $100,000 to be in a game," Elahee says. "But we had the blessing to have them for sums that are compatible with an indie business. We took our time [making Double Kick Heroes]. We took three years, but it generated many positive side effects. It was good calculus for us."
Of course, there's no simple formula for making successful games, so Headbang Club will need to come up with something new for its next game. Broadly speaking, Elahee says the studio will always aim for quality first and foremost, but he and his fellow developers will continue trying to make the kind of games they want to play. That doesn't necessarily mean every game will share the same aesthetic as Double Kick Heroes, but Elahee concedes they'll likely stick to "sub-cultural music."
"We'll keep things dark," he says. "I don't know if we'll be uniquely metal, but we'll try to lurk in the shadows."