Temple Running the gamut of brand extensions
Imangi Studios CEO Walter Devins shares his five-year plan for pushing the decade-old endless runner into new genres, platforms, and media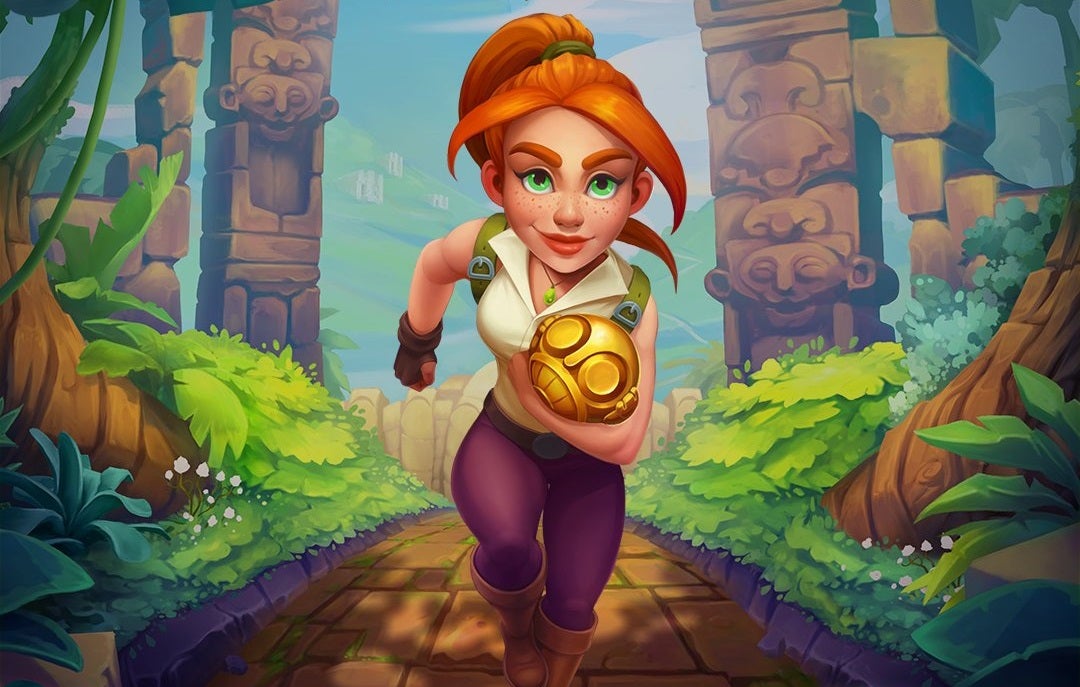 Temple Run is a rarity in the mobile world: a hit franchise over a decade old and still going.
And to hear Walter Devins, CEO of Temple Run creator Imangi Studios describe it, "endless runner" does a good job of describing both the game and the studio itself.
"When Temple Run became a hit and then Temple Run 2, we were a team of five people," Devins tells GamesIndustry.biz. "We were doing marketing deals, Nat Geo books, fixing bugs, making content, answering 3,000 customer emails a day. And we were all doing it.
"It was like start-up mode and frenzied, fun, exhausting and exciting, but it was very much, 'What can we do today and what can we do tomorrow?'"
For a time, that was fine. The studio launched Temple Run 2 in 2013 and has grown to more than 40 people over the years as it continuously tried to keep up with the demands of running those games, but the studio thinks it could benefit from a bit of longer-term thinking.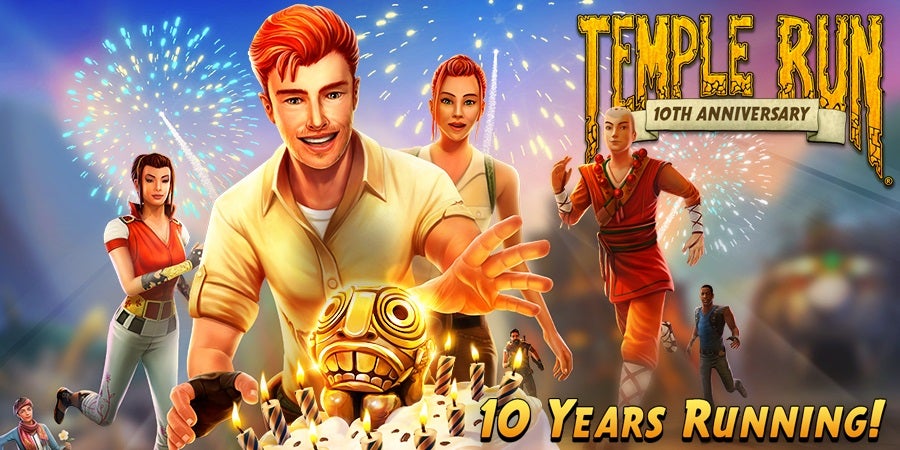 Devins -- who was Imangi's outside lawyer when it formed and signed on full-time only after Temple Run started getting big -- became CEO two years ago, and began working on a "strategic and more forward-thinking" approach for the company. With approval from the board of directors, he rolled out a five-year plan earlier this year that will see Imangi attempt to grow the Temple Run brand beyond its current confines.
The first part of that expansion arrived in September with the addition of Temple Run: Puzzle Adventure to the Apple Arcade subscription service. Devins says the match-three game made good sense because the developer who pitched it -- WWE Champions creator Scopely -- understood the genre much better than Imangi, and there was "audience overlap" between Temple Run's female-skewing fanbase and the match-three genre.
"We have a lot of background and story to tell, and we plan to do that through this evolving, growing ecosystem of the Temple Run universe"
Devins says Temple Run: Puzzle Adventure is just the first of a number of brand extensions on the way. Imangi has also partnered with A. Smith & Co., a production company on the American Ninja Warrior TV series, to make a TV show based on Temple Run, although Devins says that project is still in the conceptual stages.
"It's telling the wider story," Devins says of the narrative aspirations the studio has for these extensions. "We have a lot of background in Temple Run. Why are you stealing the idol? Are the demon monkeys good or bad? A little spoiler is 'neither.' Not a lot of people know that yet. We have a lot of background and story to tell, and we plan to do that through this evolving, growing ecosystem of the Temple Run universe."
He insists Imangi will still be picky about what belongs in that growing ecosystem. Temple Run as a brand means four things to the company -- fun, wonder, danger, and adventure -- and any new extension will be expected to reflect those as well.
"We hold that core to any opportunity we look at," Devins says, "whether it's a TV show, movie, video game, mobile game, anything... it has to have that core. Because we want anybody who has ever played to have that consistency."
Of course, none of that extension is to be seen as departing from the endless runners at the core of the series.
"Temple Run, Temple Run 2, and this runner space? That's our main story, our main quest," he explains. "There's going to be a lot of side quests along the way. Such as the match-three game, such as other ones we're thinking about. And then there are going to be wider entertainment opportunities that will be exciting to think about in the future.
"I wouldn't say it's more aggressive. It's just more strategic. How do we not think about today or tomorrow or six months from now? How do we start thinking about five years from now, and how do we get there?"
We ask if any of this is driven by watching what's happened with another hit franchise from the early days of mobile in Angry Birds. Angry Birds went aggressively into merchandise and marketing tie-ins, oversaturated the brand, and in recent years has been rethinking and rebuilding it with the help of a pair of animated films.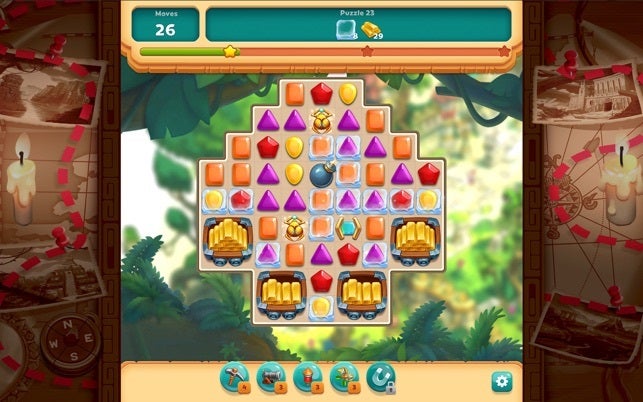 "We grew slowly," Devins says. "We said no to a lot of opportunities and a lot of things because we took a strategic view of incremental growth. We didn't want to get ahead of ourselves. A lot of game companies fail when they... take on too much, they take on a lot of funding, they hire a lot of people and lose their sense of self. We chose not to do that. But over time, we still think there's a lot we can do. We think there's a lot more here to be told, to explore and to experience."
So why is now the right time to lose some of that cautious and incremental approach to building the studio and the brand?
"The timing of Temple Run and when it came out? We were just kind of lucky"
"At the time, free-to-play was coming around," Devins says of the early years of Temple Run. "We were very much changing with the marketplace. It was very hard to see where the marketplace was going; there was a lot of market segmentation and fracturing that was occurring. So from a macro point of view in games, we didn't know where things were going to go. Could you make multiple iterations of the same game? Did you need to create an evergreen property and go with that?
"The market has settled out a bit and there's been consolidation in the marketplace with all these different game companies, so it's a little easier to project a better likelihood of success now than it was six or seven years ago. "
The success of Temple Run was pretty unpredictable in the first place.
"The timing of Temple Run and when it came out? We were just kind of lucky," Devins admits. "[Paid user acquisition] wasn't super strong back then and word of mouth was entirely powerful in 2011 and 2012. A lot of sophistication around data and UA wasn't occurring at the time. Word of mouth became very important."
That was especially helpful for Imangi, as Devins says it never spent money on user acquisition, and still doesn't; Temple Run gets what it needs from word of mouth and featured placement in app stores.
"We have millions and millions and millions of new players every month," Devins says. "There are a lot of 13-year-old people who get their first phone and parents view Temple Run as a family friendly game, something they believe in and feel comfortable letting their kids play."
So if Imangi is getting bolder about exploring the world beyond endless runners and even games in general, does it have any plans to try building anything outside the Temple Run brand?
"Not right now, no," Devins admits. "Right now, we feel the Temple Run franchise is so large and untapped, and we can do so much with it. With our relatively small team of 40-plus people and even leveraging other development partners, there's still so much more to do. And right now our plan is all within the Temple Run universe."