Take-Two sets net bookings records as Q4 digital sales jump
Publisher looks ahead to a "light year" for new releases, but remains confident in success of back catalog, digital growth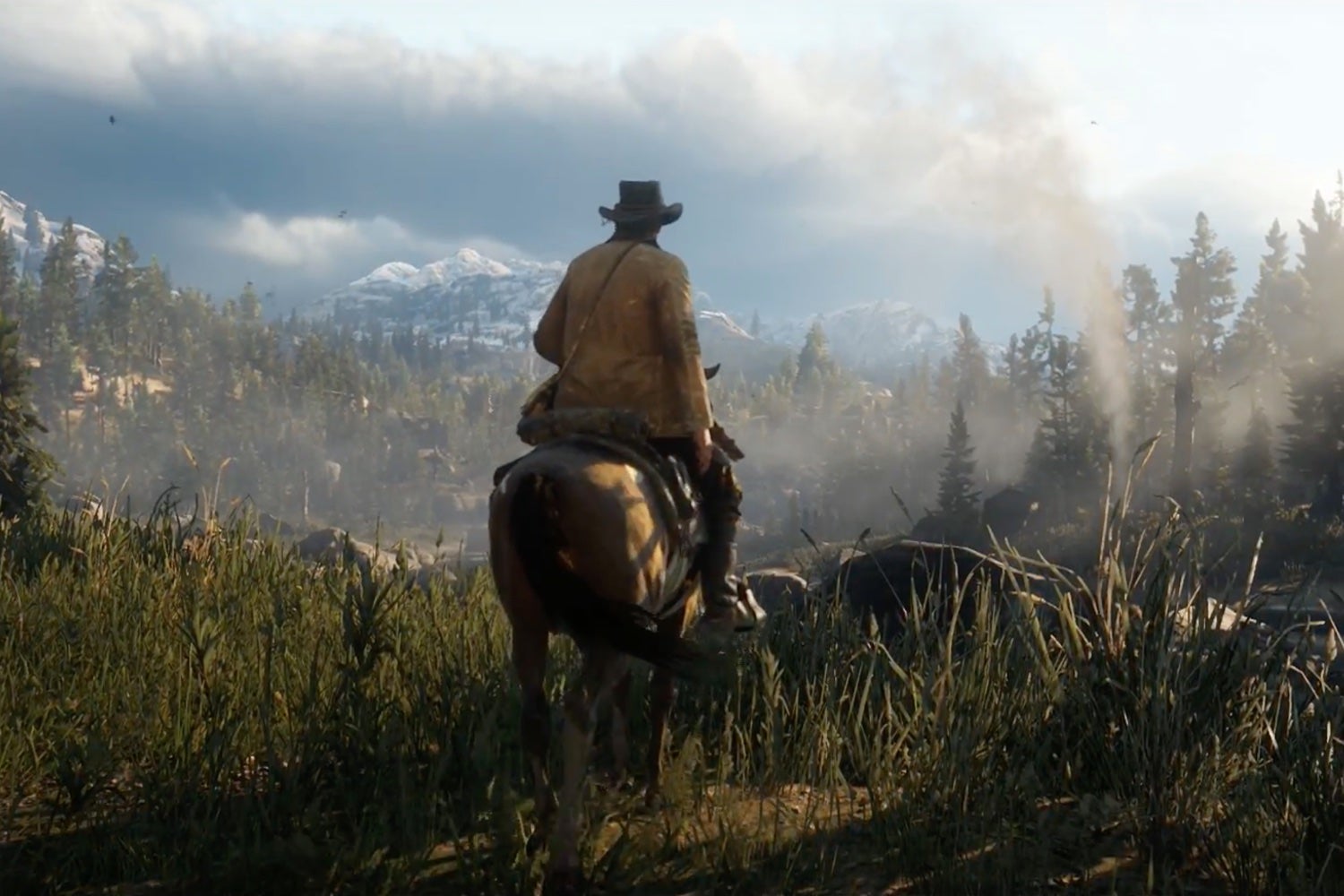 Original story: It's been a record-setting year for Take-Two Interactive.
Today, the publisher reported its Q4 earnings alongside its results for the full fiscal year ending March 2020, including record net bookings, digital net bookings, recurrent consumer spending, and earnings for the year.
Beginning with Q4, Take-Two reported total net bookings of $729 million, up 49% year-over-year.
92% of that was digital net bookings, which grew 60% year-over-year to $672 million.
Recurrent consumer spending for the quarter was up 47% and accounted for 61% of total net bookings, exceeding the company's outlook for the quarter largely due to the strength of NBA 2K20 and GTA Online.
Net revenue for the quarter reached $760 million (up from $539 million year-over-year), gross profit was $365 million (up from $280 million), and net income reached $123 million (up from $57 million).
For the full year, Take-Two reported record net bookings of $2.99 billion, up from $2.93 billion last year, and record digital net bookings of $2.4 billion -- up 35% year-over-year and 82% of total net bookings.
Speaking to GamesIndustry.biz, CEO Strauss Zelnick acknowledged the effects of pandemic lockdowns on digital distribution, affirming that he believed stay-at-home orders had caused a spike in existing growth.
"A lot of people believe that whatever trends existed before this pandemic will be accelerated by the pandemic. I've been saying for a long time that we're seeing a shift to digital distribution...We do expect the trends to continue, but we don't expect physical goods to go away. Nor would we like them to go away.
"...It's a terrible thing to pat yourself on the back in the face of tragedy. That's not how we feel. We do think that providing great, at-home entertainment is a service in times like this. We love the fact that you can connect with greater communities and friends all around the world when you're playing online video games. Was there a push to more at-home entertainment during this time? Absolutely, yes. Did that affect our results positively? Unquestionably.
"I do think, though, you're going to see that this represents a bit of a sea change, and you're going to see more of an interest on an ongoing basis in interactive entertainment even as this ends."
Recurrent consumer spending grew 34% to a new record for the year, and accounted for 51% of total Net Bookings.
Net revenue for the year reached $3.09 billion (up from $2.67 billion year-over-year), gross profit reached $1.55 billion (up from $1.14 billion), and net income was $404 million (up from $334 million)
In addition to sales figures, Take-Two offered updates on unit sales for a number of its titles, including Grand Theft Auto 5 (over 130 million units), Red Dead Redemption 2 (over 31 million units), and Outer Worlds (over 2.5 million units).
NBA 2K20 has now sold over 12 million units, with Take-Two expecting that its lifetime units sold, recurrent consumer spending, and net bookings will be the highest ever for a 2K sports title.
Sales and engagement with the game appears to have been bolstered throughout stay-at-home orders due to COVID-19, as the game saw over 9 million hours watched on Twitch in Q4 -- a 40% increase over Q3.
And Borderlands 3 has now sold over 10 million units, up 50% over Borderlands 2 unit sales over the same period. Additionally, MAUs for Borderlands 3 steadily rose throughout Q4 and saw the largest influx of new players since the game's launch during March, due to its Steam release.
Finally, Take-Two noted that Kerbal Space Program 2 is being delayed from fiscal 2021 (ending March 2021) into fall of 2021 to give the team more time to finish the game, with the publisher citing delays due to COVID-19 as the cause. Zelnick did not respond to my query about what happened to Star Theory, but affirmed the game's delay was entirely due to constraints related to COVID-19, and "not anything else."
Earlier this year, Take-Two announced it had moved production of Kerbal Space Program 2 from external developer Star Theory to a new, internal studio based in Seattle.
Despite Kerbal's delay, Zelnick said that the company "hadn't missed a beat" in production company-wide due to the pandemic, but did reflect on the impact of stay-at-home orders on general wellbeing.
"It's hard," he said. "I find I work harder when I'm at home. You have fewer breaks, you're sitting in the same place, you don't have people around you, and Zoom calls can be draining in the extreme. Our colleagues are performing incredibly well...so clearly it's working. But I think all of us are looking forward to the time when we can appropriately and safely return to the office."
Looking ahead to Q1 of fiscal 2021-22, Take-Two anticipates net bookings between $800 million and $850 million, up 92% year-over-year, as well as net revenue between $775 million and $825 million, and net income between $103 million and $116 million.
It also anticipates digitally-delivered net bookings will double, and that 81% of its current-generation console game sales to be digitally-delivered, up from 75% in Q1 of last year.
For the full year, Take-Two expects net bookings between $2.55 billion and $2.65 billion, with growth in NBA 2K offset by lower results from Borderlands 3, Red Dead Redemption 2, and Grand Theft Auto 5 -- though Red Dead Online and Grand Theft Auto Online are expected to be in line with fiscal 2020.
Take-Two acknowledges that fiscal 2021 will be a light year for new releases, noting that its development teams are working to "push the limits" of new technology, but that transitions between console cycles can be unpredictable -- and that's not to mention the upheaval from the pandemic.
However, Zelnick remains understandably confident in the publisher's back catalog of live service titles, suggesting that the new consoles' backward compatibility would allow their audiences for existing titles to continue growing while they waited for a "more meaningful install base" on new consoles.
"The initial uptake of any new console generation is not immediate," he said. "I think that our light release schedule is actually well-suited to the year that's coming. We're really excited about the consoles, but there is uncertainty, and there's further uncertainty given the state of the economy that's been driven by the pandemic. I think that we are in a position of strength in that our offerings will mean we're going to have a great year."
I also asked Zelnick about next-generation development, given the unveiling of Unreal Engine 5 footage last week and its promise of high-quality visuals paired with developer time saves.
Zelnick noted that while Rockstar, 2K, and some of Take-Two's other studios do use internal studios, they nonetheless pay attention to and avail themselves of the latest technology, whether it's externally or internally-developed.
"We think that what's happening plays to Take-Two's advantage, and we're certainly investing in a pipeline that reflects that," he said.
Take-Two expects that recurrent consumer spending as a percentage of its business will grow to 60% from 51% in fiscal 2020, though the total amount is anticipated to be flat.
Digitally-delivered net bookings are expected to decline by about 8%, but as a percentage of the business, will rise to represent 86% from 82% this past year. 68% of its current-generation console sales are expected to be digital, up from 55%.
Finally, Take-Two expects net revenue between $2.62 billion and $2.73 billion for the year, and net income between $299 million and $329 million.
Update: On today's call with investors, it was also noted that Mafia 3 has sold seven million copies to date.
For the record: A previous version of this story reported Red Dead Redemption 2 as having sold over 21 million units -- it has been amended above to correctly reflect sales of over 31 million units.