Super Mario Maker 2 holds UK No.1 in strong week for Nintendo Switch
Handheld game sales rise as summer months roll on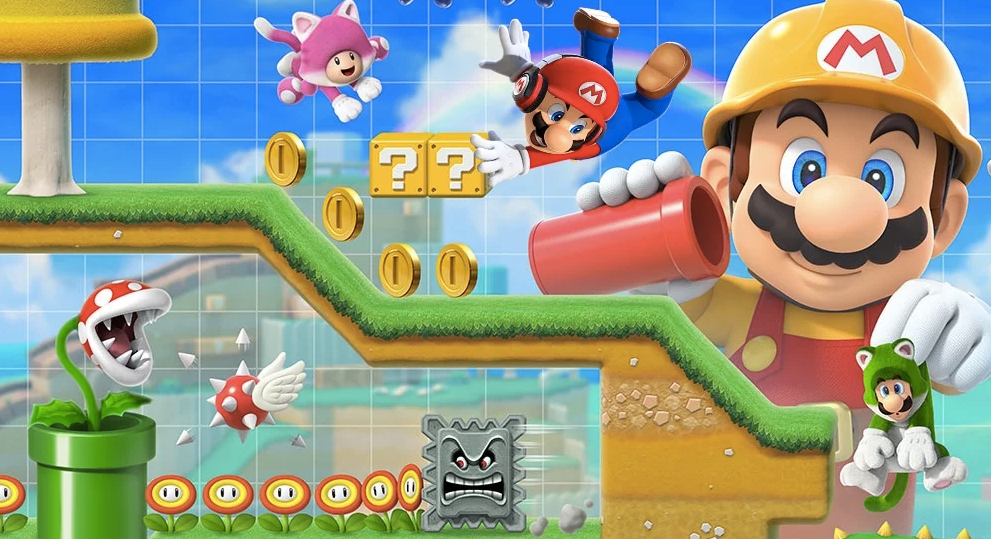 Super Mario Maker 2 retains No.1 for a second consecutive week as Nintendo Switch games impress across the UK Top 40.
The game's No.1 performance is strong, with just a 47% fall in sales from its first week. The title keeps itself ahead of Crash Team Racing Nitro-Fueled, which drops 45% in its third week in the charts (but holds second place).
F1 2019 maintains No.3 (despite a 57% fall in sales week-on-week), while Mario Kart 8 Deluxe continues its rise up the charts, moving from No.4 to No.5 with a 9% increase in sales week-on-week (that's three racing games in the Top Five).
No.5 is another Switch fast climber, with Super Smash Bros Ultimate jumping five places after a 21% increase in sales performance. The fourth Switch game in the Top Ten is a return for The Legend of Zelda: Breath of the Wild, which makes No.9... despite sales actually falling 9%.
Further down the charts, Super Mario Party (+1%), Super Mario Odyssey (+14%), New Super Mario Bros U Deluxe (-11%) and Pokémon: Let's Go Pikachu (-1%) all rose up the charts, although some of those titles did drop slightly in sales. Broadly, handheld games tend to be more resilient in the summer months when game sales take tumble, with consumers picking up portable devices to play on their summer breaks.
Physical sales for Xbox One and PS4 games are quite slow at this time of year, and as a result some simple pricing activity and promotion can make a major difference to some chart placings. Mortal Kombat 11 has jumped 14 places to No.10 following a 32% sales bump, whereas Minecraft has jumped from No.22 to No.13 thanks to just a 6% sales improvement.
FIFA 19 is also on the brink of a Top Ten return following its drop to No.20 this week, with a 14% rise in sales week-on-week (up to No.11).
Last week's new games took quite a sharp drop. The Sinking City sunk from No.37 to No.12 after a 60% drop in sales in its second week (which in itself isn't a terrible performance). While Bloodstained: Ritual of the Night, buoyed last week by the Switch version, fell from No.9 to No.34 with a 62% drop in sales.
Unfortunately, Sega's Judgment and Ravenscourt's Car Mechanic Simulator have dropped out of the Top 40.
There were no new games released this week.
Here is the UKIE/GfK Top Ten for the week ending July 6th:
| Last Week | This Week | Title |
| --- | --- | --- |
| 1 | 1 | Super Mario Maker 2 |
| 2 | 2 | Crash Team Racing Nitro-Fueled |
| 3 | 3 | F1 2019 |
| 5 | 4 | Mario Kart 8: Deluxe |
| 10 | 5 | Super Smash Bros Ultimate |
| 7 | 6 | Grand Theft Auto V |
| 8 | 7 | Assassin's Creed Odyssey |
| 6 | 8 | Red Dead Redemption II |
| 11 | 9 | The Legend of Zelda: Breath of the Wild |
| 24 | 10 | Mortal Kombat 11 |