Super Mario 3D All-Stars sales spike 276% in final week | UK Boxed Charts
Monster Hunter Rise is the second biggest launch for the franchise in the UK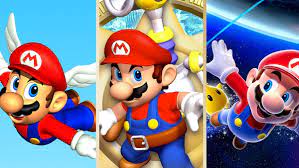 Nine of the top ten best-selling video games in the UK last week were Nintendo Switch titles.
The only exception was FIFA 21 at No.8, which returned to the Top Ten after a 197% sales increase driven by some promotional activity. Minecraft Dungeons at No.5 was also available on other non-Nintendo devices, however 95% of its sales came on Switch.
Retailers have been running Nintendo Switch game promotions, which is the reason for the platform's dominance this week.
The best-selling game of the week was, unsurprisingly, the new Switch exclusive Monster Hunter Rise. It is the second biggest launch for the franchise in UK history. The biggest was 2017's Monster Hunter World, which was released on PS4 and Xbox One back in 2017. Rise's launch sales are 43% lower than World, but when you factor in that this was just a single-platform release (plus the absence of digital sales) the result looks pretty good.
Physical sales are more than twice the size of Monster Hunter 4 Ultimate on 3DS, which was the last major Monster Hunter Nintendo exclusive.
Its closest competitor at No.2 was Super Mario 3D All-Stars. The collection of Mario games shot up 276% in sales week-on-week. The game was released to mark the 35th anniversary of the Super Mario franchise, and as a result is being discontinued from sale this week. Nintendo has been actively promoting the imminent delisting of the product, which has clearly boosted sales.
Animal Crossing: New Horizons drops from No.1 to No.3, despite an 11% sales increased, while Super Mario 3D World + Bowser's Fury falls from No.2 to No.4 after a 1% sales increase.
In terms of other new releases, Story of Seasons: Pioneers of Olive Town debuts at No.15 (again, a Nintendo Switch title) and It Take Two from EA reaches No.29.
Elsewhere, Marvel's Avengers continues its comeback driven by new PS5 and Xbox Series versions, reaching No.17 after a 137% sales rise week-on-week.
Here is the GfK Top Ten for the week ending March 27th:
| Last Week | This Week | Title |
| --- | --- | --- |
| New Entry | 1 | Monster Hunter Rise |
| 9 | 2 | Super Mario 3D All-Stars |
| 1 | 3 | Animal Crossing: New Horizons |
| 2 | 4 | Super Mario 3D World + Bowser's Fury |
| 10 | 5 | Minecraft Dungeons |
| 8 | 6 | Minecraft (Switch) |
| 4 | 7 | Mario Kart 8: Deluxe |
| 13 | 8 | FIFA 21 |
| 16 | 9 | Luigi's Mansion 3 |
| 19 | 10 | Super Mario Odyssey |