Summer video game reveals showed record number of female protagonists
But Feminist Frenquency's annual analysis warns this may be a "one-off statistical anomaly"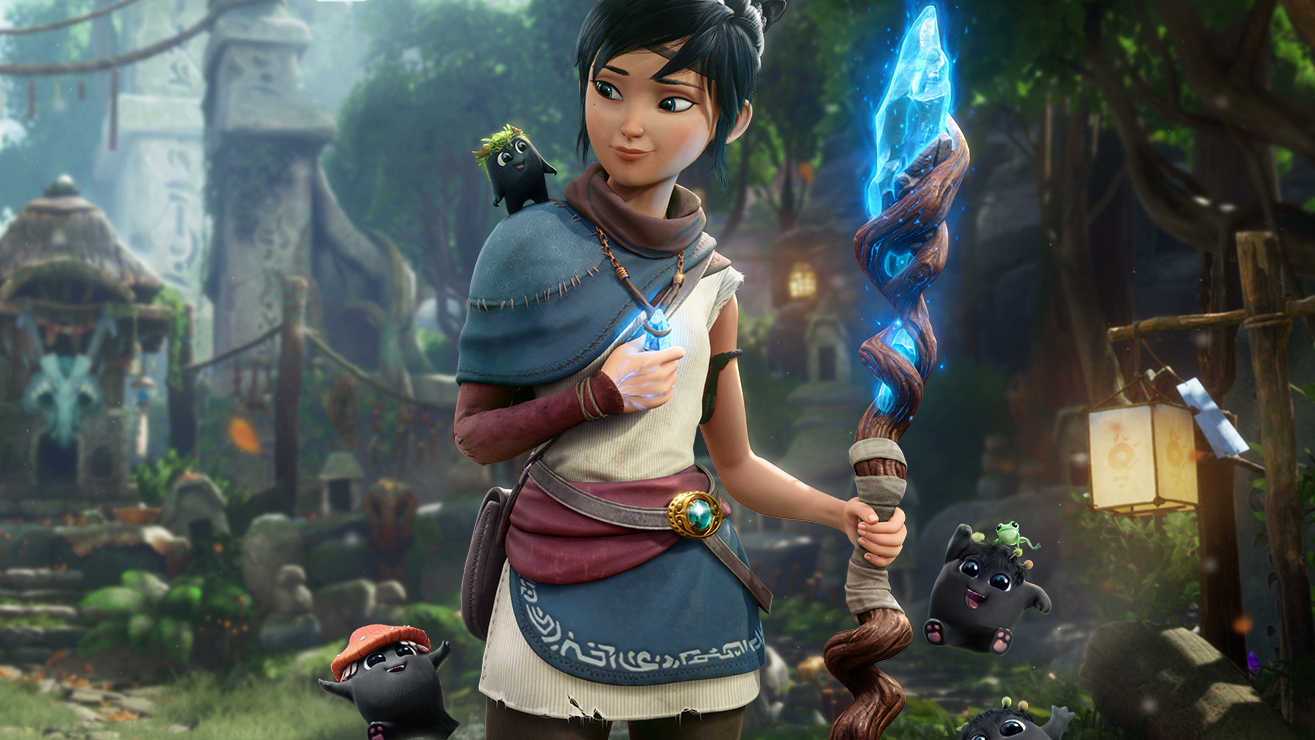 Video games announced over the summer featured more female heroes than any E3 line-up in the past five years.
That's according to new analysis by Feminist Frequency, which has been compiling a gender breakdown of E3 game announcements since 2014 to gauge the balance between female and male representation.
Given that E3 was cancelled, the team has prepared a report encompassing all the summer presentations that replaced the trade show in what it describes as a "wildcard year."
This year's report -- written by Anita Sarkeessian and Carolyn Petit, and published by Wired -- shows that 18% of new games shown featured a defined female character as the lead.
This marks a significant improvement on the 5% recorded last year and the 9% shown back in 2014 -- until now the record high for this annual analysis.
More than one-third of these came from Sony's PlayStation 5 presentation in June. Feminist Frequency wrote that it "[hopes] this means Sony recognises that a significant percentage of potential PS5 buyers are women" and chose these games consciously to win over this audience.
"A new console generation could bring about significant change, and Sony's influence within the games industry is vast -- the PlayStation 4 has sold more than twice as many units over its lifetime as Microsoft's competing Xbox One -- so if this does reflect a larger strategy on the part of the console maker, the repercussions in years to come could be very significant indeed," the report continues.
"Our hope is that both Sony and Microsoft make more deliberate efforts with their upcoming next-gen consoles to dismantle the false but enduring notion that gaming as a cultural domain is primarily for boys and men."
With male protagonists making up 23% of this year's game presentations, this also marks the year with the narrowest divide between male and female-led titles -- but Feminist Frequency is cautious about whether this shows lasting progress.
"In previous years, there have always been at least three times as many games centering men as there were centering women, so the fact that this year both values are at least in the same ballpark is definitely a welcome development," the report reads.
"However, while we should perhaps be cautiously optimistic about these numbers, we also shouldn't break out the champagne just yet. It will naturally require another year or two before we can begin to determine if this shift reflects actual changes that are taking place, or if 2020 is a one-off statistical anomaly that will quickly see a return to the status quo."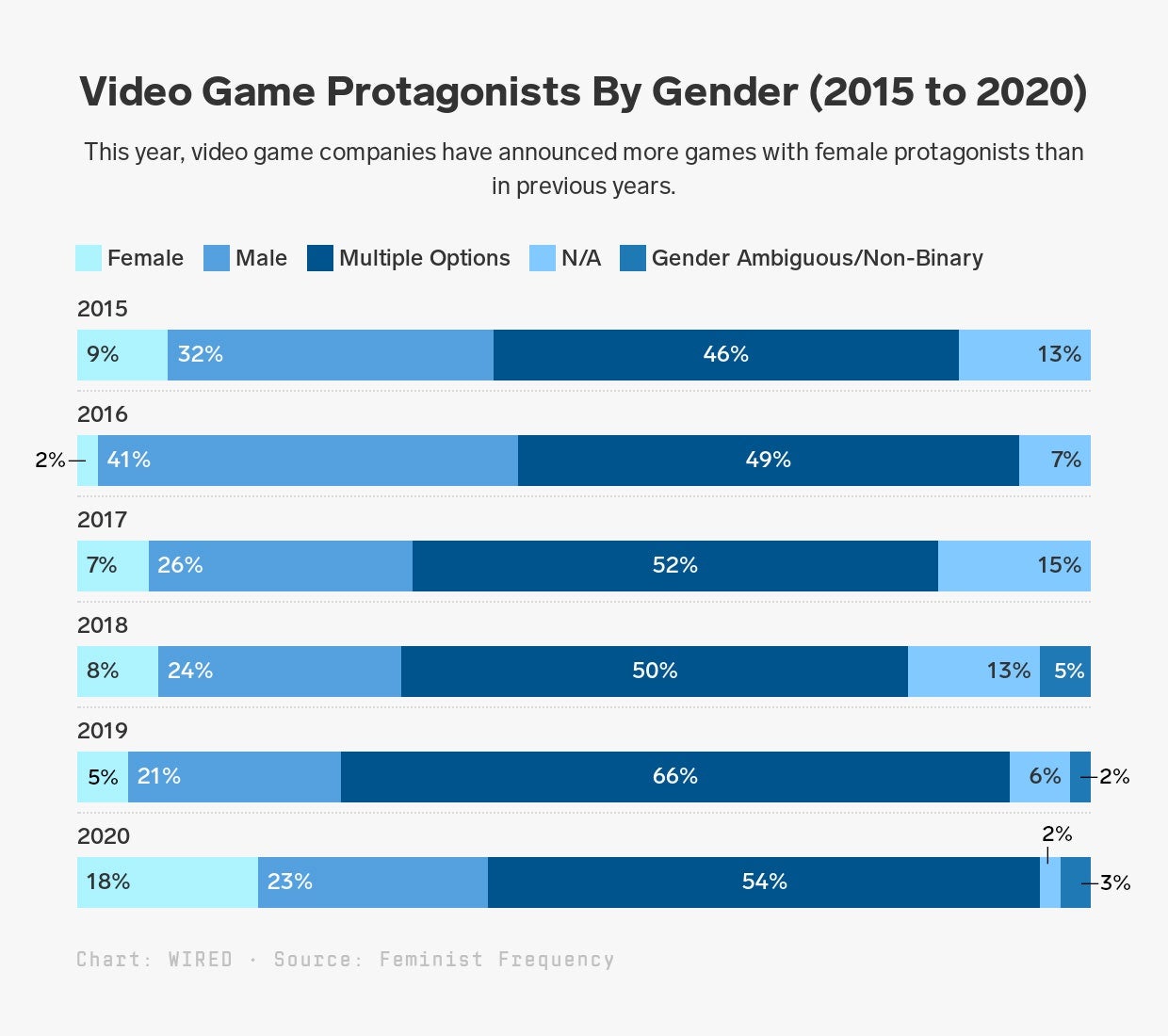 As usual, the biggest proportion of games -- 54% this year -- allowed players to choose between male and female characters or centred around a group rather than a single figure.
While Feminist Frequency welcomed these, the team reiterated that this is not the same as games putting players into a defined female role in order to get them to identify with and relate to the character, such as The Last of Us Part II's Ellie.
"In an industry whose output was for decades dominated by male heroes, what we want to see is a shift toward at least an equal number of games that require players to take on the role of humanised female characters."
The report added that, while having more female heroes in games is important, it's just one aspect of improving representation across the industry's output.
Gender ambiguous and non-binary protagonists, for example, only represented 3% of this year's games. Last year, this was 2%. So far the highest has been 5%.
"Better representations around race, sexuality, and gender identity are also crucial, and a great deal of work remains to be done in these areas as well," the team wrote.
"It's worth noting that this year's games The Last of Us Part II and Tell Me Why both featured trans characters, and in recent years nonbinary characters have also appeared in games from time to time. Naturally this is a trend that we hope to see become far more common, and it's something we'll be keeping our eye on in the years to come."
Finally, Feminist Frequency looked at the number of women seen on screen presenting these games, noting that real change in representation will come as companies diversify their leadership and have a broader range of people in positions of creative decision making.
This year, only 23% of on-camera presenters were female, up slightly from last year's 21%. Women were outnumbered by men by at least two to one in each presentation, and sometimes this ratio was worse.
"We'll know change is happening when we start seeing more women -- particularly as creative directors of studios or project leads on major titles -- showing up in these videos."
Last year, we spoke to Sarkeesian about this ongoing analysis, who said there were "no more excuses" for the low levels of women in games.